Sun-dried tomatoes are one of those ingredients that I absolutely love.  I am always immediately drawn to sun-dried tomato dishes and if we go out to eat and the menu has sun-dried tomato anything, I will usually order that.  However, for no particular reason at all, I rarely ever use the ingredient here at home.  I have bought a jars of them here and there at the grocery store, tossed them on a few sandwiches, LOVED them, but that was that.  Didn't open the jar again and they usually ended up going bad and getting tossed in the garbage a few months down the road.
Late last year, I was so excited to see that my Costco carried a huge bag of them!  I really liked that these weren't the jarred typed that was packed in oil either.  Of course I grabbed one because I had so ideas immediately running through my head at the time.  I was going to have so much fun coming up with fun ways to use all of these sun-dried tomatoes right?  WRONG.  The bag sat in my fridge nearly untouched for months. I managed to use them in only two recipes: Herb & Sun Dried Tomato Muffins and an Italian Sausage & Sun Dried Tomato Strata. Absolutely delicious but that was about it.  Sigh.  My eyes and brain are always so much bigger than my actual efforts.  However, unlike the jarred ones I had previously bought and kept in the fridge, this bag was still just as fresh after a couple of months when I finally decided it was time to try something with them!  I grabbed the bag from the back of the fridge and got to work!
Rather than use them in a single recipe or dish that I would immediately eat and then forget about, I decided I would come up with something I could use at least few times during the week.  I'm big on food/meal prep so having a few key things ready to go in my fridge to eat is key!  Nothing better than a good old pesto that has multiple uses… perfect on pastas, as spreads on sandwiches, or even as a simple dip for chips or veggies.  Bingo.  That's exactly what I settled on and boy oh boy am I glad I did!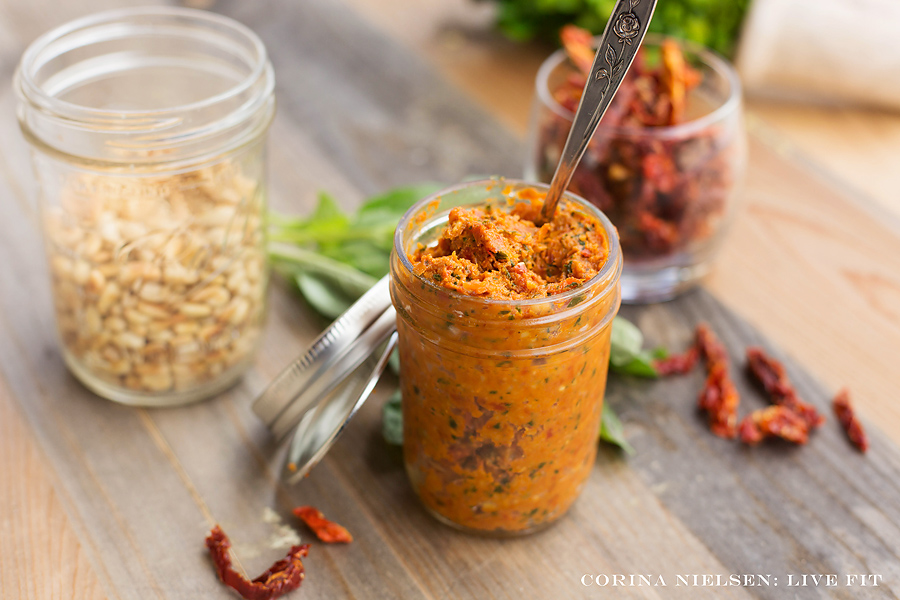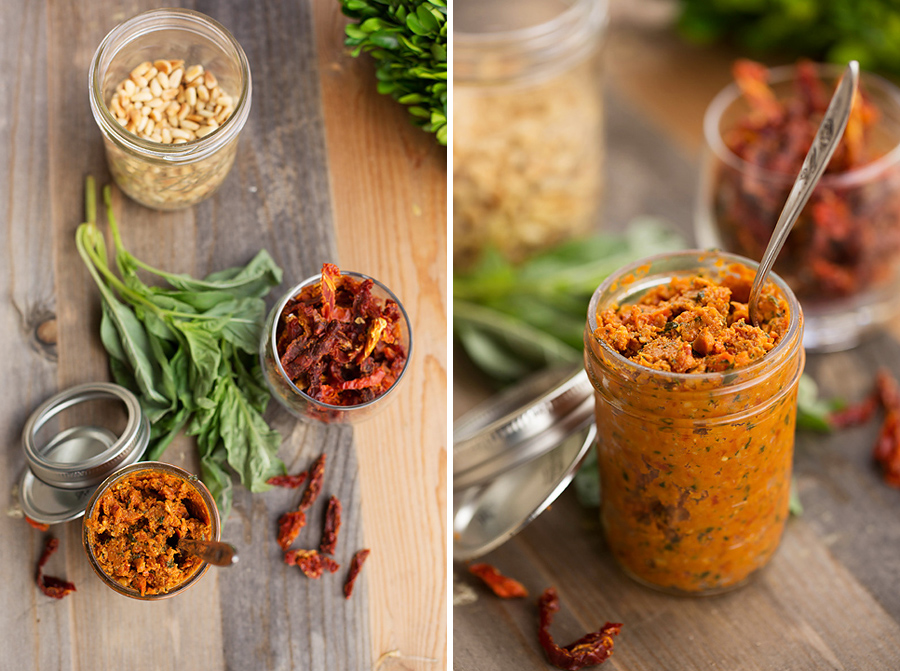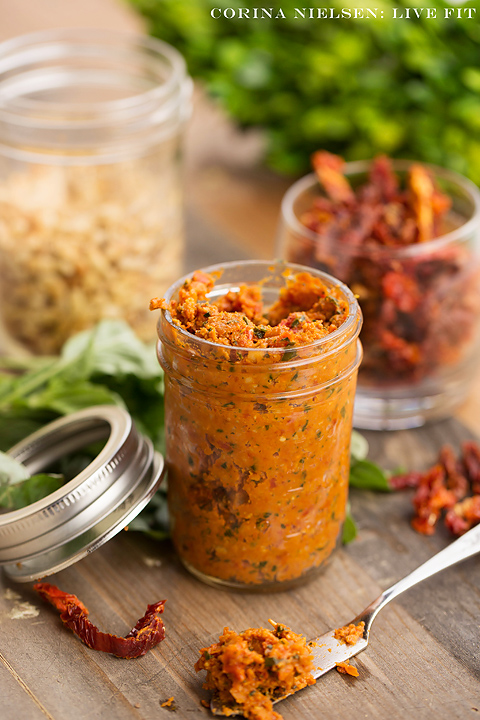 I think most people like having a thinner type pesto, but not me and not for this recipe!  I LOVE how chunky it is.  The main thing I wanted to use this for was sandwiches, so making it a little thicker would be great for spreading.  I know that if I wanted it thinner for something else like pasta, I could easily add a bit more water of chicken stock.  Best of both worlds in one jar!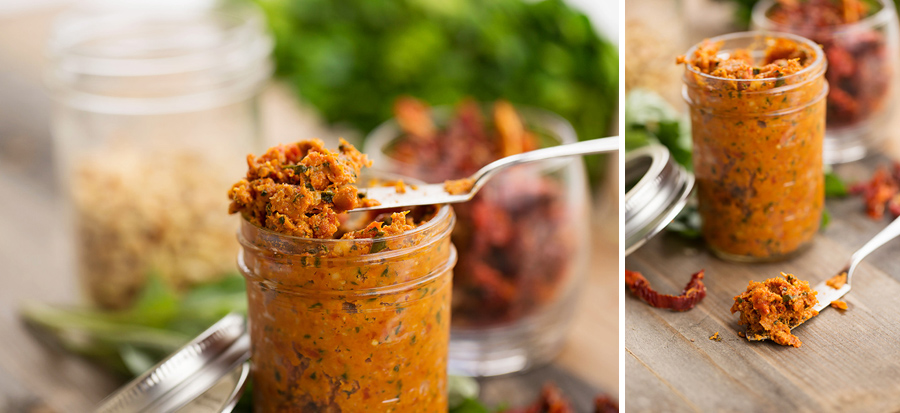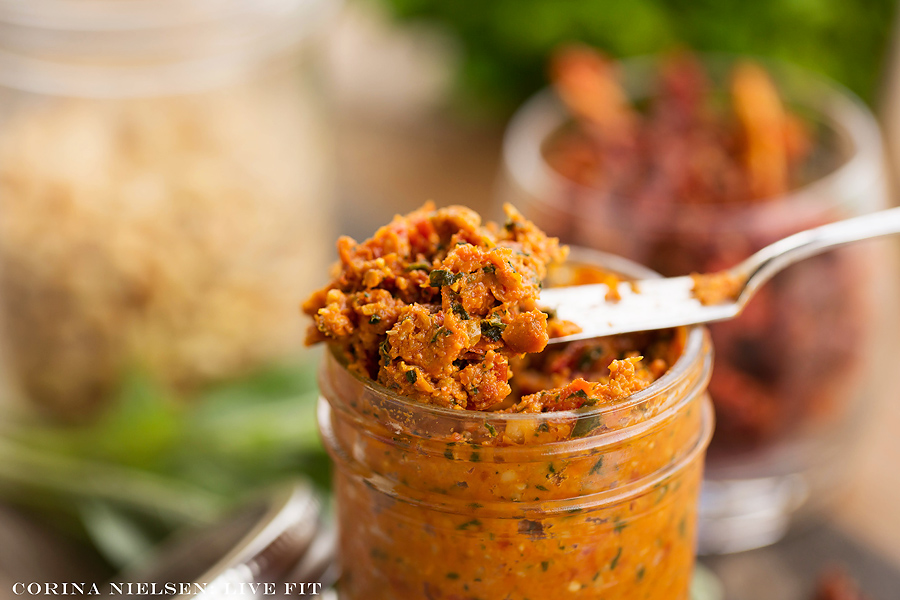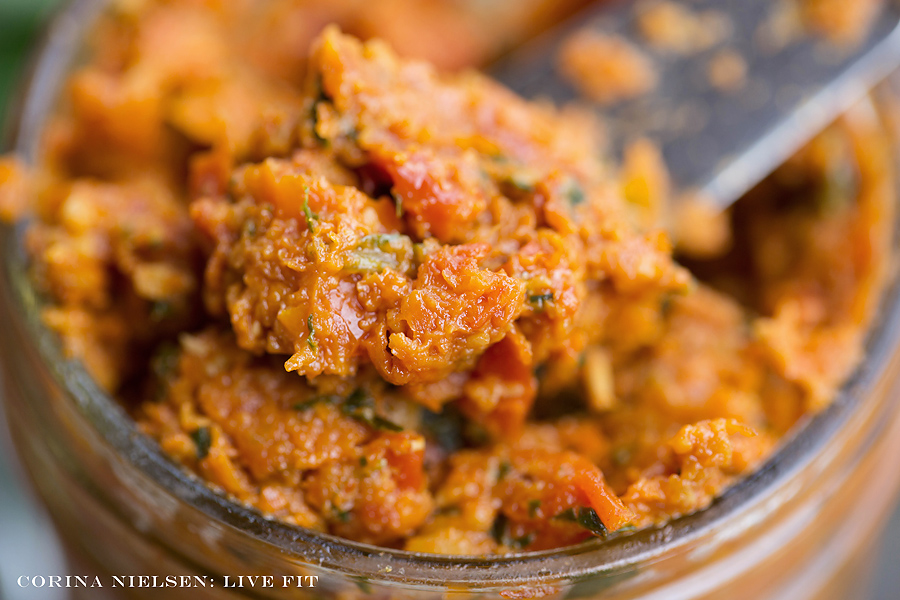 This spread/sauce literally took me 5 minutes to make, but I was able to reap the benefits of it ALL week long!!!  The first thing I had on my mind was a sandwich though!  I used a toasted THIN SLIM FOODS bagel, spread on my pesto, some laughing cow cheese, added thinly sliced turkey, and fresh basil.  It was EVERYTHING I was hoping for… and MORE!!!  Can't wait to share the rest of the dishes I made with my spread/sauce.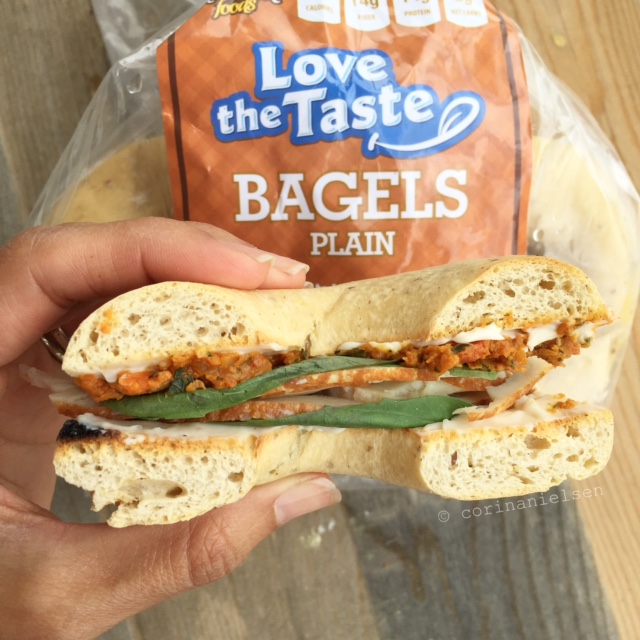 For now, I will just leave you with the recipe!!!
Sun-Dried Tomato Pesto

Print recipe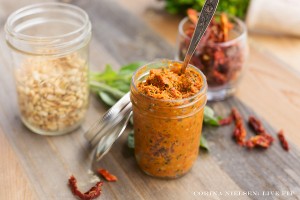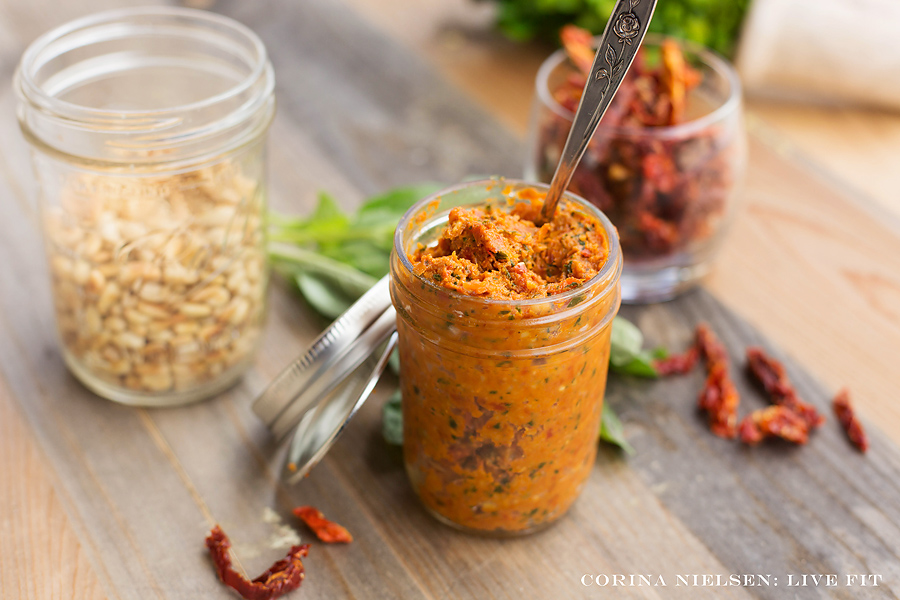 | | |
| --- | --- |
| Serves | 1 pint |
| Prep time | 5 minutes |
| Meal type | Condiment |
Ingredients
3oz sun dried tomatoes
12 Large basil leaves
1/4 cup toasted pine nuts
1 tablespoon fresh lemon zest
1 tablespoon fresh lemon juice
1 tablespoon roughly chopped garlic
6 tablespoons chicken stock
1 tablespoon olive oil
1/4 teaspoon salt
1/8 teaspoon pepper
Directions
Step 1
If you are using actual dried sun-dried tomatoes, place them in a bowl of hot water for 20 minutes to soften then drain water. If you are using the jarred variety packed in oil simply go to the next step.
Step 2
Place all ingredients in a small food processor and blend until thoroughly combined. You can add more chicken stock is you would like a thinner sauce. Add additional salt and pepper to taste.