'One pan veggie oven roasts are the perfect accompaniment  for any QUICK weeknight meal!  You will love this tangy lemon roasted broccoli and artichokes side dish!'
Today I have a quick, easy, and delicious side dish for those weeknights where we want something healthy but don't necessarily have a ton of time on our hands!  If you are a fan of all things lemon & citrus, this is made especially for you.  Aside from the fact this is crazy easy to whip up, I also love that you could easily throw some chicken on the grill while this pan is roasting in the oven.  Dinner on the table in less than 1/2 an hour?  Absolutely, sign me up!
All you need is a head of broccoli, a bag of frozen & thawed artichoke hearts, garlic, and a lemon.  And remember that chicken I mentioned? Simply use another clove of garlic, an additional lemon, salt, and pepper on your protein and the full dish will blend perfectly together.  Just be sure to get the most out of that lemon by utilizing every mm of that fragrant zest!  Using the zest of citrus is also a great way to add a ton of flavor WITHOUT the additional calories and carbs that come along with most fruits 🙂

Get your hands in and toss it all together, ensuring everything is evenly coated… nothing worse than one bite being super flavorful and the next being kinda meh.  Really get in there and massage it all together!  Throw it in the oven, set to 400° on roast, and await the magic.  That lemon-y garlic  aroma will fill the kitchen and the rest of your home for that matter!  I usually cook these one sheet pans for about 20-25 minutes, just until the veggies begin to brown & crisp.  I also like making sure that the vegetables stay bright green with a bit of crunch… thats a personal preference though!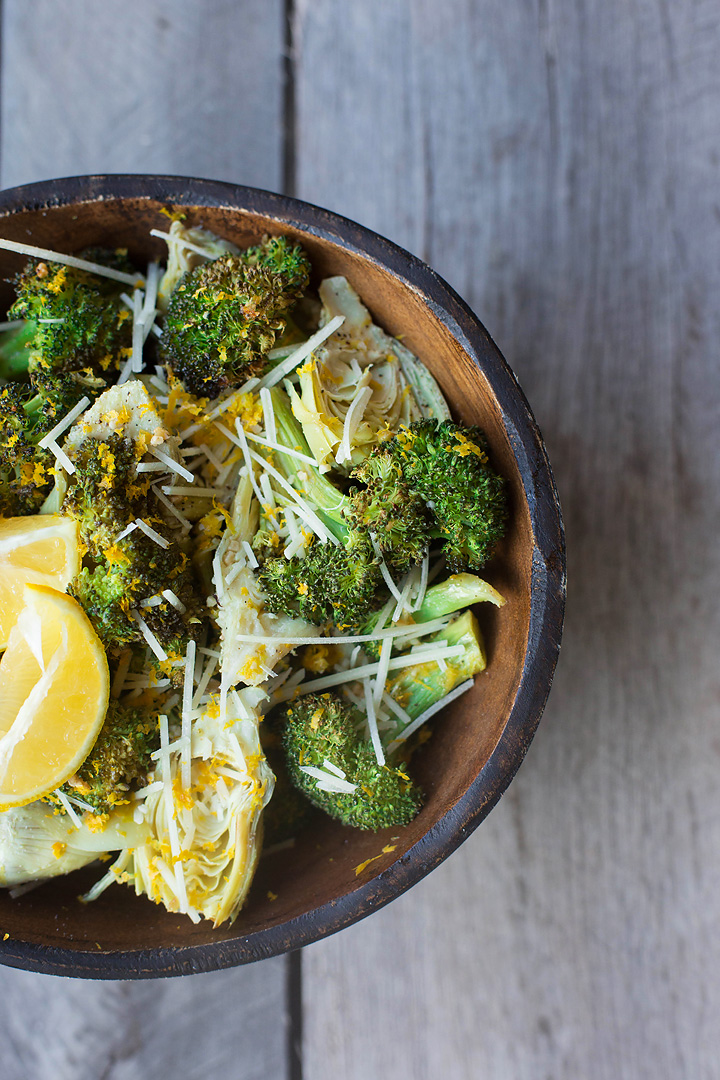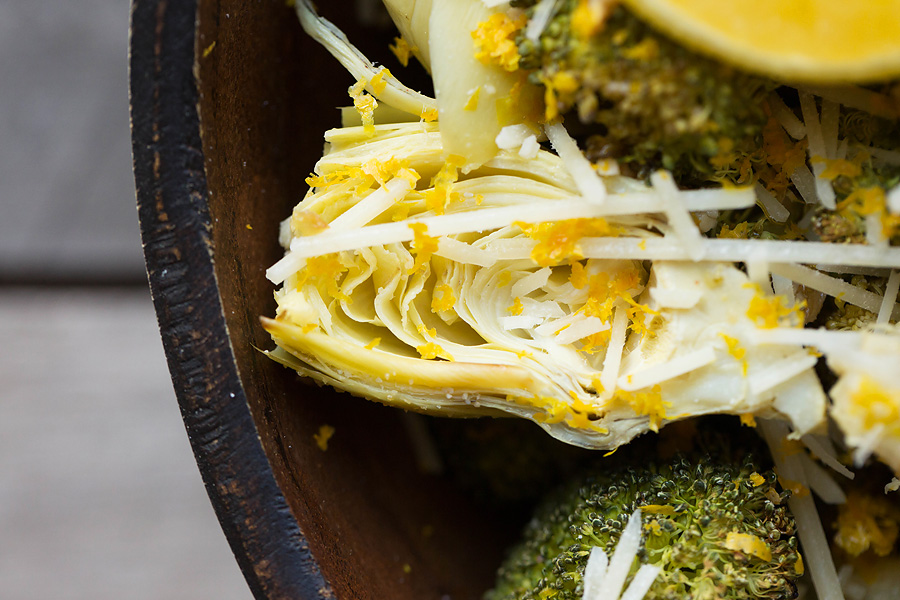 Once out of the oven, toss with a little shredded parmesan cheese if you like.  This adds a bit of a nutty flavor as well as salty bite.  The veggies are perfect without them if you are dairy free though too!  And to really make these EXTRA flavorful, don't be afraid to zest yet another lemon right over the top of these right before serving.  I've been known to go through a dozen lemons EASILY in one weeks time.
Lemon on everything, all day, every day with me!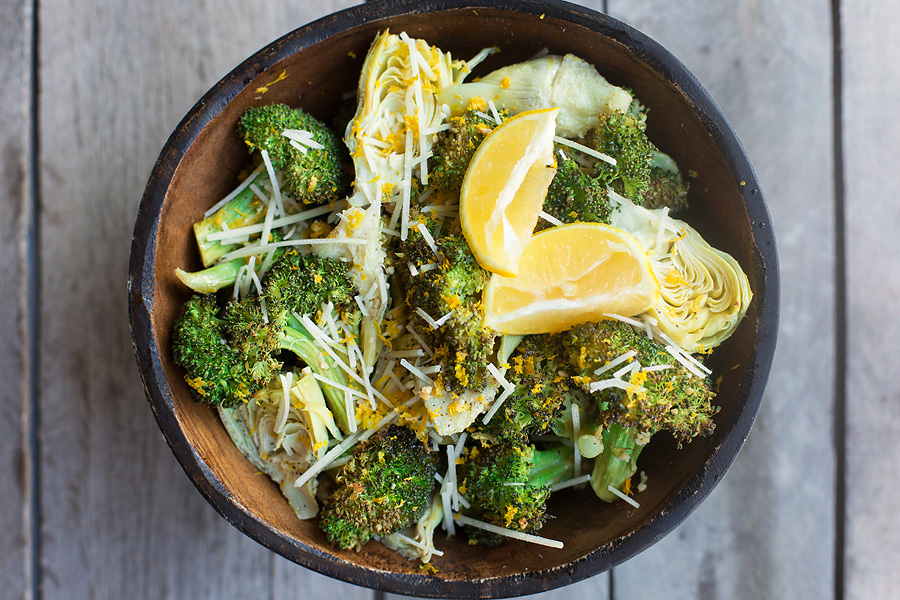 And FYI… this side dish works BRILLIANTLY for meal prep.  To be honest, I think I like them equally reheated as fresh.  Something about them sitting and marinating in all that lemon and garlic makes me pretty happy 🙂
Lemon Roasted Broccoli and Artichoke Hearts

Print recipe
Ingredients
1lb broccoli florets
3/4lb frozen artichoke hearts (thawed and drained)
2 tablespoons olive oil
1 tablespoon garlic (roughly chopped)
1 Large lemon (zested and juiced)
2 teaspoons pink salt
1/2 teaspoon pepper
Optional
1/4 cup shredded parmesan cheese
Directions
Step 1
Preheat oven to 400° degrees F.
Step 2
Line a sheet pan with parchment paper or coat with olive oil/non stick spray. Add broccoli, artichokes, and garlic to the pan. Drizzle with olive oil, add lemon zest, lemon juice, and sprinkle on salt & pepper. Using your hands, massage everything together until veggies are well coated.
Step 3
Roast for 20-25 minutes until edges of broccoli begin to crisp and brown. For softer vegetables, roast 5-7 minutes longer. Remove from oven and add shredded parmesan cheese & more lemon zest if desired.
Nutrition Facts
Serving Size 1
Servings Per Container 4
---
Amount Per Serving
Calories 130
Calories from Fat 63
% Daily Value*
Total Carbohydrate 13g
4%
---
*Percent Daily Values are based on a 2,000 calorie diet. Your daily values may be higher or lower depending on your calorie needs.