When life hands you cookies… you eat them… ALL of them… especially when they are EXTRA special & delicious!
Last month I was fortunate enough to receive a nice little care package from:

Immediately upon seeing the box everything was shipped in, I knew this was a company I could stand behind.  Check out that sticker on the side of the shipping box…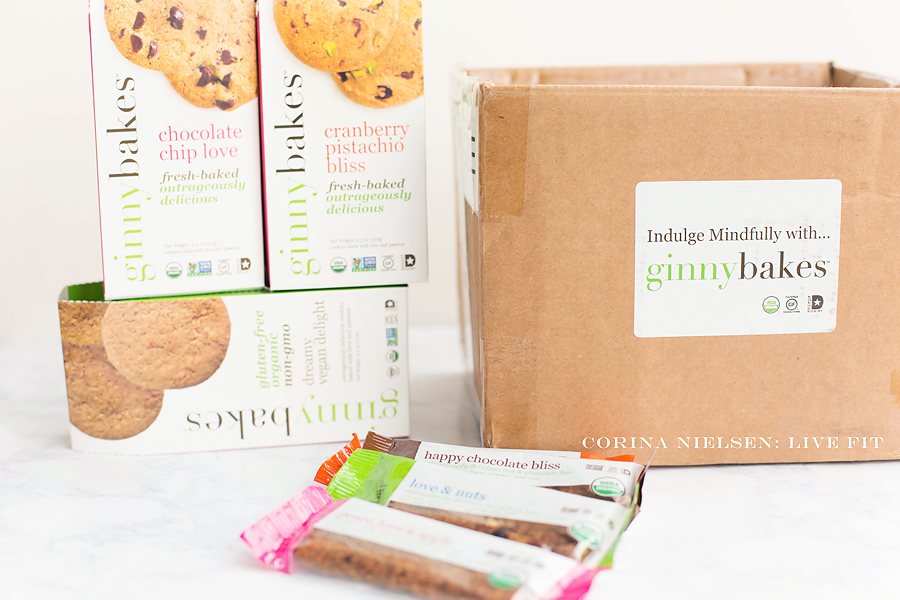 "Indulge Mindfully"
Yup, I'm sold.  As a flexible dieter and now 'intuitive eater', one of the main messages I try and get across to women every single day is to be MINDFUL of what you eat.  Eat fruit & veggies & whole grains, get your fiber in, always remain aware of the proper portions and overall food intake (macros) YOU need to reach your goals, BUT also… don't be afraid to enjoy and "indulge" in ANY foods (especially cookies).  I adore that ginnybakes has included this saying as a part of their product branding.  Genius.
Their Story:
"nutrition, health and happiness- healthy baked good"
Founded in 2010 by ginny simon, ginnybakes is the realization of a dream. combining ginny's passion for nutrition, active living and baking, our gluten free baked good products are a natural expression of her dedication to leading healthy, balanced lives. we are ginnybakes. indulge mindfully.
I swear this company has hit the nail dead on the head.  They have used the words "mindfully" AND "balanced" in the same sentence?  It's like they have read my mind when it comes to how I think everyone should view nutrition and living a completely healthy lifestyle (mind, body, and spirit).  Many kudos to the company!!!!
Their Products:
"our products are organic"
At ginnybakes, we take pride in sourcing the best organic ingredients we can find. in being organic, our products are certified by quality assurance international, in that all ingredients are grown without the use of pesticides, synthetic fertilizers, genetically modified organisms or ionizing radiation. we also believe in being stewards of our planet, and build strong partnerships with suppliers who use renewable resources, conserve soil and water, and enhance environmental quality for future generations.
In a day and age where everyone is concerned with the quality of their foods, the company clearly has high standards.  I personally don't always focus so much on ensuring everything I ingest is organic, however, as a mother and avid health advocate I do strive to eat and feed my family the best I possibly can the majority of the time!  I love that the company does make efforts to help preserve our planet as well!
Their Process:
"it's a labor of love"
Ginnybakes products are the result of listening to our community, friends and family. we develop each recipe with you and your active lifestyle in mind. we start with the best ingredients on earth and end with a smile on your face. and boy, do we love that smile.
We exist to fulfill a need, and have the passion to deliver. have dietary restrictions? we got you. need a quick pick-me-up between classes? no problem. want a healthy, organic treat for your kids? we do too! ginnybakes are your go-to snack – on the run, in the sun, while having fun.
Let's take a closer look at the goodies I received: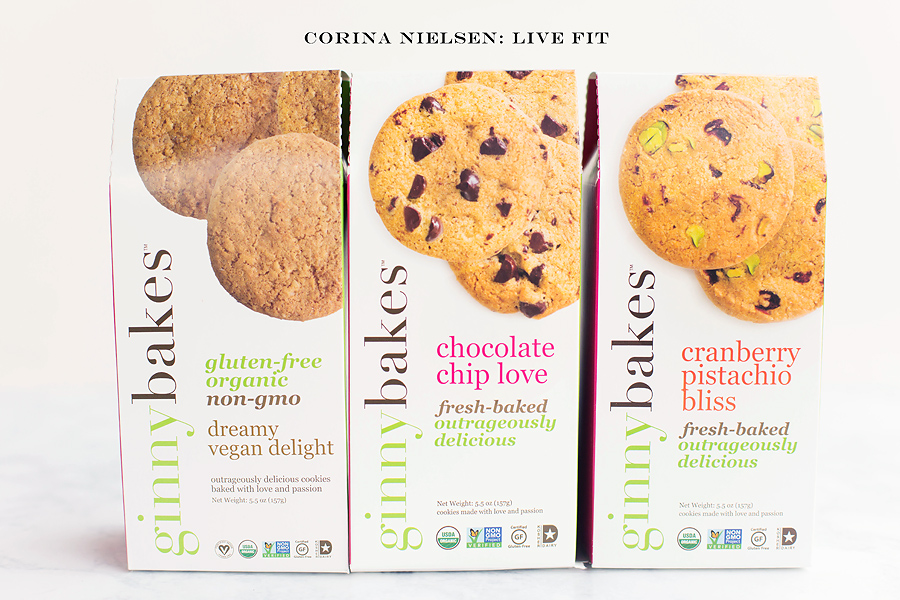 remember your very first taste of a chocolate chip cookie? we do, and that's the inspiration for this perfect gluten-free recipe. high-quality, organic ingredients and dark chocolate chips bring you back to that first bite. it's like being a kid all over again (and again and again).
organic • gluten-free • non-gmo • kosher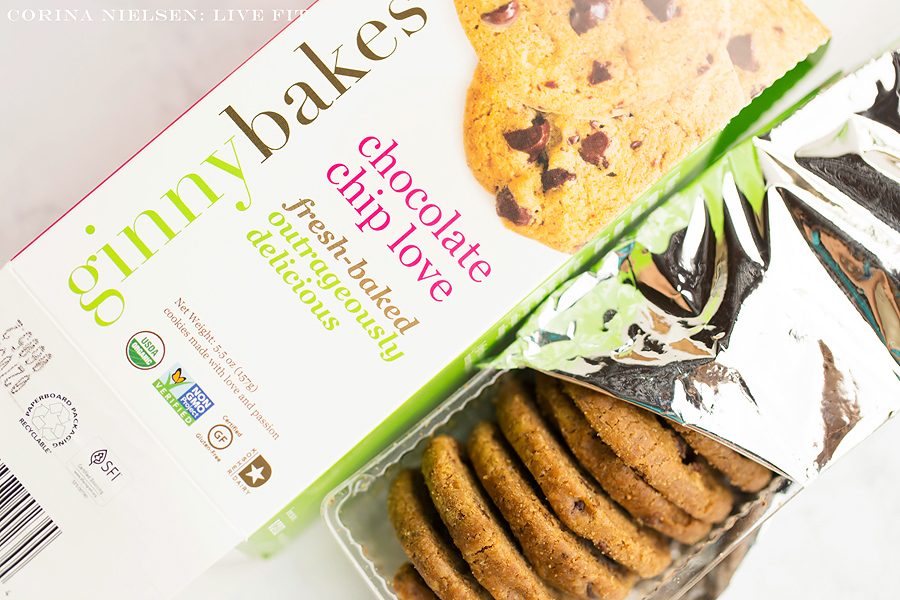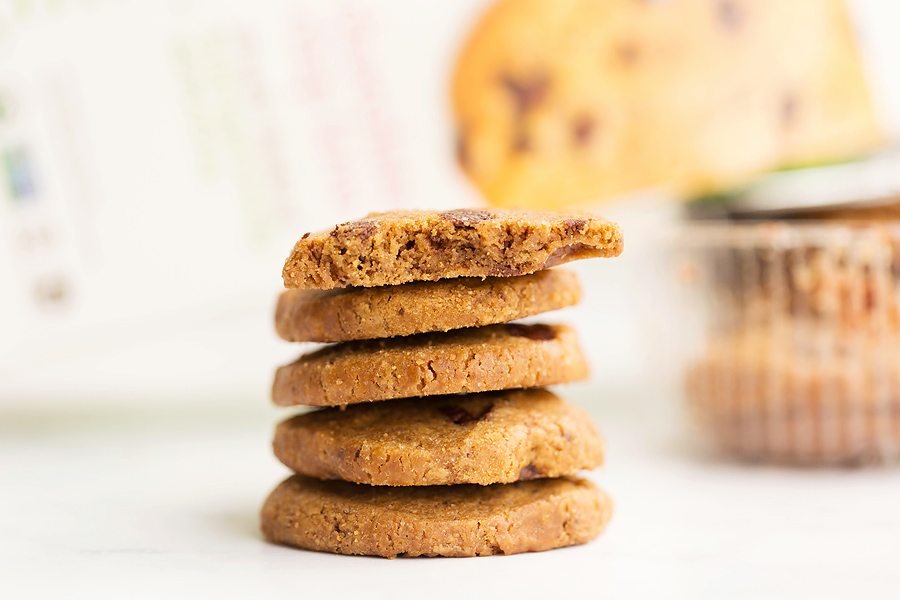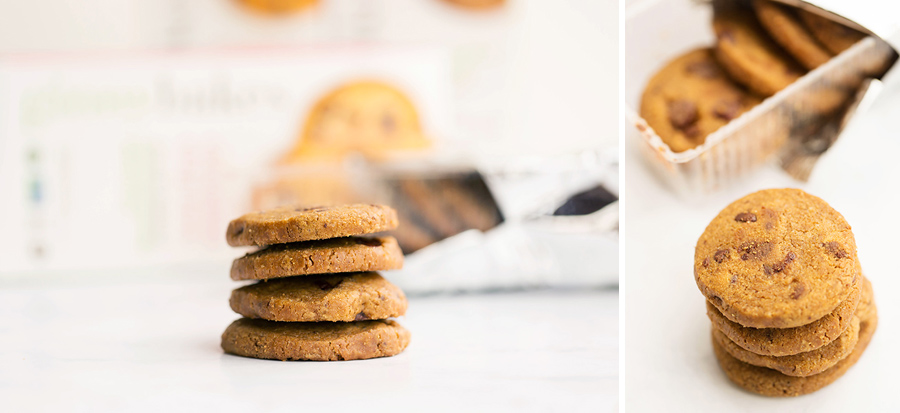 organic pistachios and dried cranberries mingle together in this delightfully crispy cookie. the perfect snack for anytime. fall in love and indulge mindfully with ginnybakes!
organic • gluten-free • non-gmo • kosher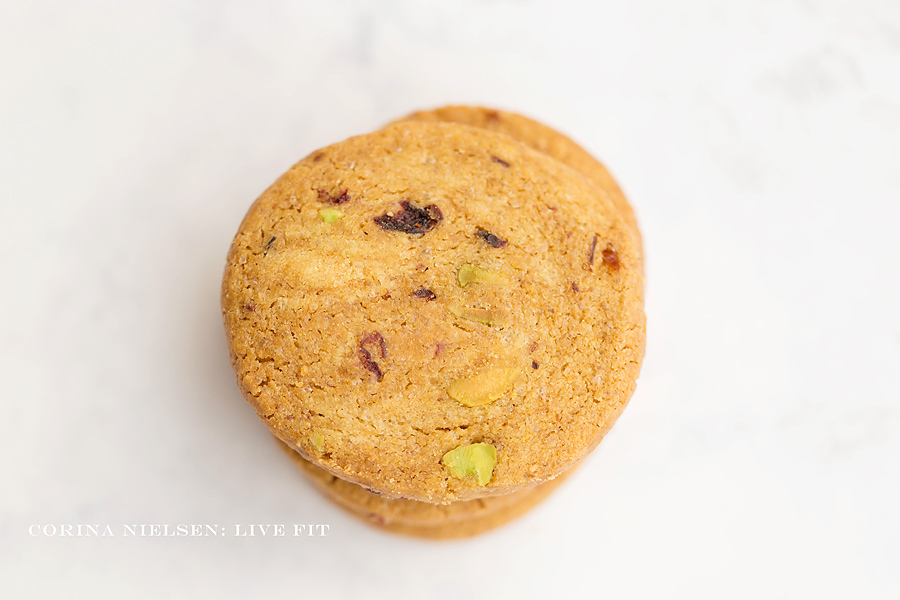 organic pistachios and dried cranberries mingle together in this delightfully crispy cookie. the perfect snack for anytime. fall in love and indulge mindfully with ginnybakes!
organic • gluten-free • non-gmo • kosher
when coconut and dreamy vanilla meet…oh my goodness! created with love for our vegan, and non-vegan friends, the flavors meld and scrumptiously announce themselves in a most delectable way.
vegan • organic • gluten-free • non-gmo • kosher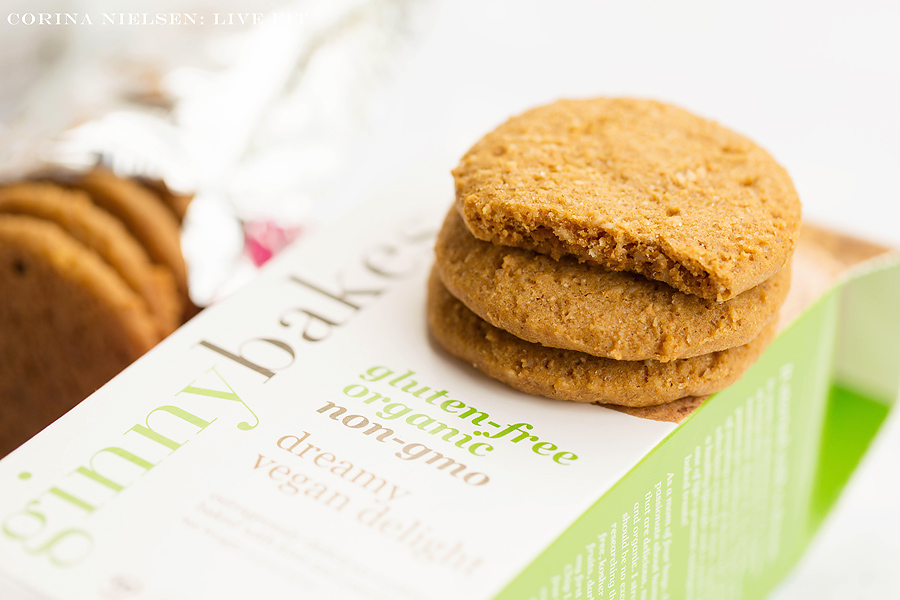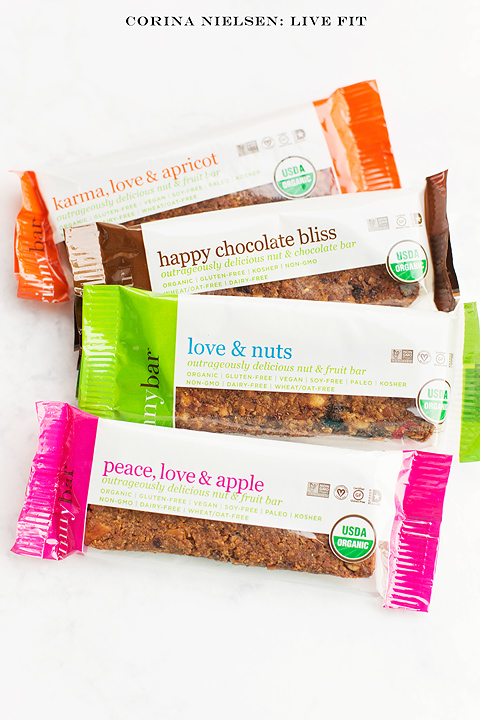 packing the perfect combination of apples, nuts, seeds, coconut, and fruits, this chewy creation's refreshing hint of apple tops off the nutrient-rich ginnybar. always intoxicating and never overpowering, enjoy a peace, love & apple bar any time of day for a fulfilling pick-me-up.
organic • gluten-free • vegan • soy-free • paleo • kosher • non-gmo • dairy-free • wheat / oat free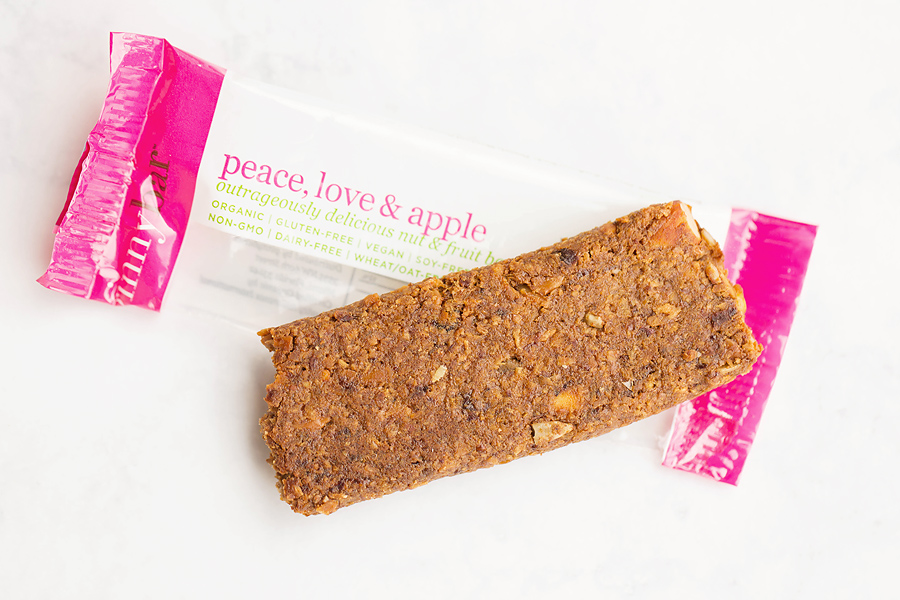 a heaven-sent bar with an impeccable balance of sweetness, savory, and a pinch of sea salt. organic dark chocolate chips dance around the delectable tastes of organic walnuts, almonds, and medjool dates for a blissful snack that will help you soar through the day.
organic • gluten-free • kosher • non-gmo • wheat / oat free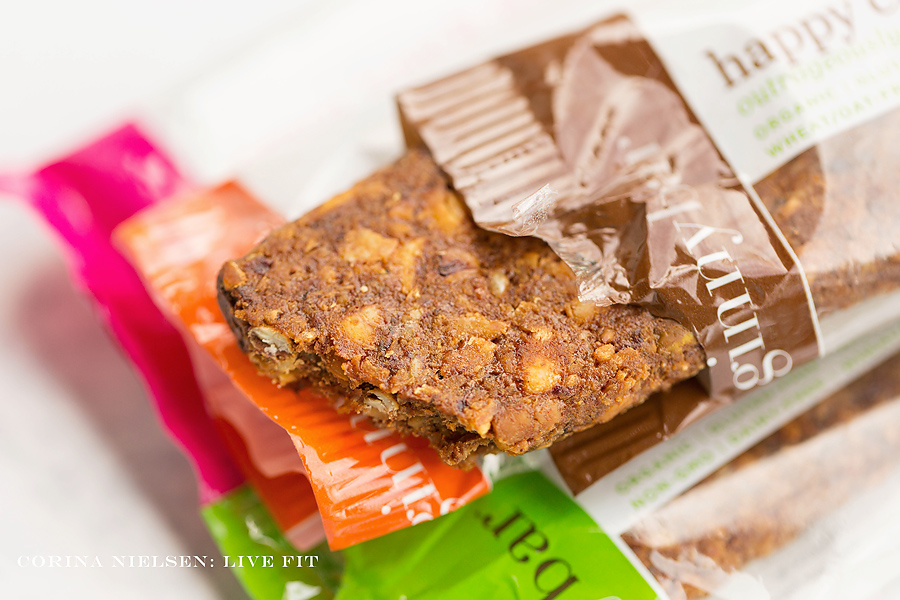 what goes around comes around, and you'll be glad it did after tasting our zen blend of organic apricots, nuts, seeds, coconut and berries. a pinch of cinnamon, sea salt, and vanilla brings this bar together in an all-out love fest. your taste buds will keep coming back for more.
organic • gluten-free • vegan • soy-free • paleo • kosher • non-gmo • dairy-free • wheat / oat free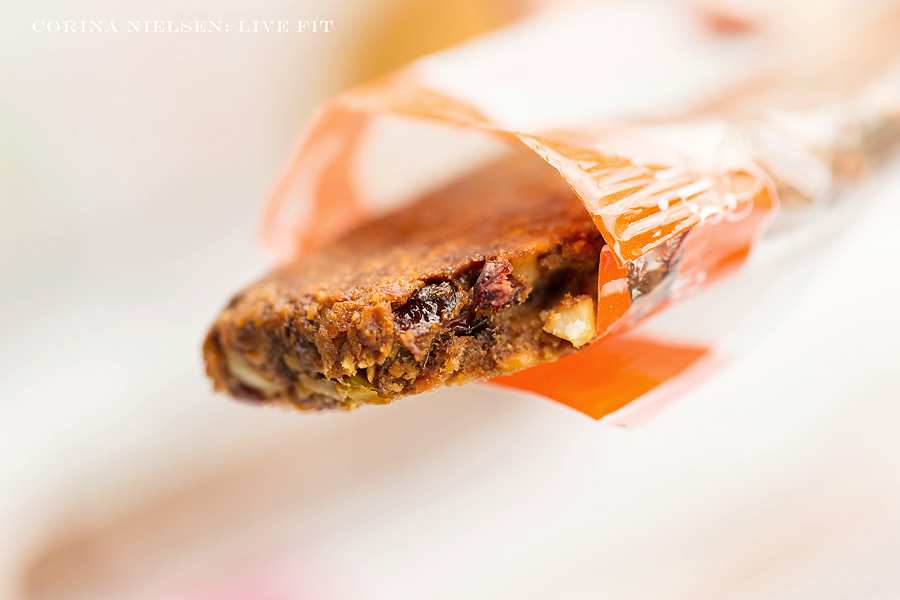 fuel the love with our outrageously delicious mix of nuts, seeds, shredded coconut and fruit. packed with minerals, vitamins and antioxidants, love & nuts' swirling flavors, complemented with cinnamon and vanilla, will have your taste buds spouting sonnets.
organic • gluten-free • vegan • soy-free • paleo • kosher • non-gmo • dairy-free • wheat / oat free
My Thoughts:
When I first opened my package and saw all of my goodies, I was already thoroughly impressed.  The packaging and products alone were top notch (it was SO hard to not eat EVERYTHING as I was taking these pictures…. SO good).  However, as I began to do a little more research on the company and checked out their website, I was SHOCKED to find that not only did they have other flavors of the cookies and bars, but they also had BAKING MIXES (seriously drooling over these), CRUMBLES (I'm assuming its similar to granola.  Mmmmm. Granola.), "Go's" (which are individually packaged cookies and always handy in my book), and get this… MINI'S (individually packages MINI cookies.  Dead.  How stinkin' cute.)!!!  I really really need these extra things in my life ASAP!
Although the bars were very very good and are PERFECT for this constantly 'on the go' mommy to snack on, the cookies in my box were definitely my favorite item… specifically the 'chocolate chip cookie love' & 'dreamy vegan delight'.  I'm actually quite surprised that I enjoy these cookies as much as I do.  I rarely EVER like crunchy cookies.  If I had to choose between a soft & squishy cookie and a crispy shortbread type cookie, I will usually always go for the softer one.  However, the ginnybakes cookies are so flavorful and rich, its actually a toss up for me!  I have NEVER felt this way about a crisp cookie.  I've always taken bites of the firm cookies and thought to myself "Why in the world did I waste the macros on that?!".  Such a disappointment.  Not with these though!  The cookies are perfect on their own with a tall glass of milk, but I've been really enjoying them crushed up in my yogurts, on top of my smoothies, and as a topping on my nightly ice cream 'proyo' (protein frozen yogurt).  They give the perfect bit of crunch, flavor, and texture!
One of the problems I find with 'specialty' type products is being able to purchase them locally.  There is nothing worse than falling in love with something and then finding out you can't buy them anywhere close by.  I don't know about anyone else, but when I get an itch for something… I need it in my life and FAST!  Good news is for me, I discovered ginnybakes being sold about 10 minutes from my house!  Sadly though, the store doesn't carry the entire line of products… oh the horror!  They local store does  have the cookies and the cookies are good enough for me!!!  Definitely a score in my book!
Bottom line?  If you spot these locally, give them a try.  You will NOT be disappointed!!!  Now I just need DESPERATELY to get my hands on those baking mixes!!!!  Oh the possibilities!!!!
If you are interested in trying out any ginnybakes products, the company has graciously offered my readers a special discount for you! coupon code "
cookie5

" will get you $5.00 off your order!!!  Order now at www.ginnybakes.com!