Lately I've been absolutely obsessed with matcha green tea.  For the past month or so I have replaced my late morning decaf coffee latte with a matcha green tea latte to break my fast and cannot get enough, I'm even more sad when I empty my cup now.  Besides the fact that it's one of the most delicious drinks on the face of the planet (how I make it anyways), it's a huge bonus that green tea is FILLED to the brim with amazingly healthful antioxidants.  It actually contains up to 100 times more epigallocatechin gallate (EGCg) than any other tea on the market.  In addition, green tea also enhances calm, boosts memory and concentration, increases energy, can increase metabolism, and helps boosts the immune system.
You can understand my excitement when my friends at Perfect Keto released this KICK ASS new product, Matcha Green Tea MCT oil powder!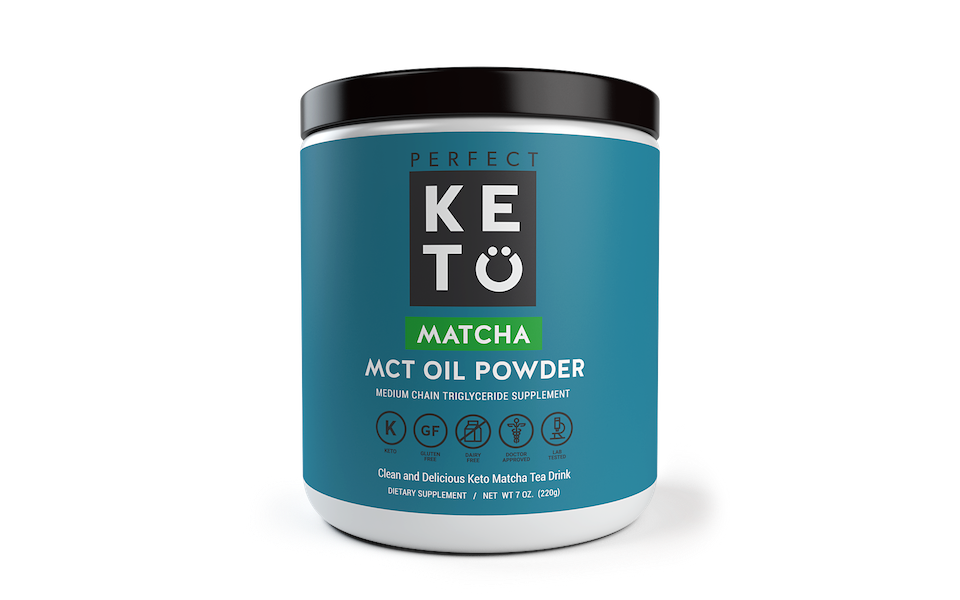 I just about peed in my pants when it was announced.  Literally felt like they were fly's on the wall in my house because this was my exact recipe for the Matcha Green Tea Latte I had been drinking:
12 ounces hot water
1 1/2 teaspoons ceremonial grade matcha green tea
1 scoop MCT oil powder
splash of full fat coconut milk
stevia to taste
The company just made my life a whole lot easier AND more flavorful!!!  Needless to say, my latte has officially changed:
12 ounces hot water
1 scoop of the NEW Matcha MCT oil powder
splash of full fat coconut milk
stevia to taste
It's been wonderful to kill two birds with one stone, but of course I couldn't stop there.  Again, absolute sucker for matcha so I decided to get into the test kitchen and BAKE something up!  Cookies are always a good call because you can make small batches to test things out, they are 100% portable, and most importantly they can bake up FAST (so you can EAT them up FAST)!  Might I present you with one of the most healthful (and yummy) cookies I've ever created???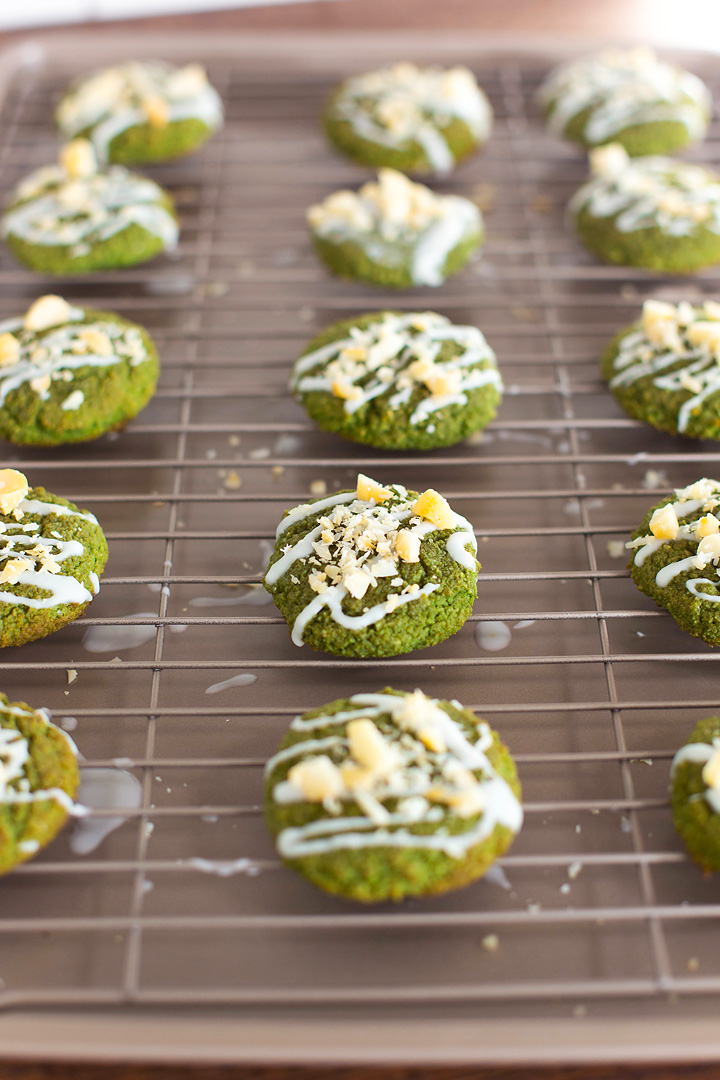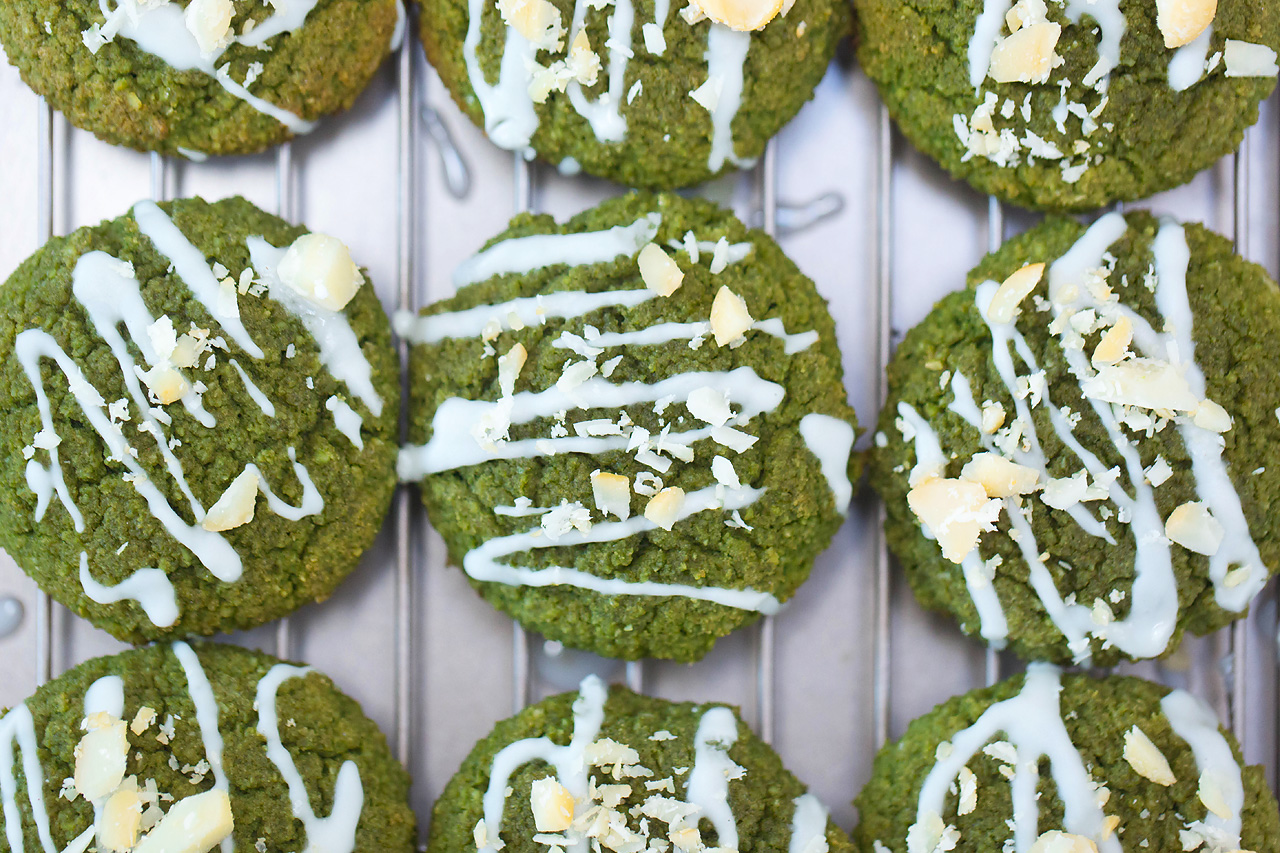 These matcha green tea coconut cookies are little bites of heaven.  More importantly though they are FILLED with so many amazing ingredients, definitely not your average cookie here.  A specific type of protein to help your hair, skin, nails, joints, bones, heart, brain, and even your digestive system; antioxidants to help fight free radicals; L-theanine to help boost brain power and stabilize energy; compounds that could even help with detoxing the body; TONS of healthy fats; and even some fiber that will help you feel fuller and help with your digestion!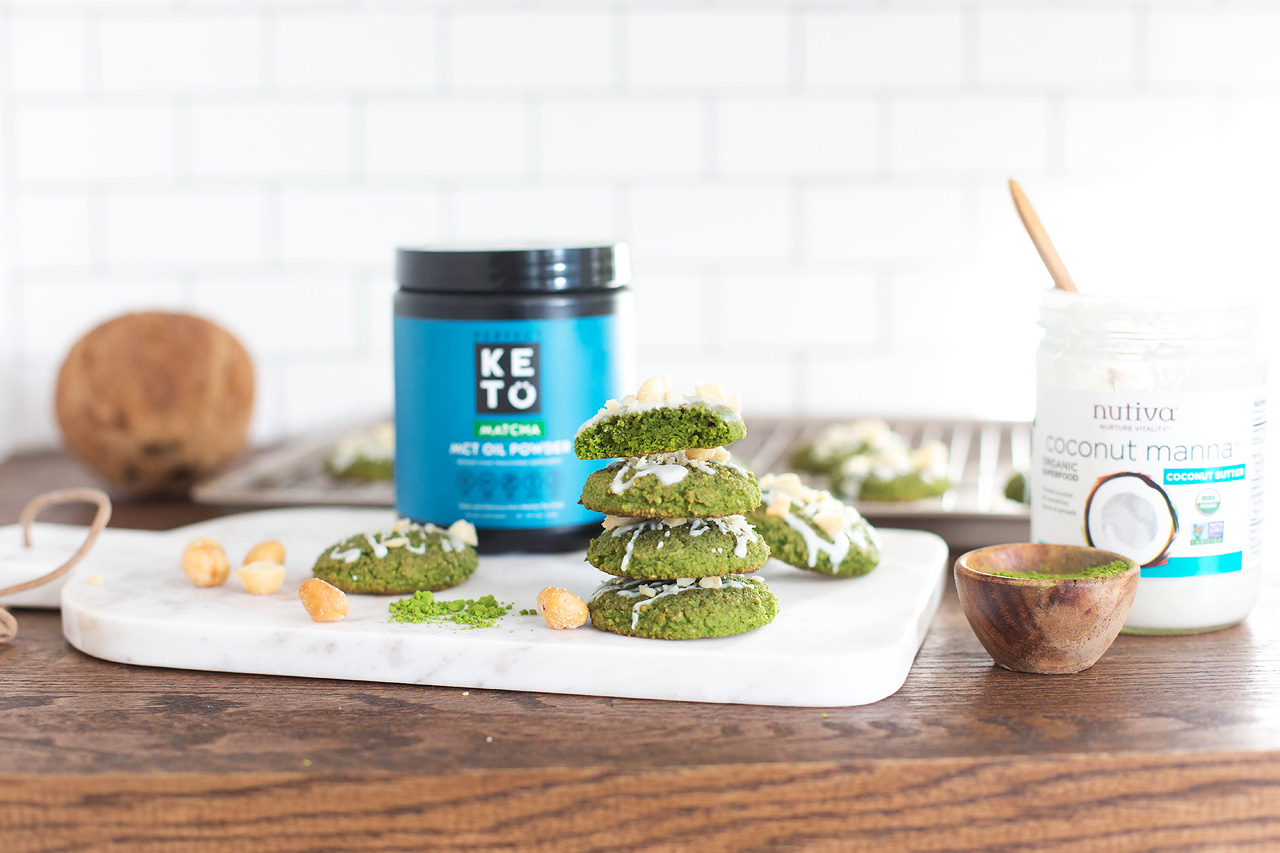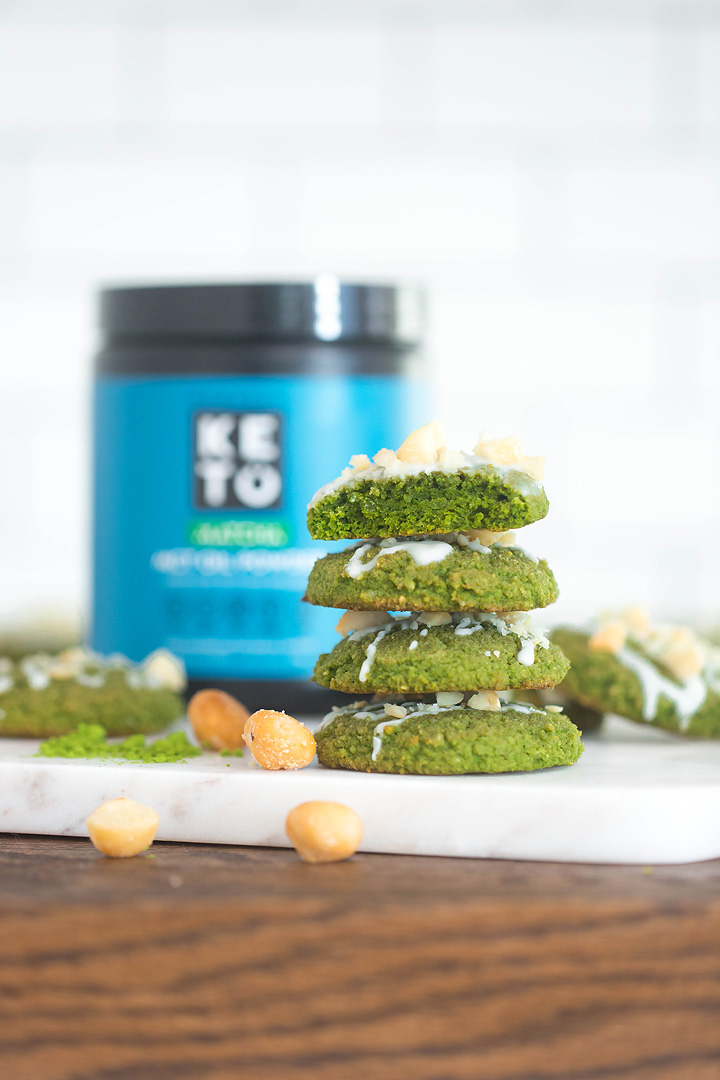 Get a load of that color… this is the tell tale sign of high quality matcha products.  The color should ALWAYS be bright green.  If it has any type of brownish tint, put it down and purchase something else.  It's quality you can see AND taste!  Amazing how even when these matcha green tea cookies bake up, they still retain that vibrant color!  These are perhaps the healthiest, most nutrient dense cookies that have ever graced my kitchen!!!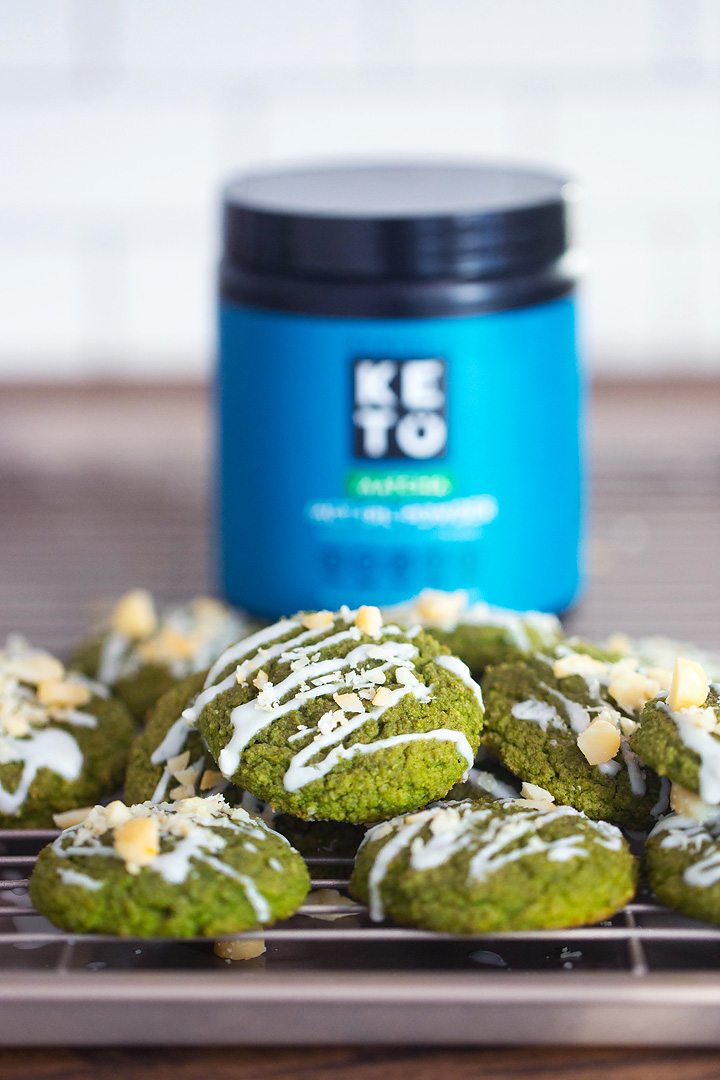 Matcha Green Tea Coconut Cookies

Print recipe
Ingredients
1/2 cup almond flour
2 tablespoons coconut flour
1 tablespoon collagen gelatin
2 scoops Perfect Keto MCT Oil Powder (20% off link and coupon below)
3 teaspoons matcha green tea powder
1 teaspoon baking powder
1/4 teaspoon salt
1 Large whole egg
1 1/4 cup unsweetened dairy free milk of choice
3 tablespoons Swerve of sweetener of choice
1/2 teaspoon coconut extract
3 tablespoons coconut butter
Directions
Step 1
Preheat oven to 350 degrees F and line a baking sheet with parchment paper. Add all dry ingredients to a small bowl. Stir well and set aside.
Step 2
Add egg, sweetener, coconut butter, extract, and milk to a large bowl or stand mixer. Whip until frothy, about 1 minute.
Step 3
Slowly add dry ingredients into wet ingredients in 2-3 batches. Let stand for 1-2 minutes. Portion and divide batter onto prepared baking sheet.
Step 4
Bake for 20-22 minutes until bottoms and under edges are slightly golden brown. Top with extra melted coconut butter and chopped macadamia nuts if desired.

Get 20% OFF on ALL Perfect Keto products using code: