These decadent cheesecakes are the perfect HEALTHY sweet treat for any and all peanut butter & chocolate lovers!  They are low in sugar and fat, but high in taste and protein to help fuel your muscles!
Although I thoroughly enjoy making big elaborate dessert dishes, I have a special place in my heart for personal sized treats.  Who doesn't right?!  I like the idea of having desserts for the week portioned out, prepped, and ready to go anytime my sweet tooth acts up (which is often).  One of my favorite weekly prep items are protein cheesecakes simply because they are SO easy to make and nearly fail proof.  I spend about 5 minutes making the batter, 15-20 minutes baking, cooling, and then popping them into the fridge to set.  I have yet to make a batch of mini protein cheesecakes that weren't absolutely awesome!  Total fool proof!!!
I started off this protein cheesecake love affair almost exactly one year ago during our annual Lake Tahoe trip.  These "Birthday Cake Mini Cheesecakes" came in extremely handy during the long car ride when I needed a nibble of something as well as in the evenings where dessert options in the woods were scarce. By the end of the week, all mini cheesecakes were accounted for and in my stomach!  Of course I would be making another batch of mini cheesecakes for this years Tahoe trip… except this time it needed to combine one of my favorite combos of all time: Peanut Butter & Chocolate.  Is there really anything better?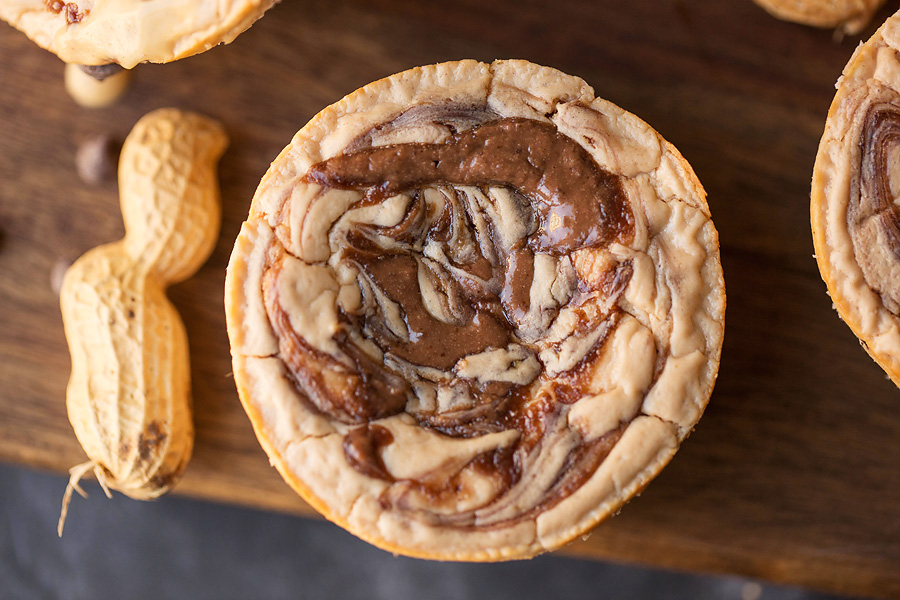 Regardless if you choose to add the extra peanut butter drizzle or not, you will not be disappointed in these scrumptious bundles of joy.  But honestly… add the extra bit of lovin' and perhaps a serving or two of Enjoy Life mini chocolate chips.  Worth it.  Totally and utterly worth it, so just do it and get it over with k?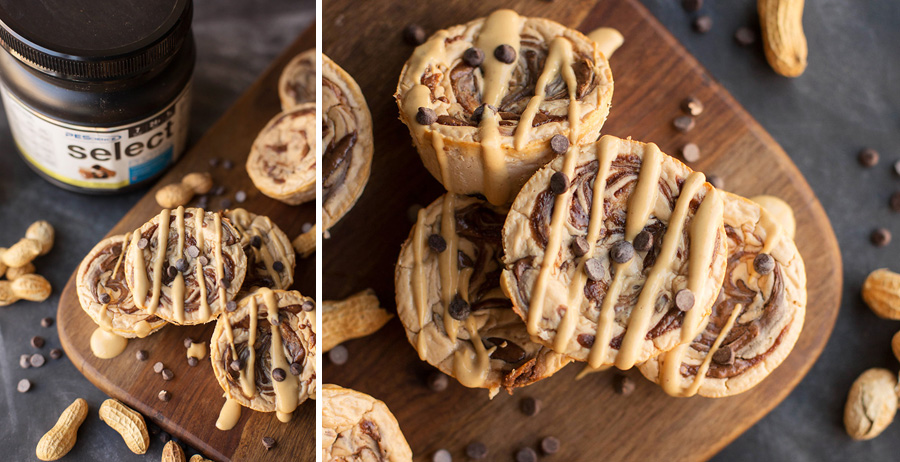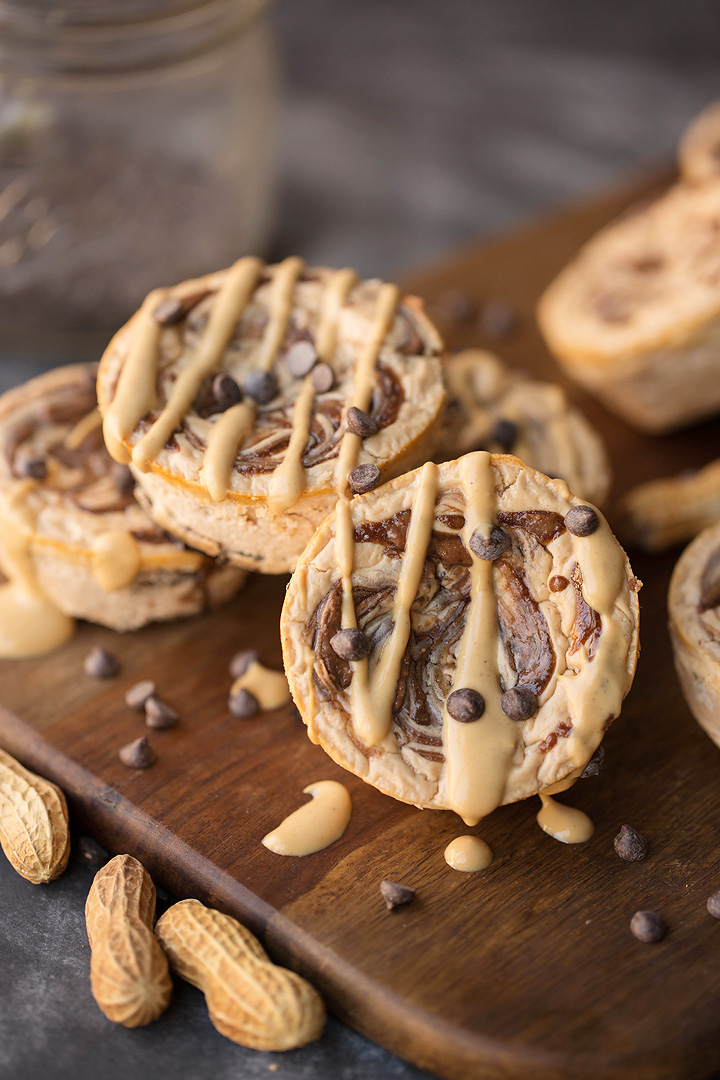 Mouth watering?  Sold on making these immediately yet?  Not quite?  How about seeing the nutritional profile on them for a little final push…

And if that wasn't enough to convince you to try these, here's another couple of pictures to tempt your sweet tooth…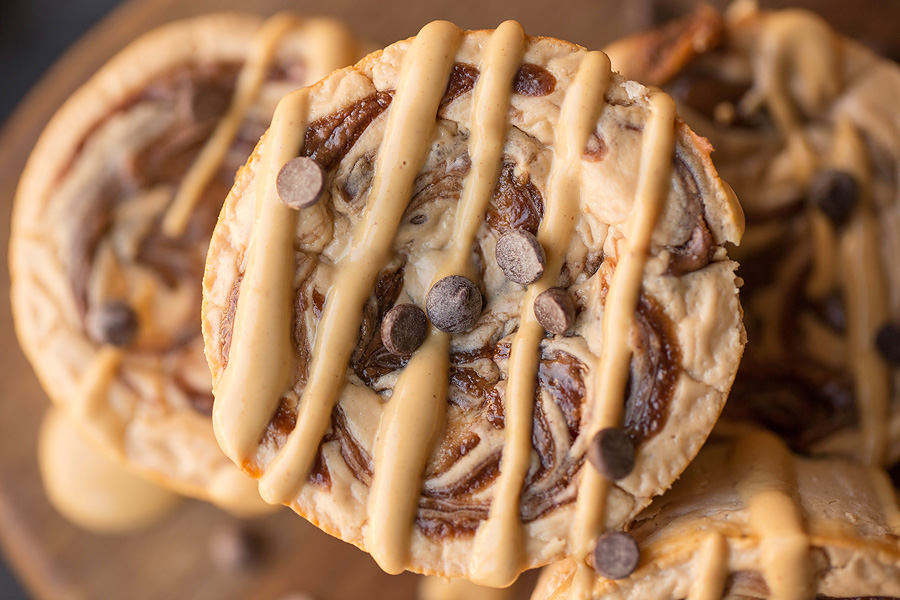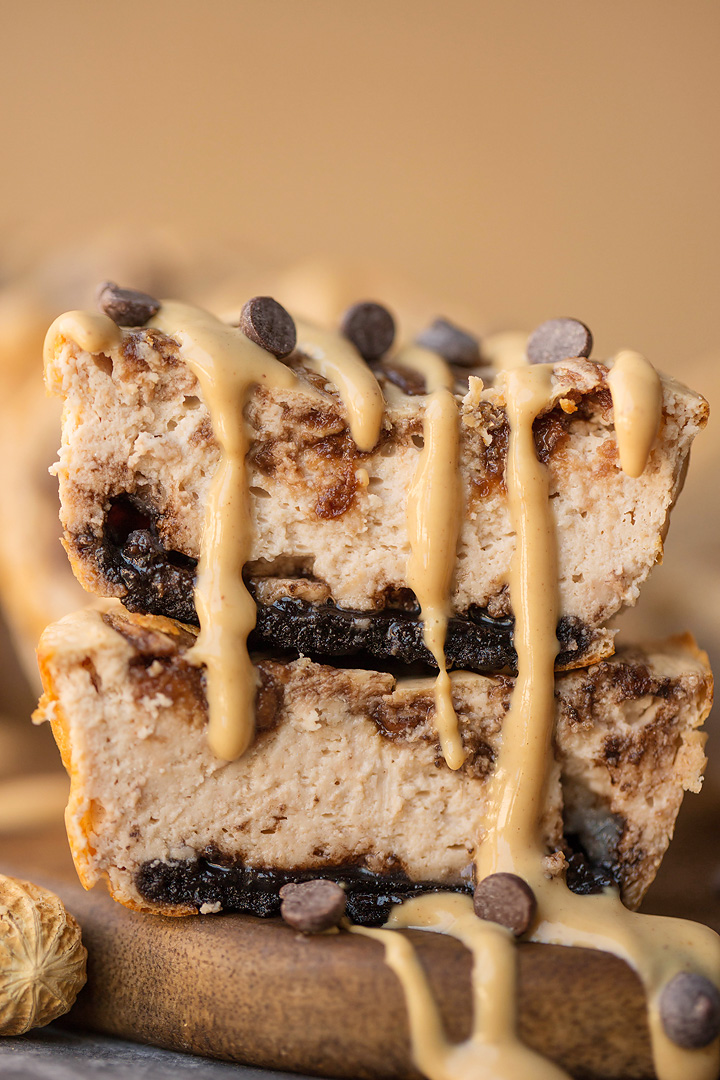 Aside from the fact these taste awesome AND have great macro's AND are so simple to prepare, another reason why I LOVE the idea of these mini cheesecakes is because they are GREAT for food/meal prep and they travel really well!  When it came time to prepare for "Lake Tahoe 2016", the only things I prepared for the trip this year was a couple of meals for the road and these Peanut Butter Cup Swirl cheesecakes!  And just like last year, this batch was also in my tummy by the day we left to head back home!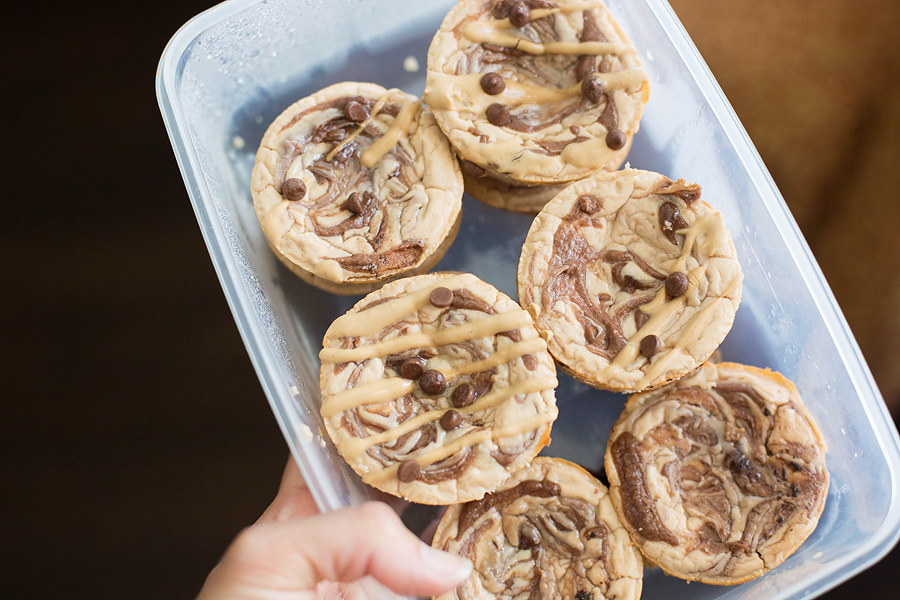 ok, ok, ok.
SOLD. SOLD. SOLD.  Sign me up again and again and again and again… please!!!  Another recipe that will steal your heart and have you eating cheesecakes every single day!
Peanut Butter Cup Mini Cheesecakes

Print recipe
| | |
| --- | --- |
| Serves | 12 |
| Prep time | 5 minutes |
| Cook time | 20 minutes |
| Total time | 25 minutes |
Ingredients
12oz fat free cream cheese (softened)
12oz 0% Greek yogurt
1/3 cup baking stevia or sweetener of choice
2 Large whole eggs
1/4 cup Chocolate Caramel MuscleEgg egg whites
2 teaspoons vanilla extract
2 scoops PEScience Peanut Butter Cup protein
4 tablespoons Chocolate Peanut Butter (or plain peanut butter)
4 tablespoons mini chocolate chips
Optional
Directions
Step 1
Preheat oven to 325 degrees. Coat a cupcake/muffin pan (12) with non stick spray and place optional Oreos on the bottoms on the pan.
Step 2
In a large bowl or in a stand mixer fitted with the whisk attachment, whip cream cheese, Greek yogurt, extracts and stevia for 1-2 minutes until there are no lumps. With mixer on low, add eggs one at a time, and then egg whites. Beat for 1 minute. Slowly add protein powder and beat until completely smooth.
Step 3
Divide and pour mixture over each of the Oreos or directly into the pan. Fill as close to the top of each pan as you can without spilling over (these will not rise).
Step 4
Drizzle 1-2 teaspoons of peanut butter on top of cheesecake and swirl with a knife or fork. Add mini chocolate chips if desired.
Step 5
Bake for 18-20 minutes. Do NOT over bake. Cheesecakes will be firm on the outside edges but appear slightly unset in the middle. Remove from oven and let cool completely. They are best served the next day after being refrigerated/cooled over night.
Note
NUTRITIONAL INFORMATION (makes 12 mini cheesecakes): calories- 127, fat- 4 grams, carbs- 11 grams, protein- 11 grams (per mini cheesecake WITH optional Oreo cookie base)
30% OFF PEScience Peanut Butter Cup Protein & ALL Other Products using coupon code 'corina' at checkout www.PEScience.com