Basic black leggings are a staple in EVERY woman's closet, especially fitness fanatics and gym goers!  With just a couple easy changes, you can go from daytime workout mode to evening mode!
DISCLAIMER: this post is sponsored by Vocalpoint and DICK's Sporting Goods. All opinions expressed are my own.
** Today I'm partnering with ® Dick's Sporting Goods and giving away a $50 GIVEAWAY for YOU to shop!  Read details below! **
Now that I've learned where the limits are with my body and how far I can push before it fights back, workouts ARE commencing my friends!!!!  So. Excited.  What better way to celebrate this monumental occasion than with some retail therapy?!  However, unlike most of my shopping excursions, I had very specific things I was looking for.  Since I'm going to try and workout in the late afternoon now, I was on the hunt for some clothes that would allow for an EASY transition from "gym time to play time".  Normally our afternoons are SO jam packed now with my daughters volleyball schedule.  I need to go from workout mode to looking somewhat "No, I didn't just get done working out" mode.  I knew exactly where to start building my dual purpose outfits.
Please give a round of applause to my absolute FAVORITE item in my closet…
Black Leggings.  They are basically every fit woman's fashion BFF.  Comfortable, stretchy, forgiving with just about any body type, and perhaps the most versatile article of clothing in your closet.  Although my activity level has taken a drastic turn this past year doesn't mean I still don't live in these magical pants.  Sure some may argue that yoga pants are probably even better for comfort, but what I love most about the basic black legging is how easy it is to change up your look.  Wearing your basic 'black legging' can allow for an effortless transition from workout mode to going out in public mode!  Might I say it's perhaps the most versatile article of clothing ever?!
In addition to my leggings, I wanted to grab a few new things!  My shopping list was very specific.  Lightweight sweaters/outer wear, cute tops, and possibly even a dress or tunic.  Everything needed to be easy, comfortable, and of course work with the black leggings I normally wear to work out.  I wanted to be able to get a quick afternoon workout in, change my shoes, throw something over whatever top I was wearing, and jump in the car for evening practice or dinner.
Where do I go for all things fitness and sporty?  ® Dick's of course.  Duh.  Their women's clothing sections continue to impress me and I was positive I could find EVERYTHING I had in mind.  Let's do this.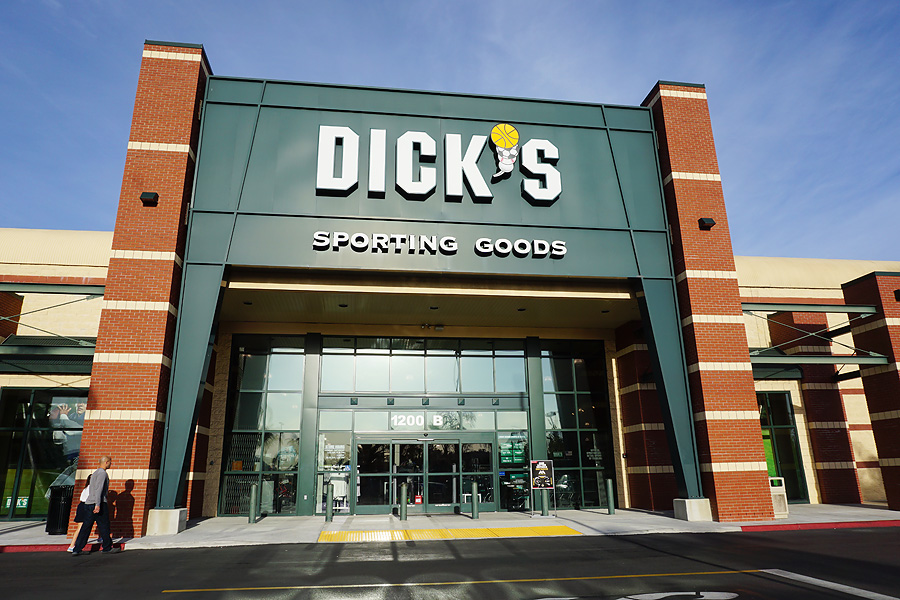 First stop was the HUGE section for Calia by Carrie Underwood.  I was already familiar with the products available and knew I could find exactly what I was looking for here.  What I didn't know until I spoke with a ® Dick's sales associate was that Carrie's entire line was created for my EXACT needs. Literally, the line was made to be cute, comfortable, and totally functional for the average everyday woman & mom!
Last sentence in the first paragraph… spot on right??!!!
And fortunately I don't really sweat, BUT knowing the materials used in the Calia line will limit moisture, draw heat away from the body, and keep me cool is definitely an added bonus.  But wait, check out the text under "BodyFree".
My sentiments exactly… I should be able to find everything I need in just this area of the store!

So first stop… Calia!  Definitely Calia.  Do you see the size of this section???  I couldn't even fit it all in the picture frame!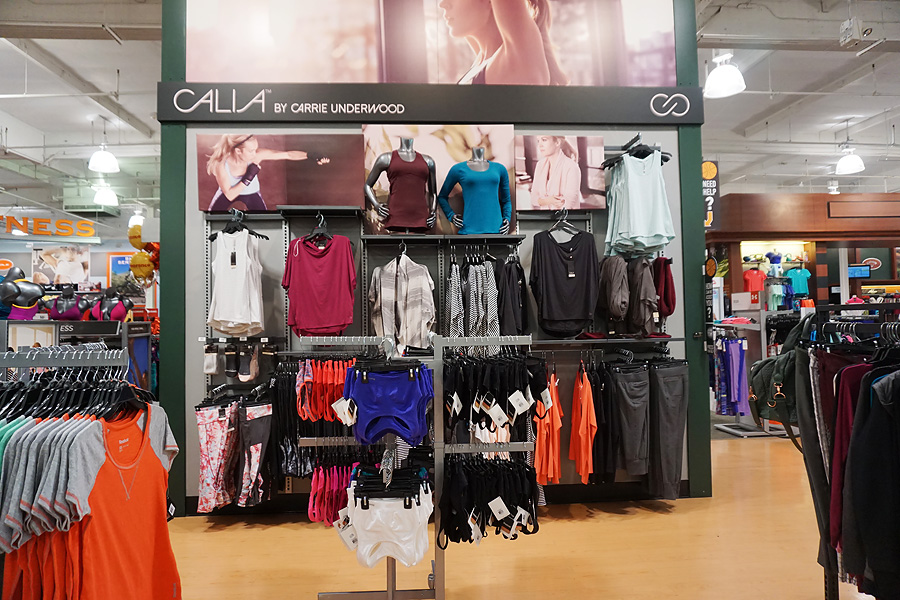 I loved seeing the mix of bright colors and patterns, but also finding many pieces that were neutral in color (gotta balance fashion out right?).  Trusty black leggings, colorful top to workout in (because colors make me happy), cute things to wear OVER the tank tops (that will dress things up a bit), and then a quick change of shoes.  No problem.
But wait.  Beat still my heart.  A vest.  If you've read some of my fashion posts, you will know I'm a sucker for vests. This gray puffer one was meant for me to buy.  It was the only one left and happened to be a size XS!
Leggings, your short or long sleeve workout top, and a pair of boots.  Workout to running errands just like that.
Vest= Sold.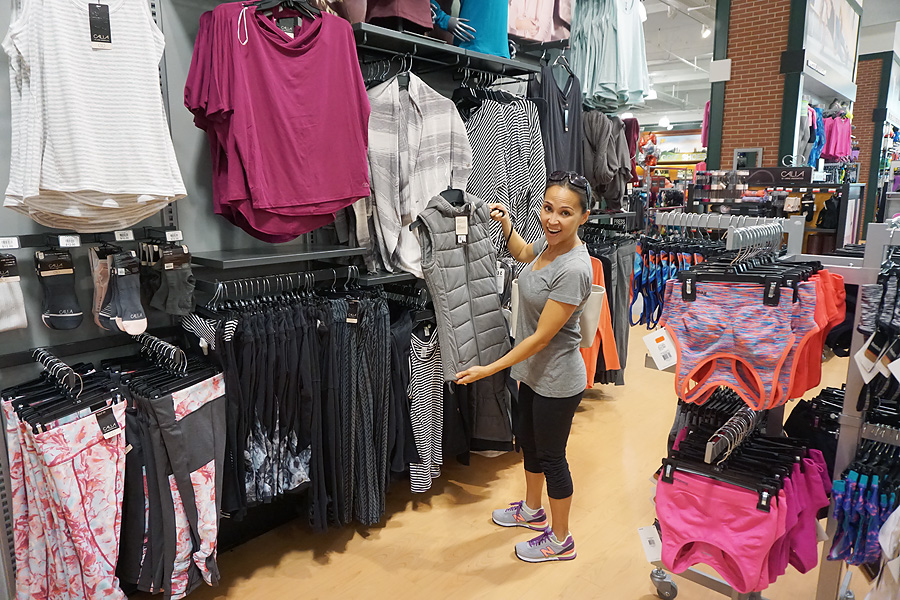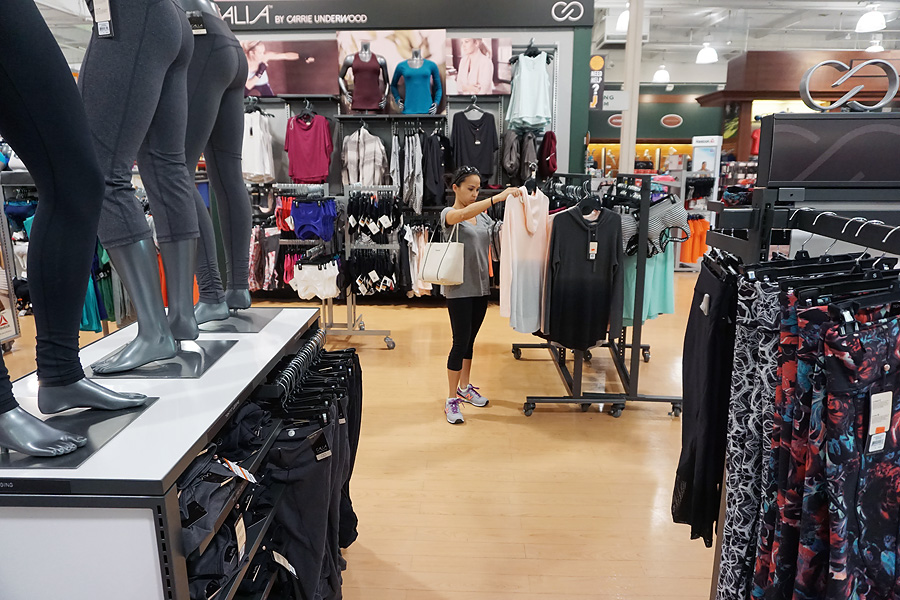 Checked out a few other tops, grabbed a new pair of black leggings (because a woman can NEVER have enough good black leggings), and even though I think I had everything I needed… one more stop to another favorite area.  Not sure what the section is called, but a lot of ® Dick's Roxy, Quiksilver, Hurley, and more "beachy"style clothes are here.  The perfect section for San Diego casual that would work perfectly with some black leggings!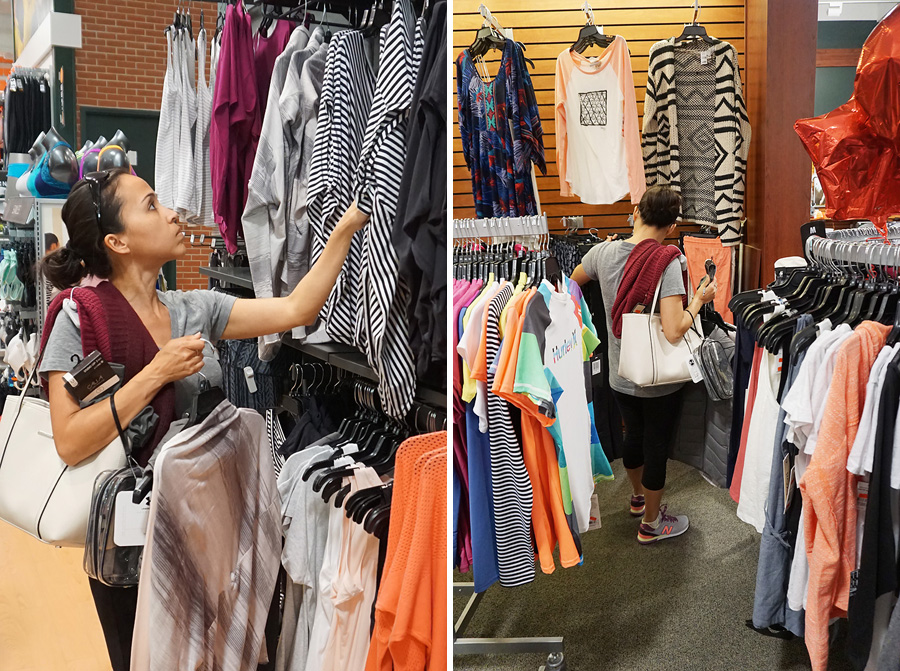 I wasn't on the hunt for shoes this time, but my daughter ALWAYS is.  We couldn't get out of the store without her trying on at least 4 pairs!!!  A sucker for shoes just like her momma!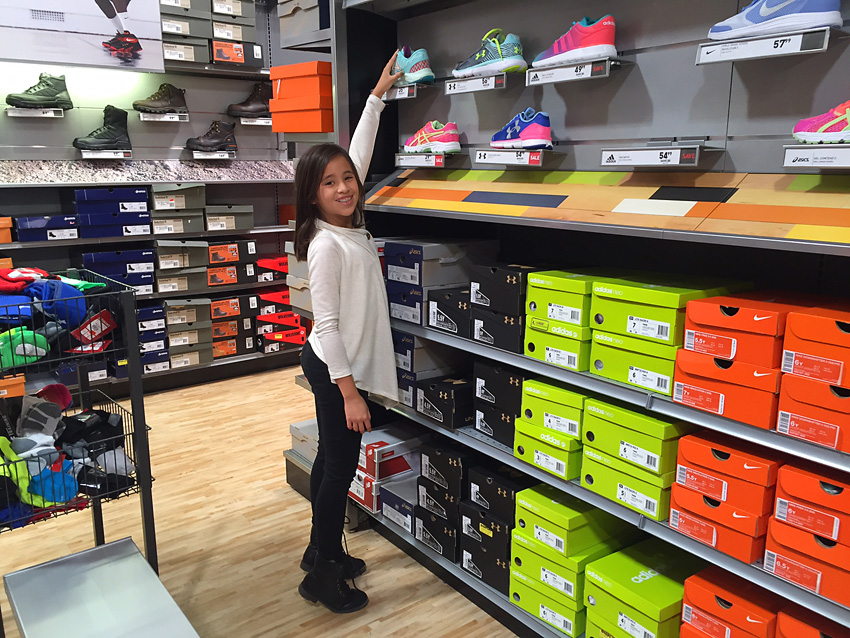 In & Out in less than 20 minutes and I didn't even need to try anything on.  Praise Jesus.  My kind of shopping trip!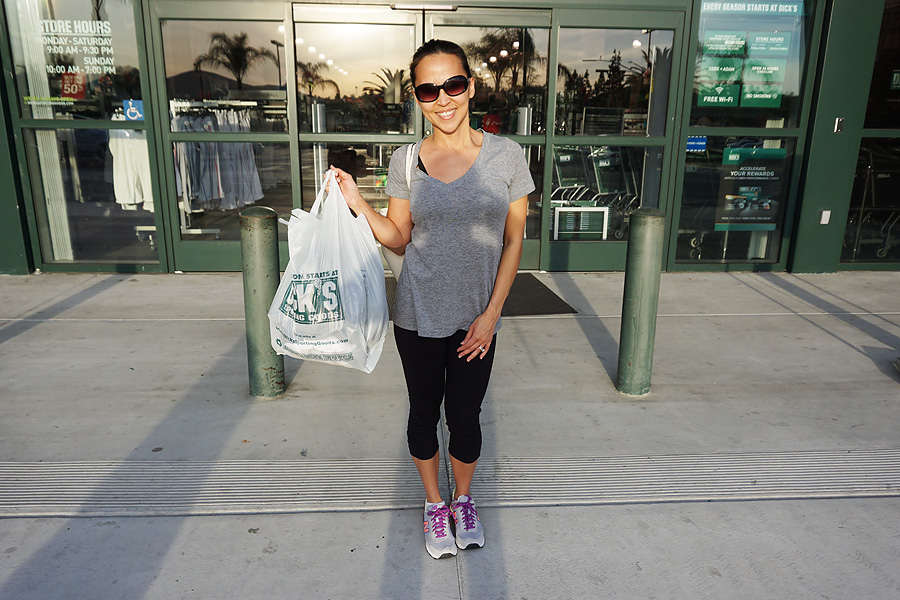 Alright, so lets take a peek at what I got and how I put my new outfits together.
Day 1.
On this particular day, I actually didn't "workout" per se.  My husband did though while I took some time to simply stretch.  This was my first week in quite a while feeling "good" with minimal pain, so I wanted to ease into things.  One thing I've learned over the last seven months since my spinal cysts were found is finding balance with activity.  I've already thrown myself into flares pushing my body too much, too soon.  Not anymore.  I worked on some mobility and stretching on Day 1… good enough for me!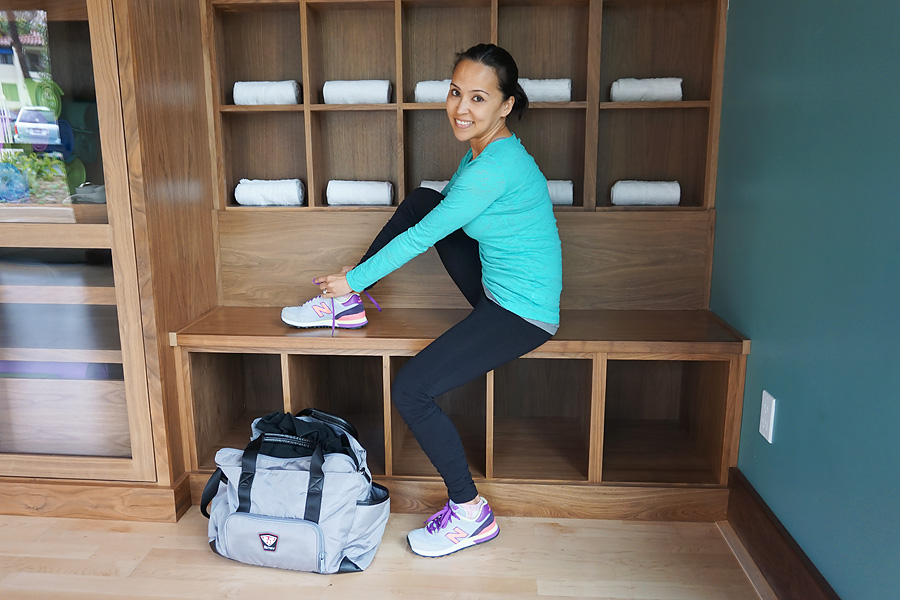 My new vest makes it's first appearance… this is not necessarily an "evening"/go out look but adding the vest to what I 'worked ou't in adds just enough to make people think I didn't just come from the gym!  A more sporty casual look I think!  The outfit worked out great because after we picked up the kiddo from school, we took a trip to the local Farmer's Market.  Totally appropriate!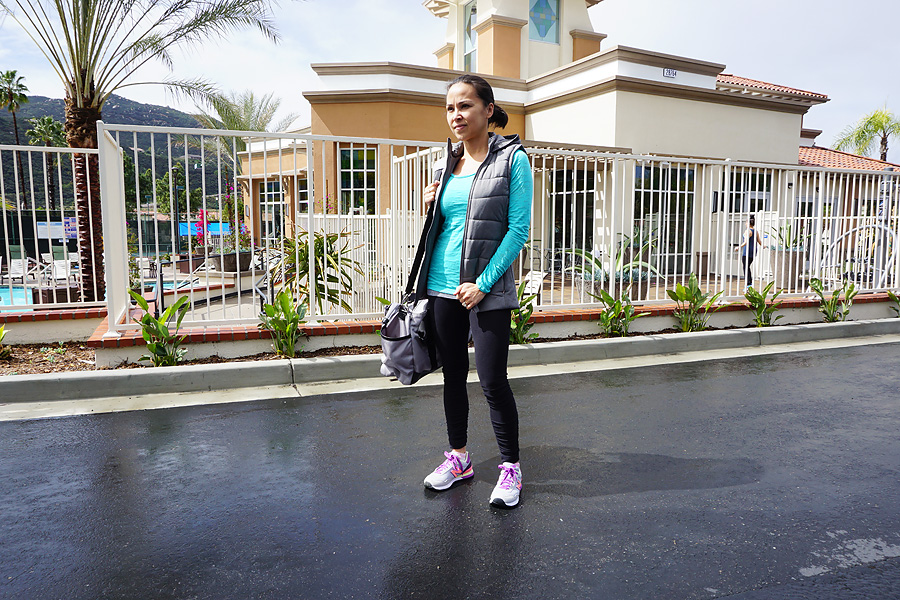 Day 2.
No spin class for this girl, but while my husband lifted I hopped on a few cardio machines to see how my body would tolerate the movements.  Stair climber was a no go, treadmill and rowing machine would be good options, and then I checked out the bike for 10 minutes!  Not sure if I could go much longer in the same position, but knowing I can go 10 minutes at a very slowish pace without issues makes me very happy!!!  This might be a good option for me to warm up or cool down once regular workouts commence!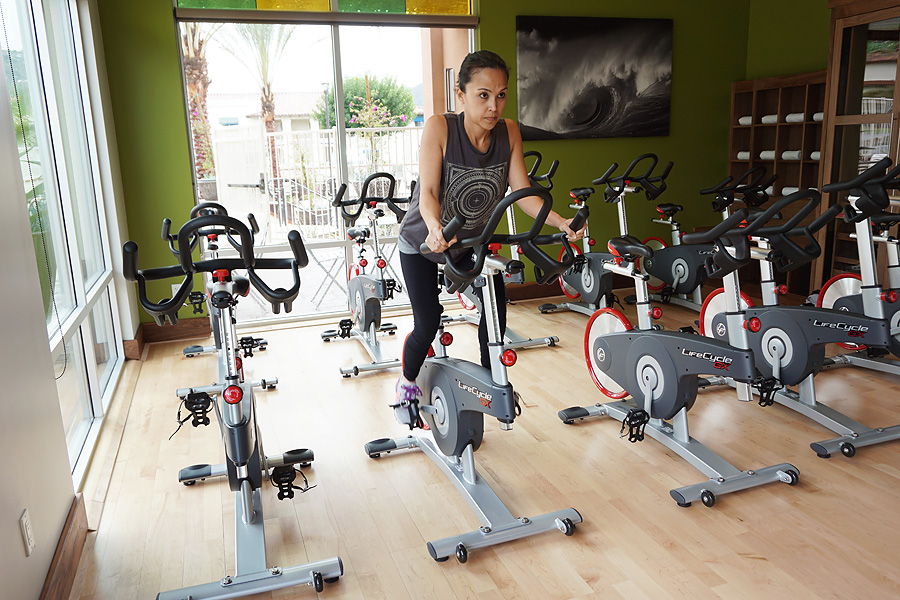 Immediately following our workout, it was time to get our daughter at school, get her to the orthodonist, and then off to volleyball practice!  Easy peasy.  I brought my NEW Volcom "Free to Go" wrap over my Roxy top and a pair of boots.  Quick 'change' in the car, less than 1 minute, and boom.  New 'outfit' thats totally appropriate for errands and watching sports activities !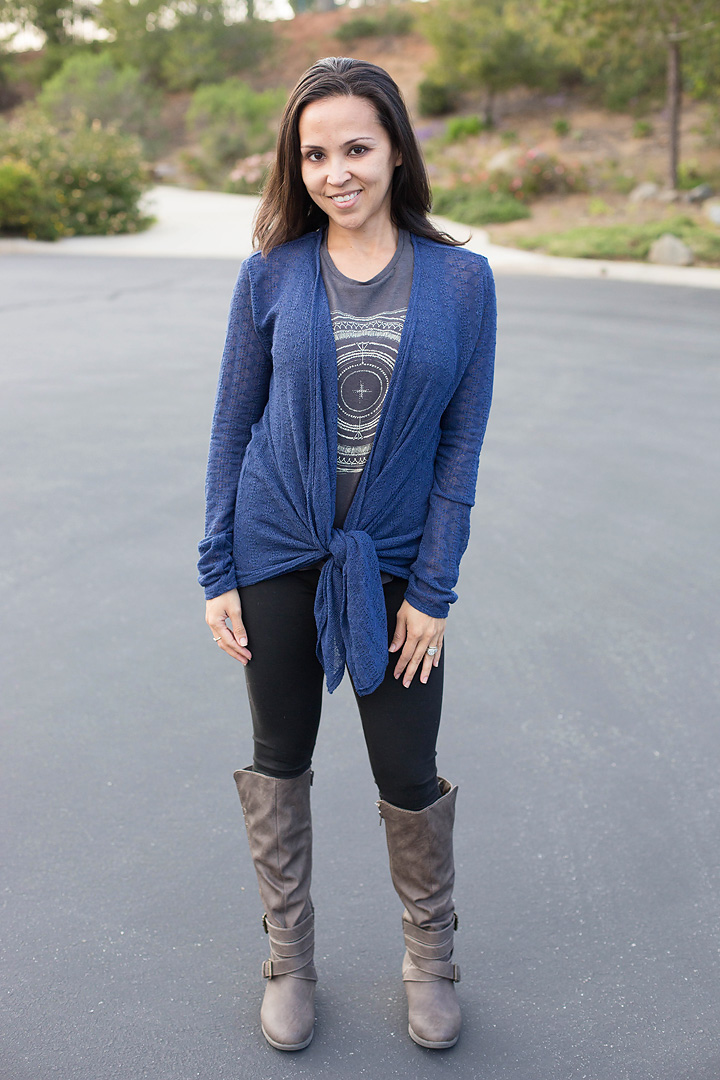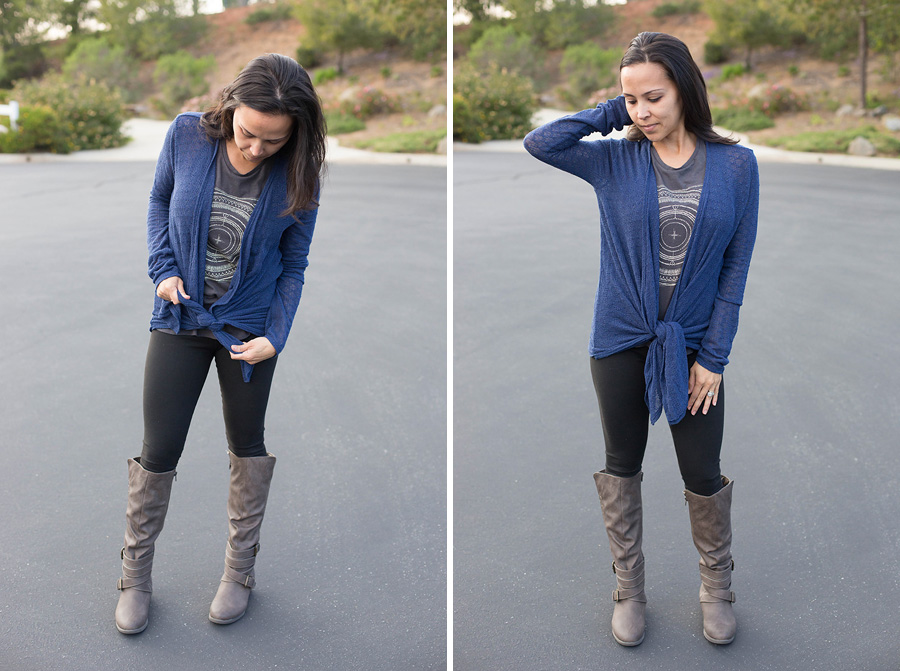 Day 3.
Time to step things up a bit and see if I'm ready to start lifting!  Before I contact my coach for a program, I needed to see where my boundaries were with the weights, how much I could do safely, and how many exercise/sets/reps I could handle at a time.  This was the first real lifting trial day and although I was only able to do body weight or very low weight, I completed 6 exercises, 3 sets, 10 reps!!!  That's HUGE, amazing, and promising news for me!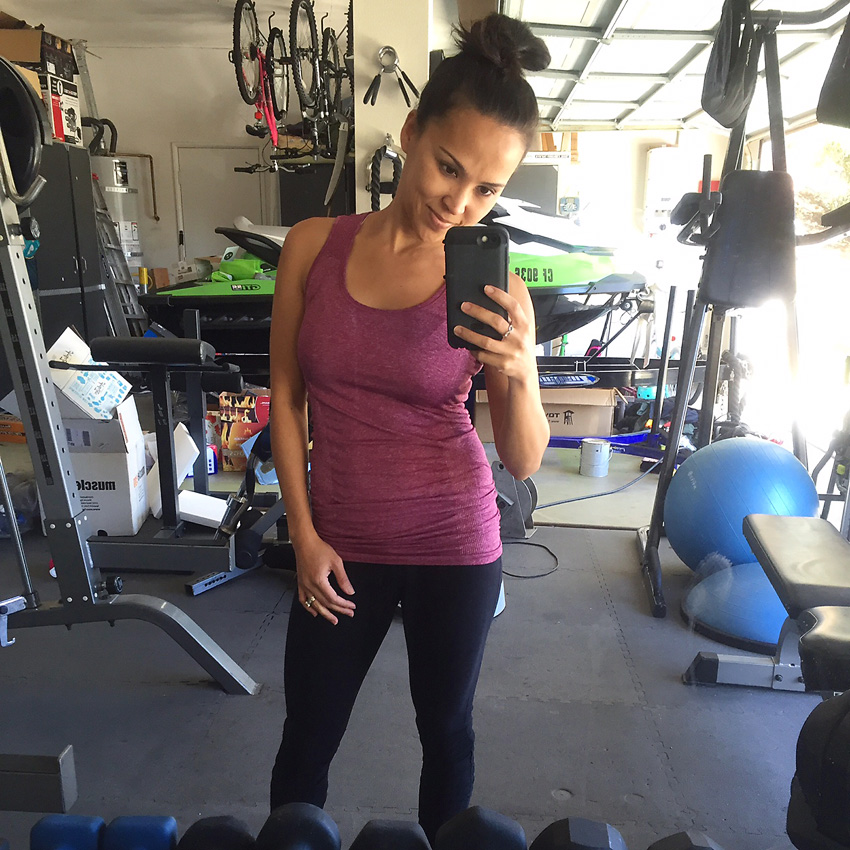 Dinner time!!!  No problem my love.  I will be ready by the time you get your shoes on… nope I don't need to "change".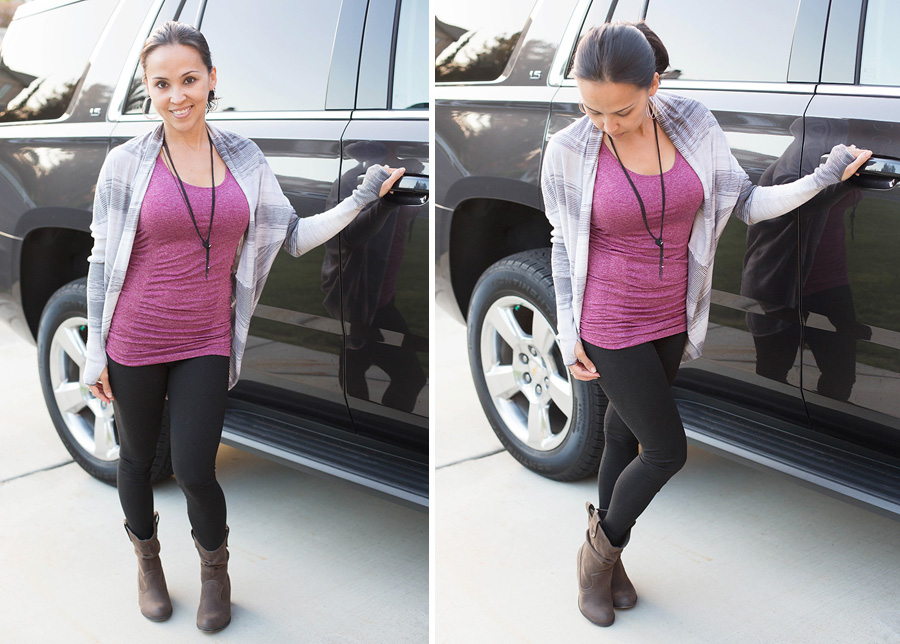 Black leggings, my new Calia seamless tank, a change of shoes, some jewelry, and one of my new favorite things in the closet.  Calia's "Effortless Striped Cocoon Sweater"!!!  I think it was the very first thing I picked up at ® Dick's.  Love at first sight.  Totally my style, great pattern and color, SO comfortable, and easy to throw on!  Bonus… sleeves with the little thumb cut out always put a smile on my face.  So cute.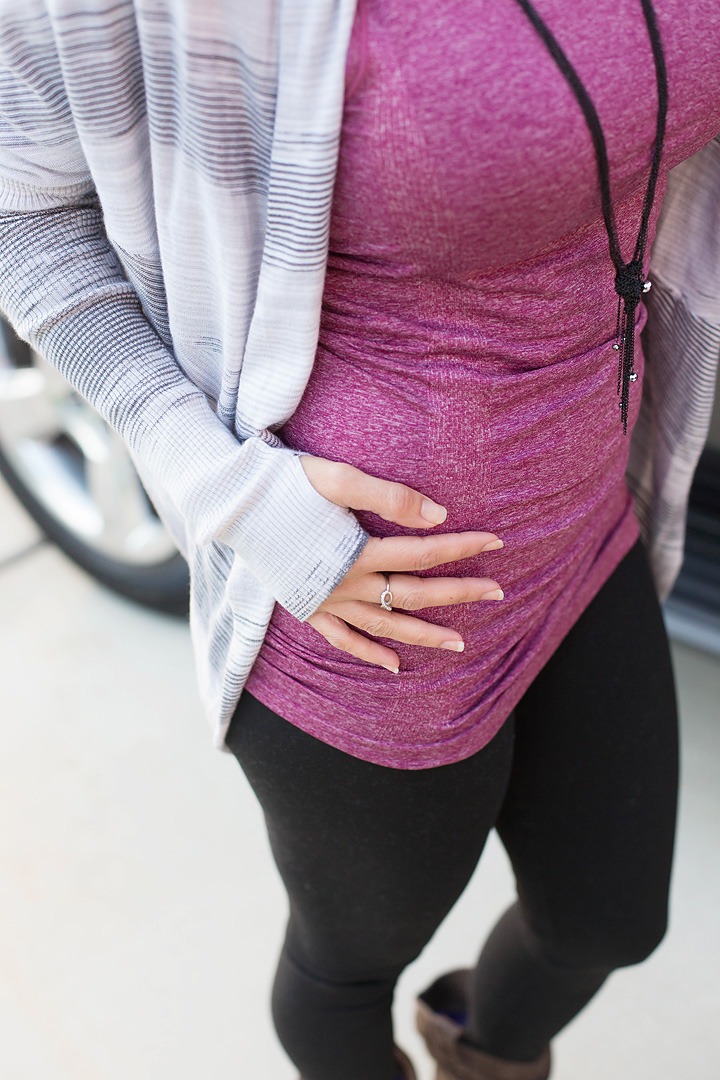 Day 4.
My last workout of the week consisted of some more stretching and I also attempted some core work (unsuccessfully).  I woke up not feeling 100%, but also didn't want to lose the momentum I have going on.  My goal now is to simply move ANYTIME I can!!!  I will take ANY amount of minutes away from laying down on my couch or bed!  I'm thankful simply being able to stand and walk around for a bit.  Stretching is better than nothing!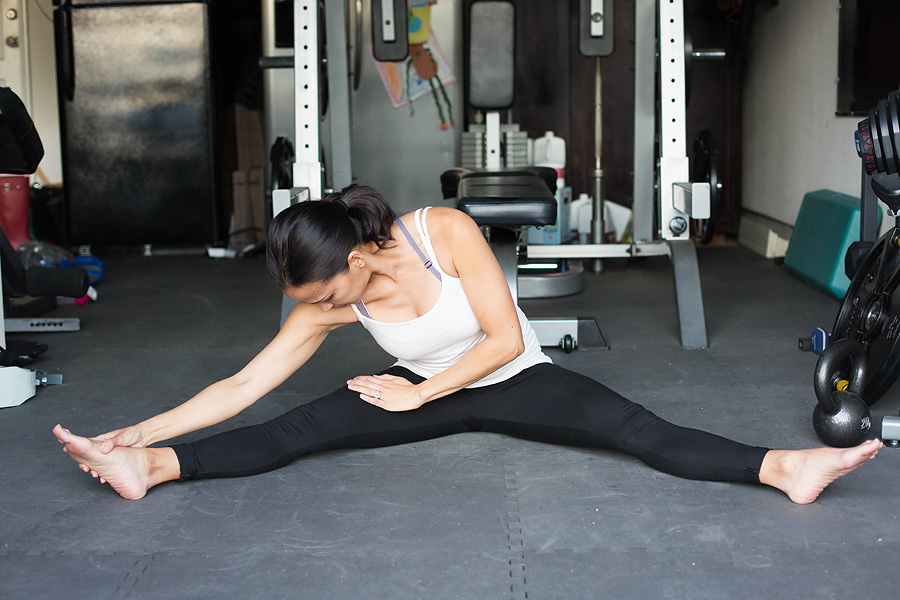 Time to 'change' and head out the door!!!  Dinner date with friends!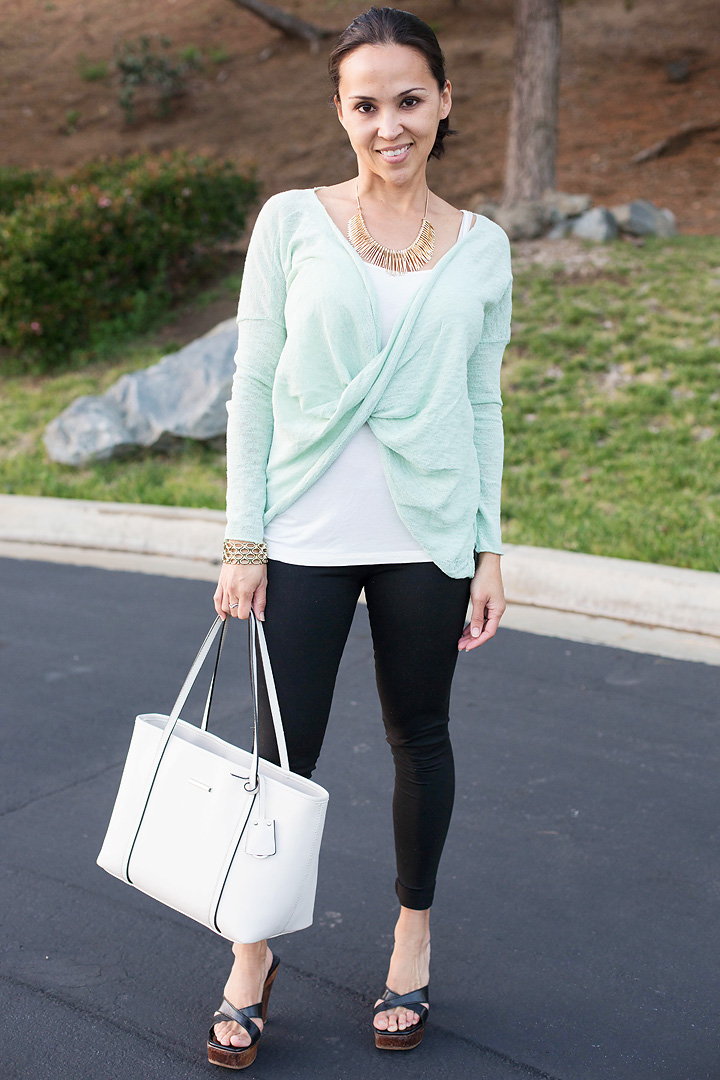 This was a super easy outfit transition because I didn't even have shoes on while I worked out!  All I needed to do was throw on this NEW gorgeously adorable Roxy "Wish You Were Here" top, some jewelry, and slip on a pair of heels!
See, it doesn't take much to transition your gym look to a casual afternoon or evening look!  Shoes, a layering top, accessories, a quick run of your fingers through with your hair, and maybe some makeup if you are into that kind of thing!  Effortless fashion!  I knew I could count on ® Dick's for the exact style of clothes I had in mind.
Crossing my fingers that my body holds up and I can continue on this path!  For now, you can find me slowly working my way back to lifting AND of course enjoying my new goodies from ® Dick's!
Are YOU ready to shop now???
Rules are simple… leave me a comment on this post letting me know how YOU would dress up your favorite black workout leggings!!!  I want more fashion ideas to transition from gym mode to mommy activity mode!!!  Comments need to be posted by Friday, March 18, 2016 | 11:59pm!!!  Winner will be selected and contacted by ® Dick's Sporting Goods to receive your $50 GIFT CARD!