These Greek inspired chicken kabobs have been a family favorite for almost 10 years now.  The chicken is soaked in a rich & flavorful yogurt marinade and chargrilled to perfection.  We serve it with lemon scented rice, pita bread, homemade hummus, and a zesty cucumber pico de gallo!

I remember the exact day (many years ago) I was inspired to create this dish.  My family and I were just walking out of the movie theater and we were all starving!  There weren't many options at the shopping center we were at, but we did stumble upon this tiny hole in the wall Greek restaurant.  Although none of us had really ever tried Greek food before, the dishes we saw coming out of the kitchen were certainly drool worthy.  The chicken looked juicy, veggies were fresh, and after seeing people's reactions when they took each of their bites… I was sold.  OK family of mine, decide what you want because this is where we are eating!
Oddly enough, we ALL ordered the same thing: chicken kabob plates, rice, fresh warm pitas, and hummus.  We weren't sure what to expect, but I think we were all finished eating within 5 minutes.  We were all practically licking our plates clean.  How in the world did it take us so long to find this magical Greek restaurant?  Furthermore, how on earth had I never eaten at a Greek restaurant before?
We craved those juicy & delicious chicken kabobs and always seemed to look for an excuse to head out to this particular shopping center where the restaurant was located.  We ate here at least once a month over the course of the next year and then I finally decided it was time I tried to make my own version of this delicious meal!  After a few cooking trials, I finally came up with a marinade and recipe that brought the "take out" home and it doesn't matter how many times I make these Greek chicken kabobs, the family always puts in requests for it.
It's so simple, yet extremely full of flavor and it all starts with the marinade… Greek yogurt, lemon juice, lemon zest, garlic, paprika, fresh parsley, salt & pepper.  All into the bowl, mixed, and ready for the chicken!  I usually let it all marinade for at least 2-3 hours or even over night will do.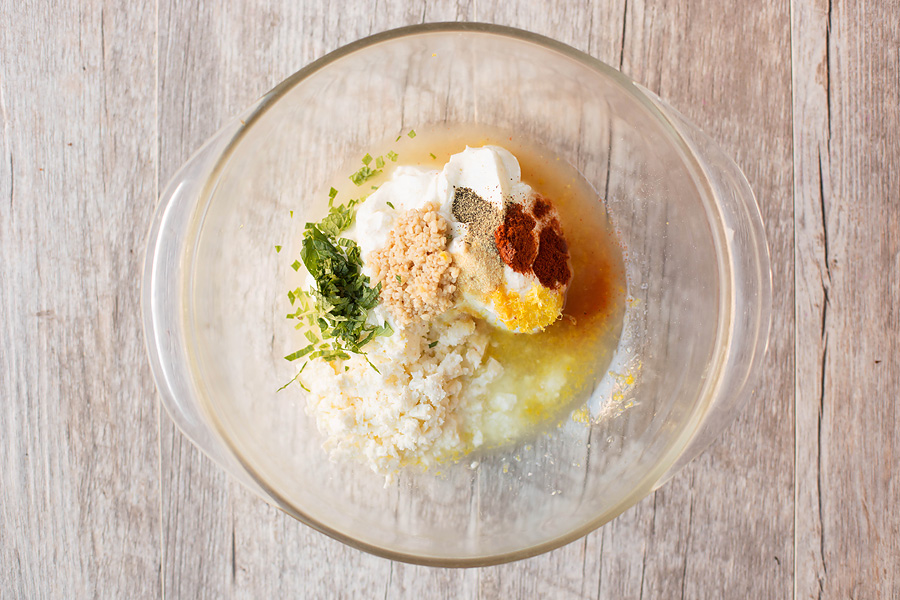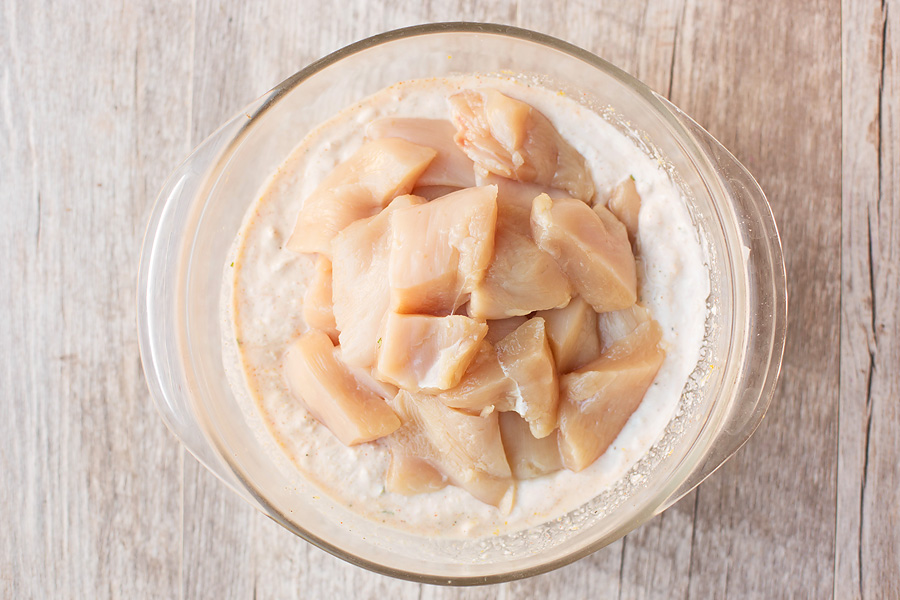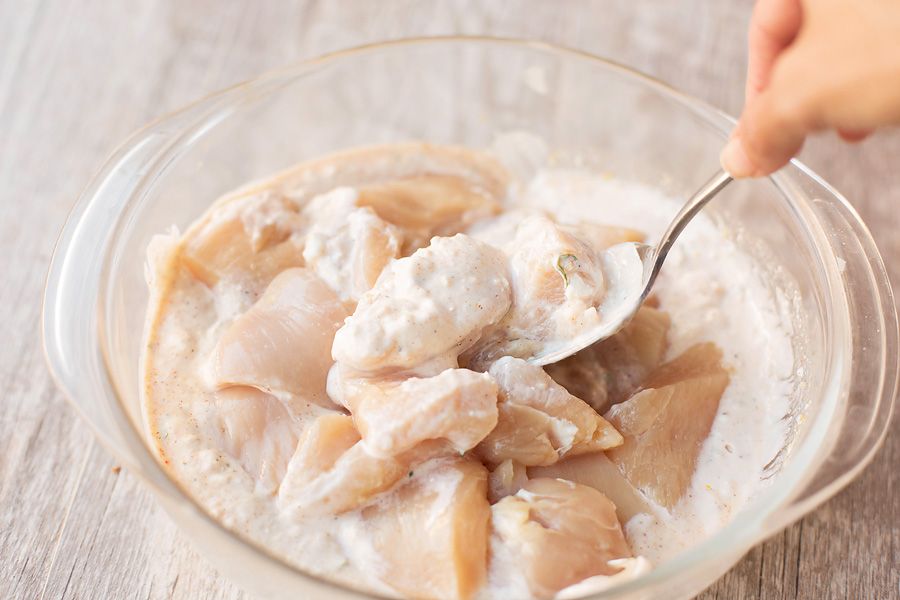 While the chicken soaks up ALL that beautiful flavor I wash, prep, and chop the veggies: zucchini, peppers (I did red this time, but green is lovely also), and red onions.  Toss the veggies in a little olive oil, garlic powder, salt, & pepper and it's time to skewer and assemble the kabobs.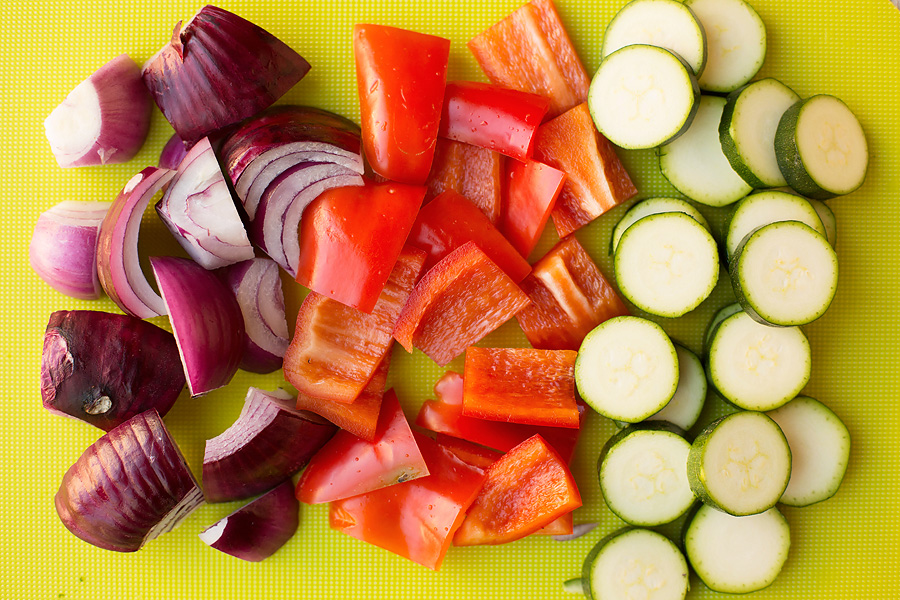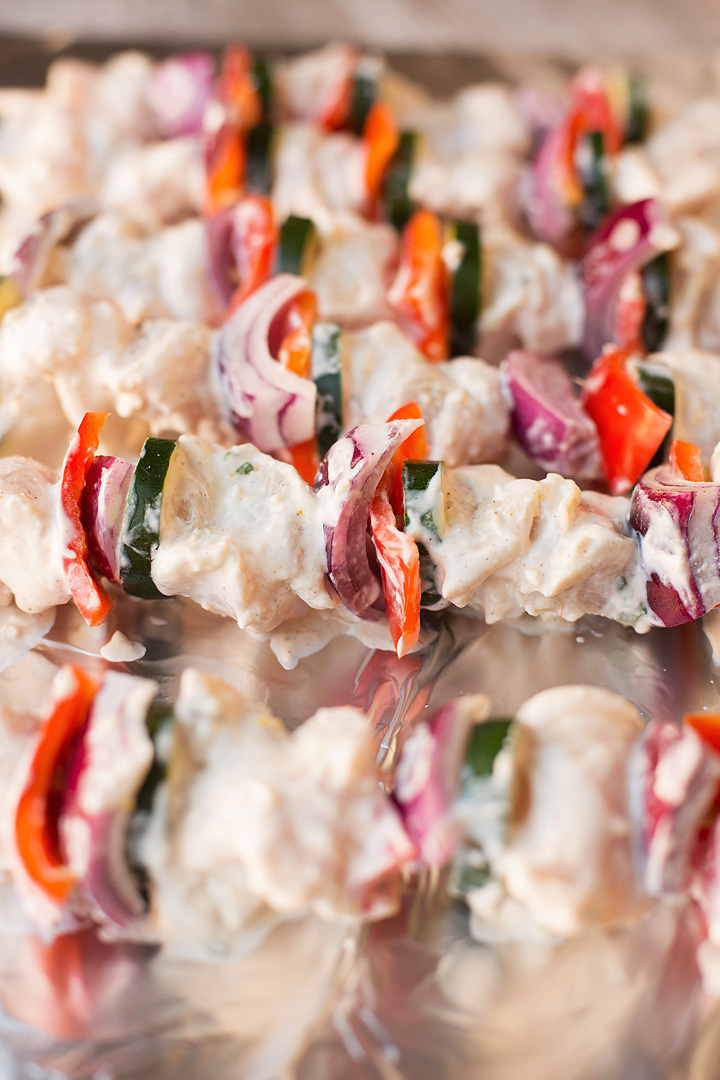 Pretty aren't they?  I think I can always tell how good a meal is going to be by the colors… the more vibrant and gorgeous, the better!  Wait until you see them fresh off the grill!!!
Although the next component of my meal wasn't served at our favorite Greek restaurant, I thought it would be a nice addition.  Just a little fresh (and colorful) side 'salad' that I'm calling "Cucumber Pico de Gallo"!  1 whole cucumber (small dice), 1 small Roma tomato (diced), 1/4 cup green bell pepper (finely chopped), 1/4 cup red onion (finely chopped), 1 tbsp mint (finely chopped), 1 tbsp parsley (finely chopped), 2 tbsp lemon juice, 1/2 tsp paprika, salt, and pepper to taste.  Into a bowl, gently stirred, cover, and refrigerate until those kabobs are ready to go!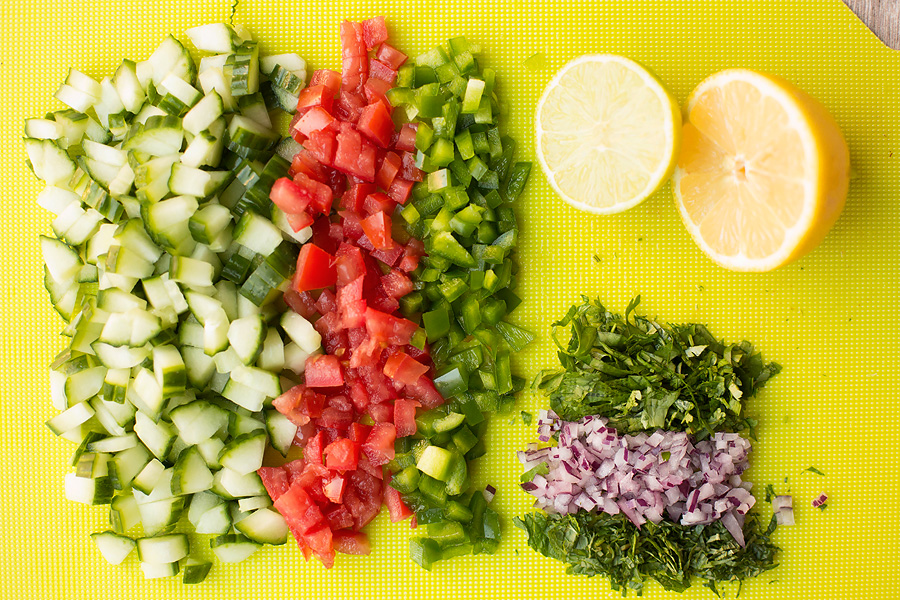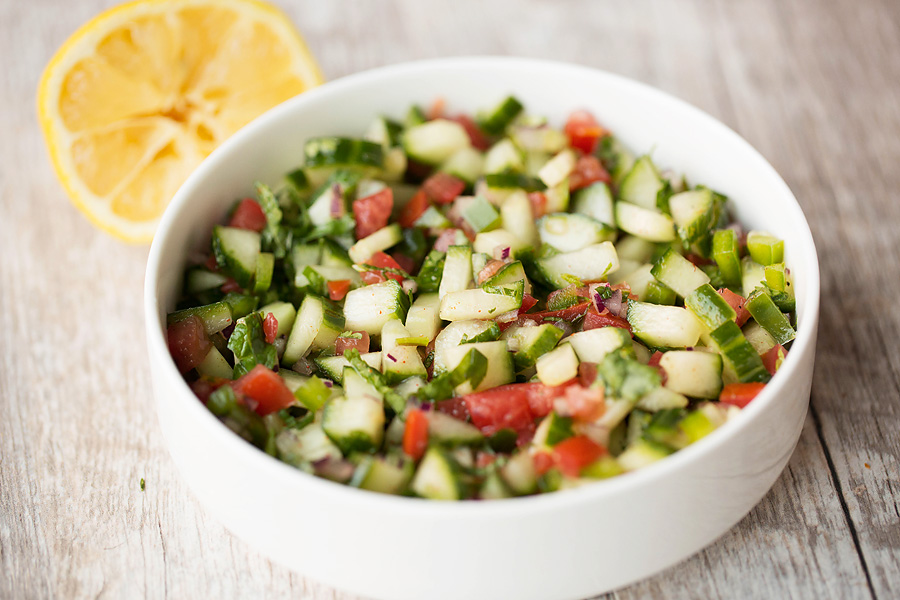 Time to bring it all together…
Once the kabobs come off the grill (please do your best to get those chargrilled marks… mmmmm, heaven) squeeze on some lemon juice, sprinkle with some crumbled feta cheese, serve them on top a bed of rice, and with your favorite hummus and that cucumber pico de gallo on the side!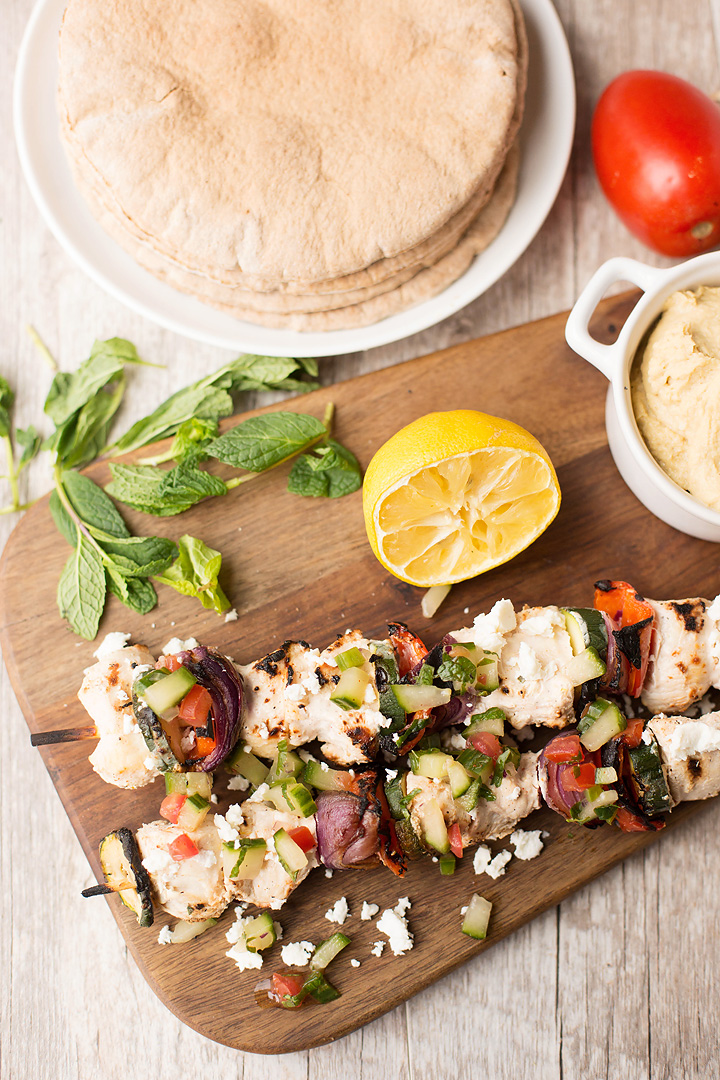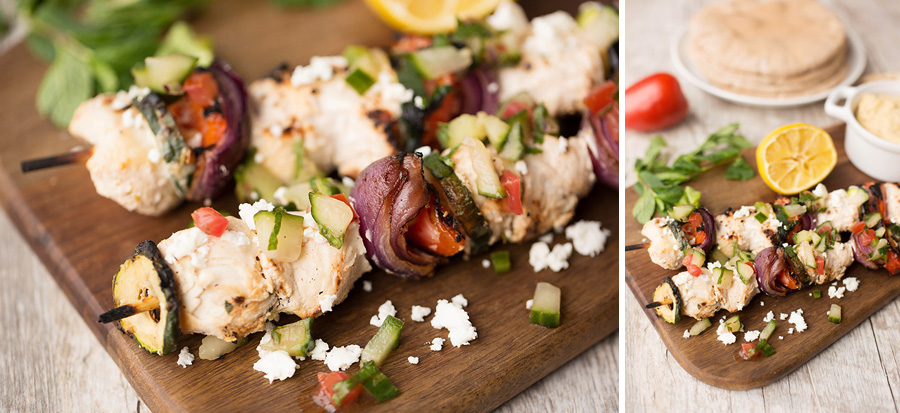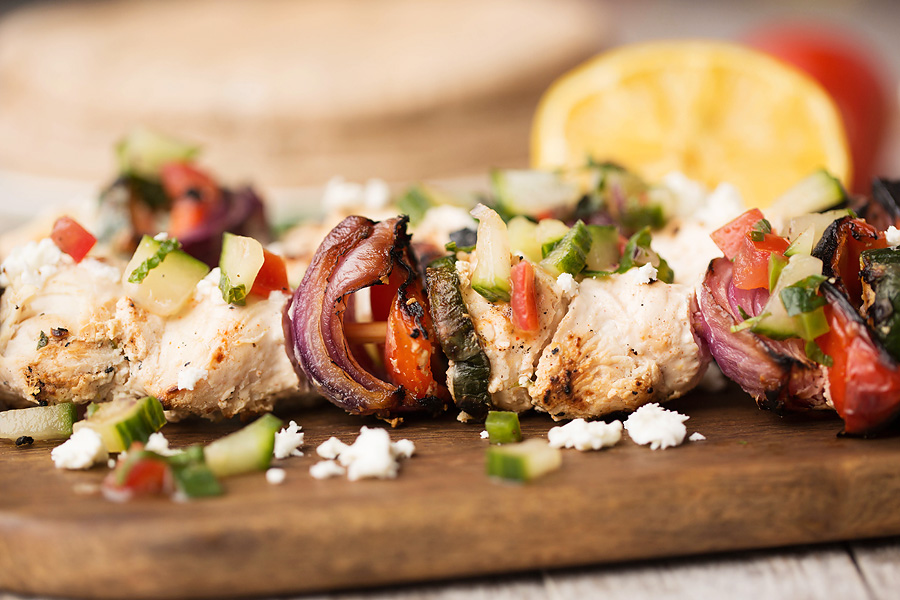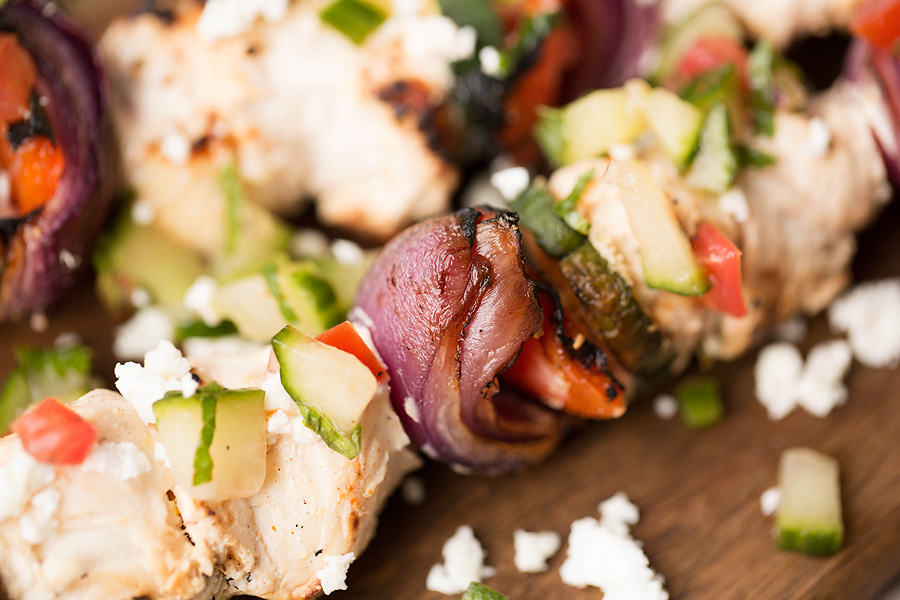 These are great for a weeknight meal: chop veggies (place in a zip lock bag) and marinade chicken in the fridge overnight, skewer everything the following day or just before grilling (indoor grill will work also), and while kabobs are cooking make the rice and pico de gallo.  This dish is also perfectly acceptable for a special weekend meal OR outdoor BBQ as well!  It's THAT good and quite the show stopper if you ask me!
My favorite way to eat these kabobs is to take a pita, slather it with hummus, place meat & veggies on top of the hummus, add a little pico de gallo, and eat it all as a "taco"!!!  You will not want to eat this any other way!!!
Promise!  You are going to LOVE this simple chicken dish!
Greek Chicken Marinade

Print recipe
Ingredients
1 cup Greek yogurt
1/4 cup feta cheese
1 Large lemon (juiced and zested)
2 teaspoons finely chopped garlic
3/4 teaspoons salt
1/2 teaspoon pepper
1/2 teaspoon garlic powder
1 teaspoon paprika
1 heaped tablespoon roughly chopped parsley
4-6 Large chicken breasts (whole or cut into 2" pieces for kabobs)
Directions
Step 1
Add all ingredients to a large bowl, stir well, and submerge chicken. Marinade for at least 3-4 hours or overnight.
Step 2
Skewer pieces for the grill or cook marinaded chicken breasts whole.