You would NEVER guess these scones are actually healthy & good for you!  Filled with whole grains & 'super foods', healthy fats, dark chocolate chunks, and the most subtle hint of almond… this recipe will become a staple in your baking!
Sometimes when I find myself in a recipe rut, one of my favorite things to do is look through previous posts of mine to see if any type of spark is made.  I love reinventing ideas, swapping out ingredients, making things even better, and the way I see it there is usually always some room for improvement.  Sometimes it does't work out quite like I had planned and other times, a new star is born!  One day while rummaging through previous recipes for some new inspiration, I stumbled upon a favorite: Strawberry Coconut Scones.  I remember these were only the second batch of scones I had ever made and was quite impressed with myself at the time. While these were absolutely delicious as is, I was instantly inspired to create another version… a chocolate variety (with a few other subtle changes)!
Change #1: flavors
While coconut and strawberry are awesome, I was definitely in need of some chocolate.  I only crave it a few days a month (guess when), but when it itches… I scratch!  I would have been happy with just using chocolate, but for a bit more depth and flavor, the addition of almond would fit in well.  Fruity is great, but chocolate is better.
Change #2: shape
Hands down, the tops of the strawberry scones are KILLER!  Great texture/crunch and a subtle hint of sweetness from the coconut sugar on top… oh. my. word.!!!  Honestly, it's probably my favorite part of this particular baked good.  However, when I baked the scones as one large disk I felt like a lot of those amazing tops were a bit short changed.  They definitely got the short end of the stick when the knife slices through and crumbles each pastry.  More importantly, slicing into the large baked 'scone' compromises those lovely little corner bits that I LOVE so much.  So instead of baking the dough as one large disk, I figured the best way to preserve ALL of the tops was to form and bake them individually instead!
Yup.  Totally did the trick.
Every scone that comes out of my kitchen will be in this shape from this point on.  Seriously.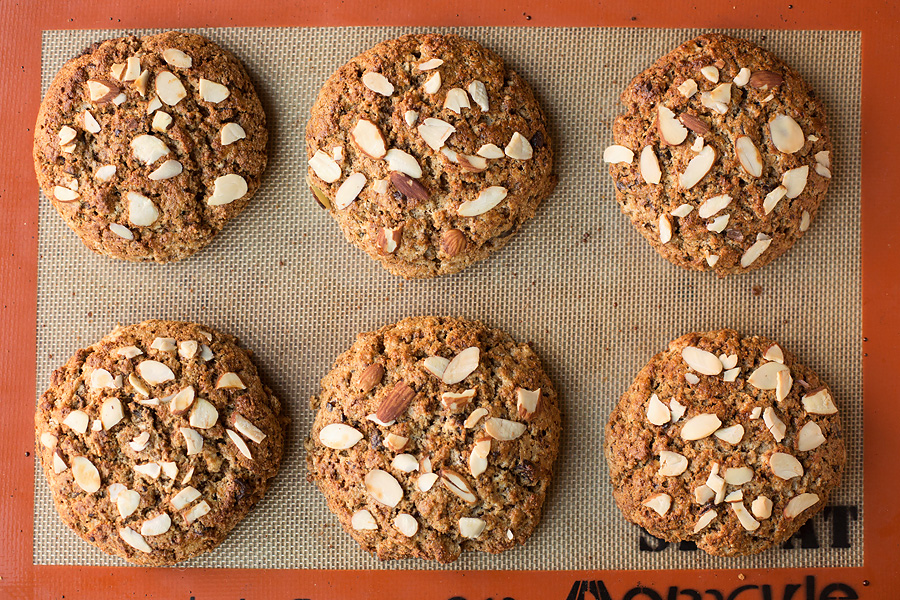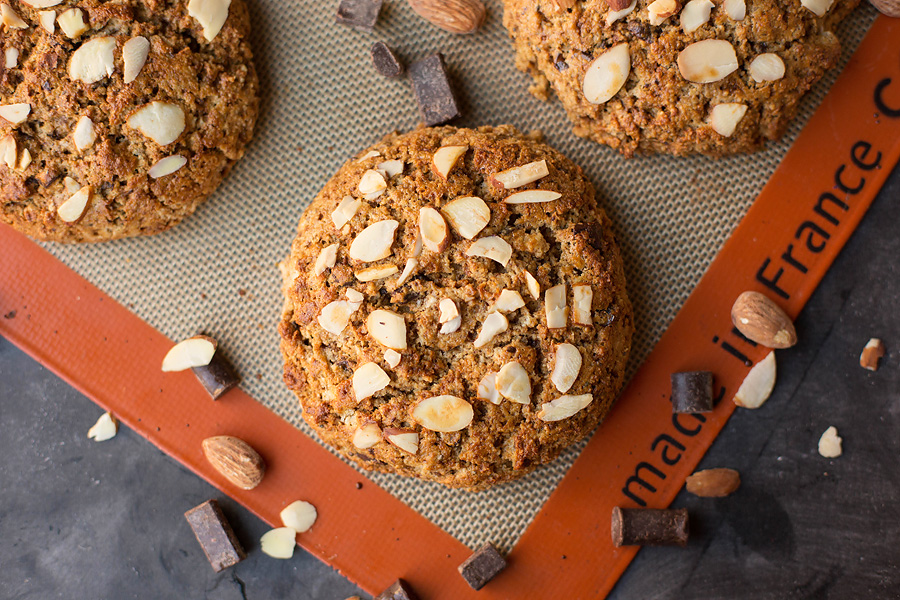 Are we seeing that perfectly balanced top?  And the golden edges that are PACKED with flavor?  Can you imagine that first bite?  Mmmmm.  I can.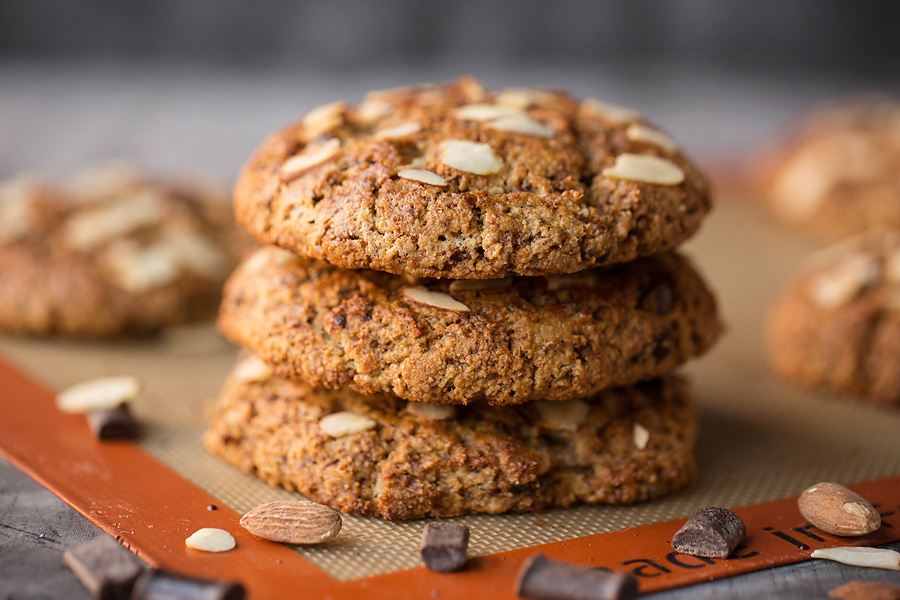 And as if they didn't already look perfect… the insides give the outsides a nice run for their money.
Wait for it.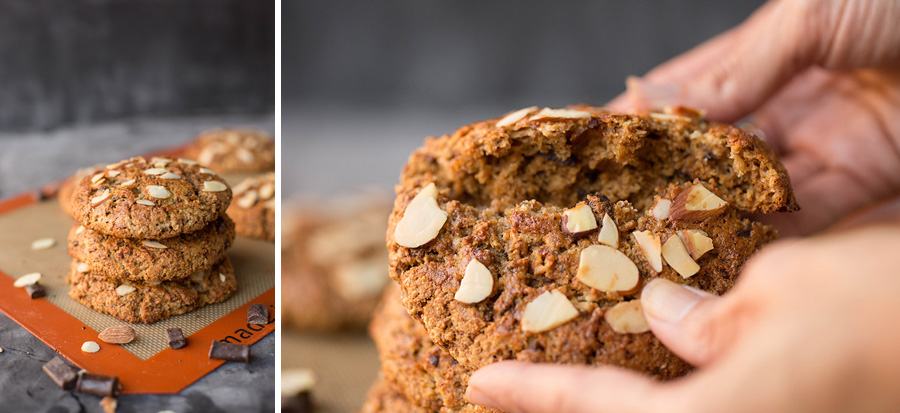 Wait for it.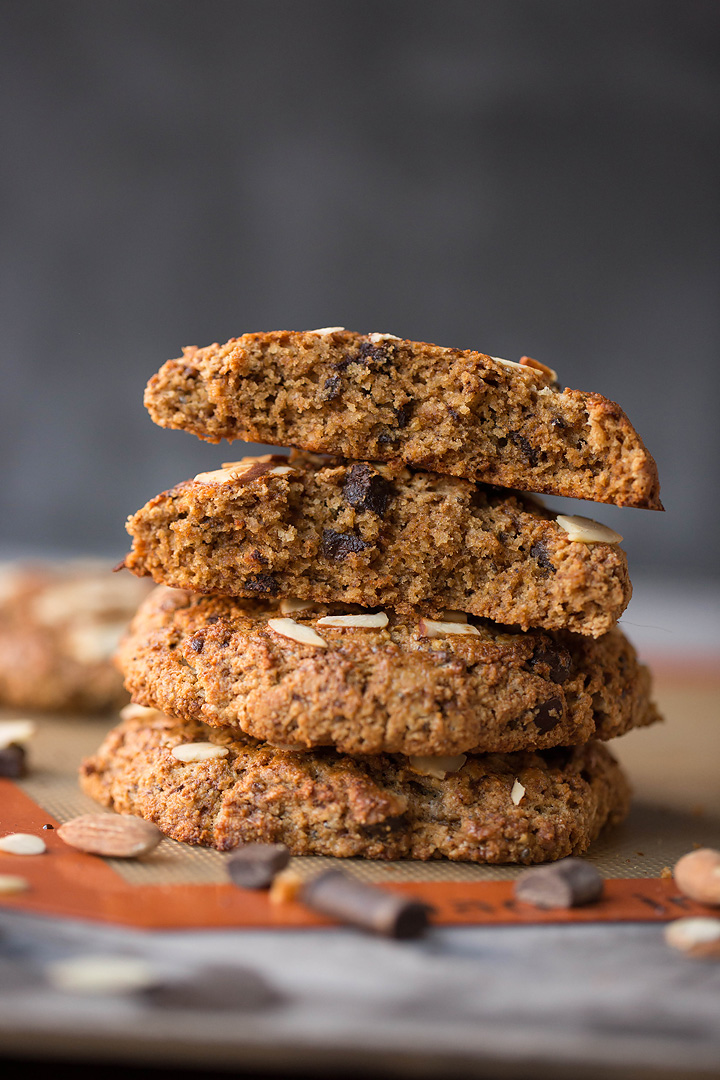 Aaaaahhhh. Yeah.  It's pretty scrumptious looking huh?  Not only does it look good, but it tastes even better!  Delicate, extremely flavorful, and crazy yummy textures from your first to last bite.  One nibble and you're hooked.  It was easy to decide that my favorite part of the strawberry coconut scones was the tops, but on these?  It's a very tight race.  I feel like the tops, the edges, the center, and the flavors are all neck and neck.  These are SO good!!!
Chocolate Almond Super Food Scones

Print recipe
| | |
| --- | --- |
| Serves | 6 |
| Prep time | 5 minutes |
| Cook time | 15 minutes |
| Total time | 20 minutes |
Ingredients
1 1/2 cup Kodiak Cakes 'Super Food
1 cup almond flour
1/3 cup coconut sugar (+ 2 tbsp for topping)
1/2 teaspoon baking powder
1/4 teaspoon baking soda
4 tablespoons cold butter
3 tablespoons chocolate caramel MuscleEgg egg whites (or one whole egg & add more coconut sugar to recipe)
1/3 cup buttermilk (+ 2 tbsp for topping)
1 teaspoon vanilla extract
3/4 teaspoons almond extract
1/3 cup dark chocolate chips
1/4 cup sliced almonds
Directions
Step 1
Preheat oven to 400 degrees and line a baking tray with silpat or parchment paper.
Step 2
In a small bowl, combine 1/3 cup buttermilk, extracts, and egg whites. Stir until combined and set aside.
Step 3
In the bowl of a stand mixer, add Kodiak mix, almond flour, and coconut sugar. Mix for 10-15 seconds until combined. Add cold butter and mix until mixture is a coarse crumbly. With mixer on low, slowly add in liquid mixture. Mix until dough just comes together. Stir in chocolate chips/chunks.
Step 4
Divide dough into 6 portions and form scones. Brush with buttermilk, sprinkle on extra coconut sugar, and sliced almonds. Bake for 15-17 minutes.
Note
NUTRITIONAL INFORMATION (makes 6 scones): calories- 363, fat- 22 grams, carbs- 37 grams/fiber- 6 grams , protein- 11 grams PER SCONE