A healthy twist on a classic dish, this chicken salad will become a staple for all your BBQ's, get togethers, and even for meal prep!  So refreshing, cool, HEALTHY, and full of flavor!
It never fails.  Each and every single time I post a picture of my salads on Instagram, someone is guaranteed to ask me "What dressing do you use?".  Up until a couple of months ago, I almost always made my own.  In all honesty, I actually prefered to stay away from regular store bought dressings simply because they are usually packed with a ton of fat (like I've said many times… I prefer to eat my fat each day in the form of nut butters).  I simply could not justify the nutritional profiles of the store bought stuff so found myself whipping up small batches of my own dressing every day.  Not only does this sometimes get tedious, it can also get quite boring day after day, month after month, year after year.  Yes, I eat THAT much salad!!!
Even though I was always on the look out for something else when I would grocery shop, nothing every really caught my eye.  I found the same boring bottles lined up, row after row, grocery trip after grocery trip.  However, last month I was pleasantly surprised to see some new items made by Hidden Valley that completely peaked my interest…
A whole new line of GREEK YOGURT dips & dressings!!!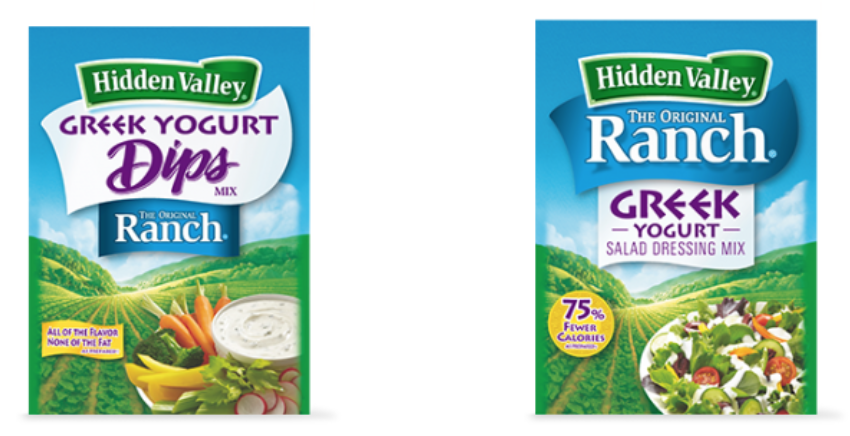 I was hesitant, but extremely excited because I knew the nutritional profile had to be better than all of the other dressings on the market.  Since I'm not a huge fan of ranch dressing, I narrowed my choice down to the 'Cucumber Dill' dressing, grabbed the bottle, and optimistically turned it over to see what I was in for.  Even with the quickest glance, I was sold.  ONLY 60 calories (fat- 5 grams, carbs- 3 grams, and protein- 1 gram)!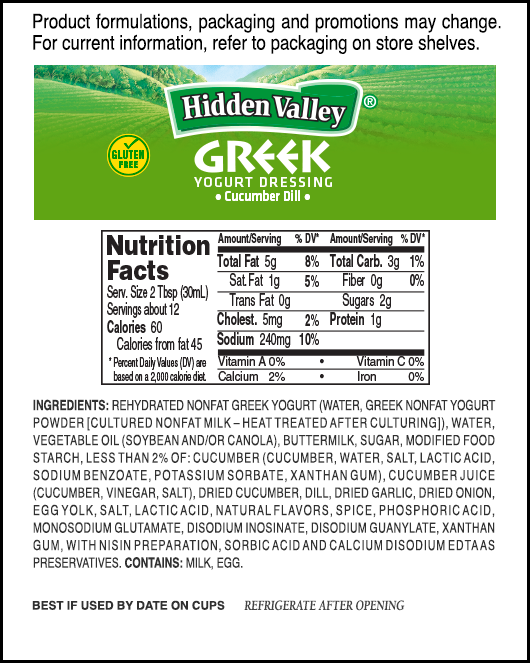 I came home, whipped up a salad, and immediately fell in love. So. Good!!!  After going through over half of the bottle that particular week on my daily salads, I decided it was time to expand my horizons and find another use for my new lovely dressing.  I was immediately inspired (and craving) chicken salad and knew the combination of flavors and textures would work brilliantly together!
#1 Grilled Chicken (lightly seasoned with salt, pepper, garlic powder, and olive oil)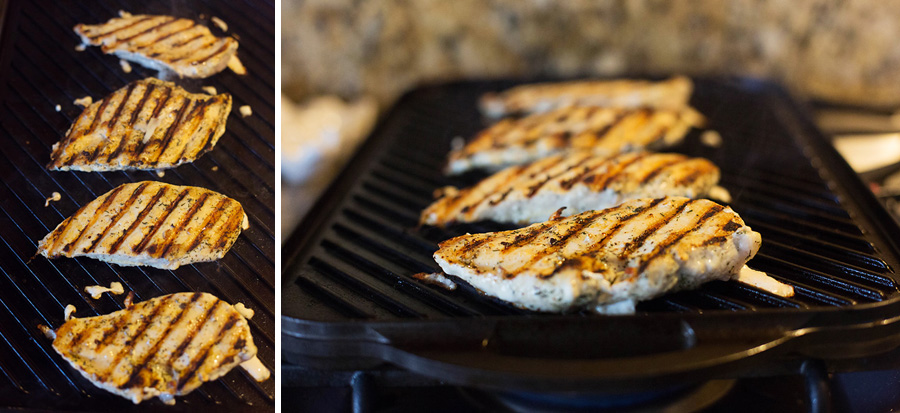 #2 Chop everything up (celery, red grapes, cucumber, fresh dill)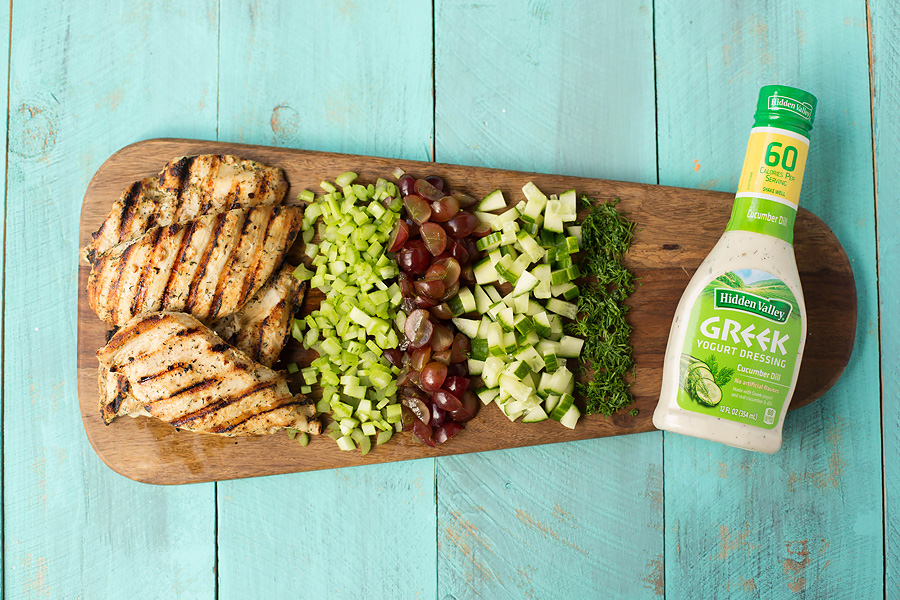 #3 Combine Ingredients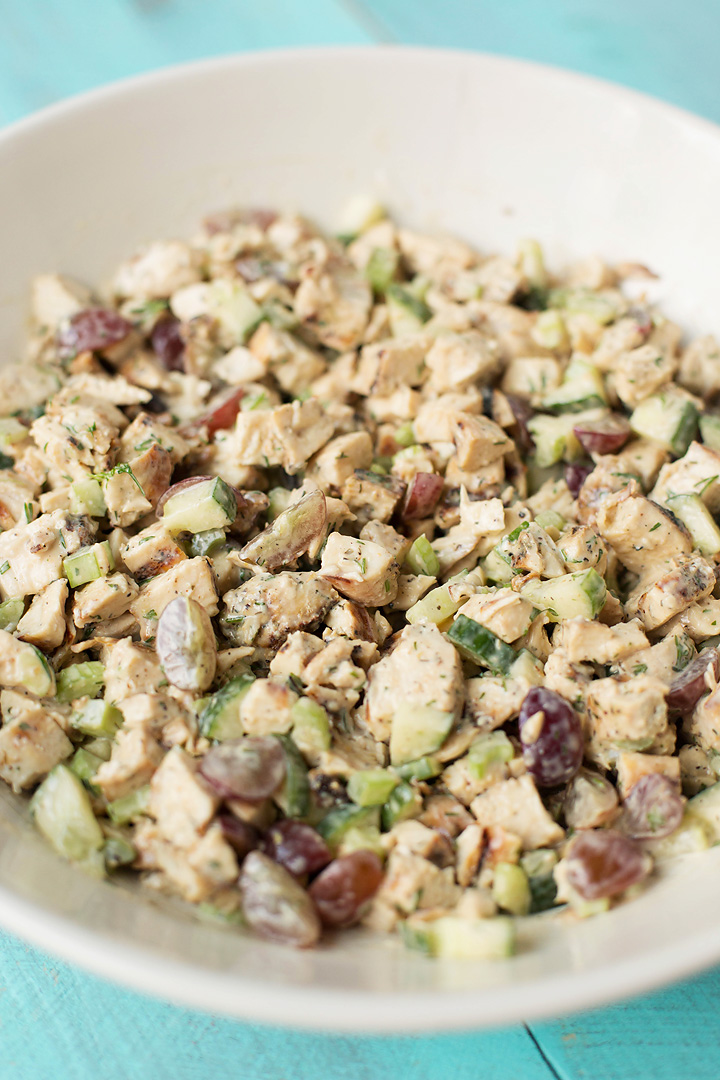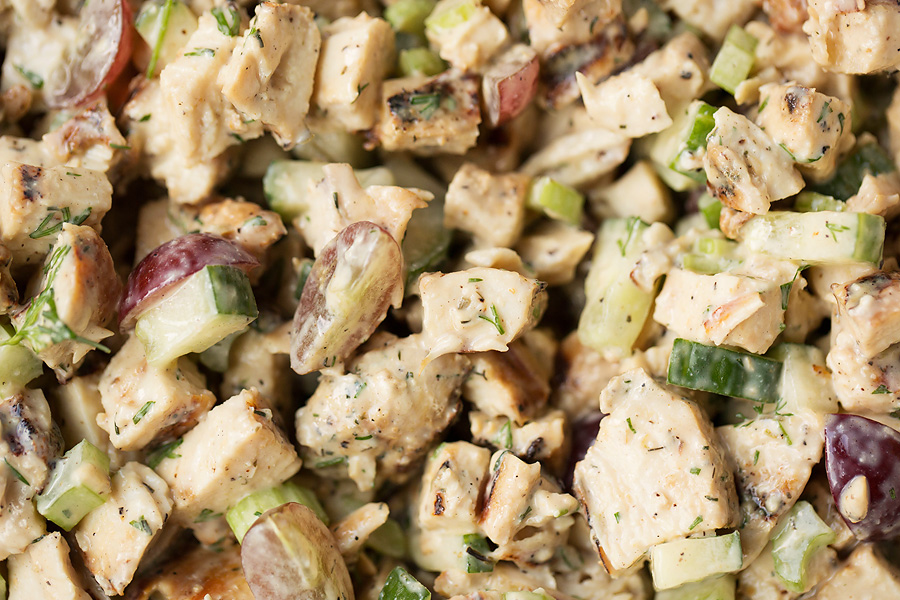 #4 Choose Your Eating Vessel (lettuce, bread, pita, apple slices, tortilla/wrap)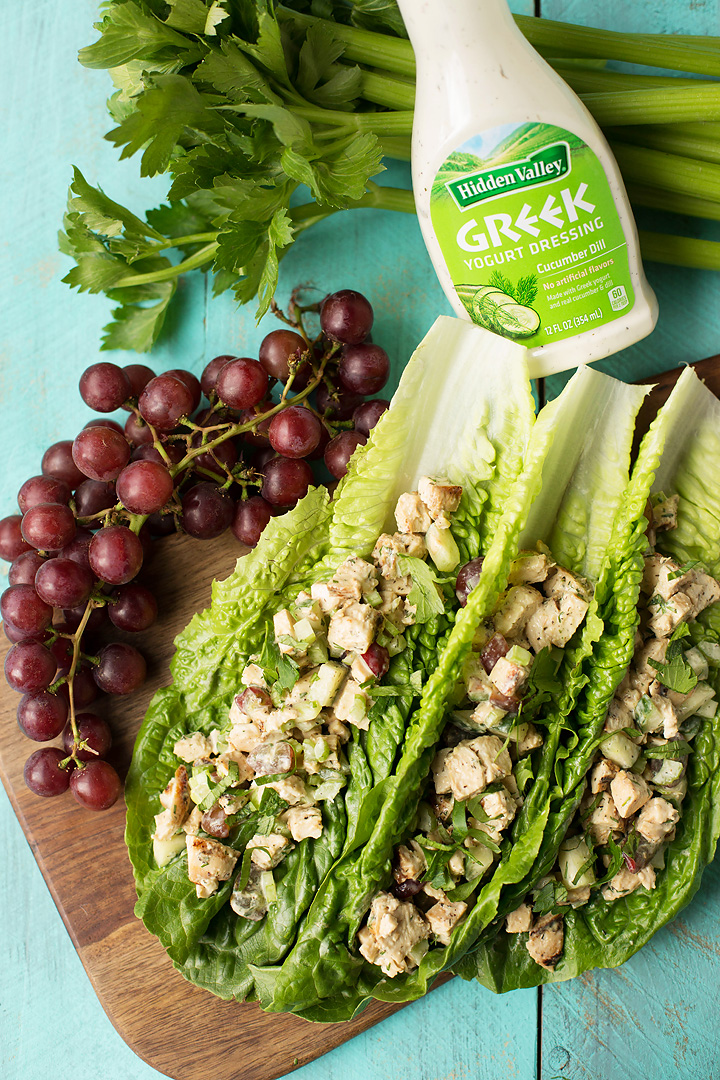 #5 Devour & Enjoy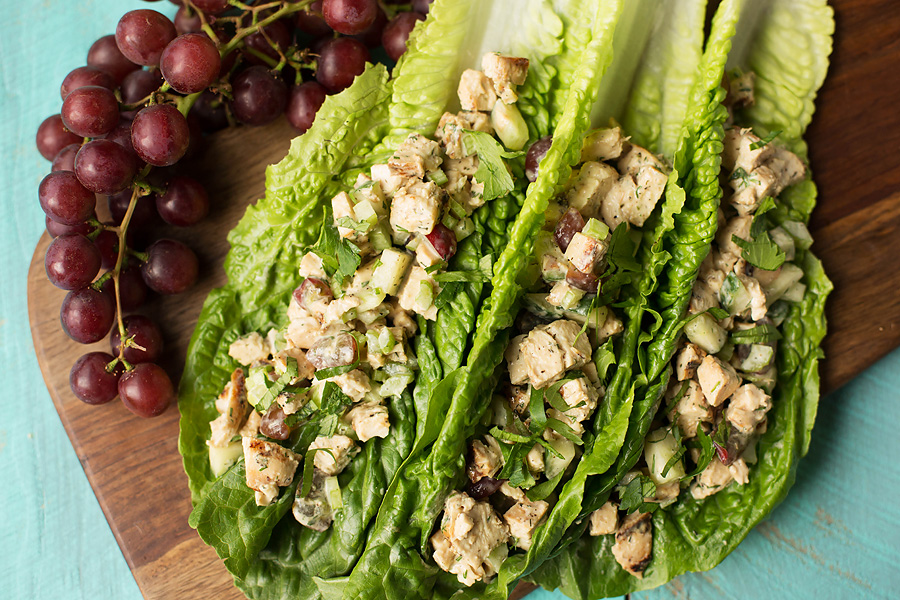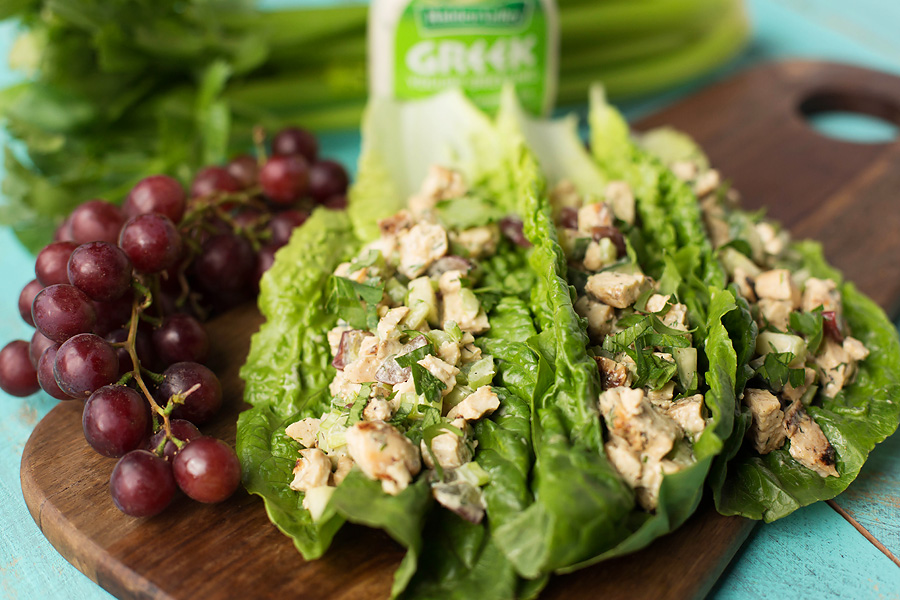 Don't underestimate the power of simple ingredients!  The new Hidden Valley dressing is so rich and creamy…  certainly does NOT taste how you would expect a 60 calorie per serving dressing would taste like!  This chicken salad is extremely light, refreshing, and PERFECT for the coming Summer months.  It will quickly become a go to recipe for ALL your potlucks, backyard BBQ's, and even meal/food prep.  You can either do a low carb meal using lettuce, make yourself a sandwich, roll up a wrap, or shovel it right into your mouth from the bowl.  It's THAT good!!!
Cucumber Dill Chicken Salad

Print recipe
Ingredients
4 Large chicken breasts
1 heaped tablespoon olive oil
1 teaspoon salt
1 teaspoon garlic powder
1 teaspoon dried dill
1/2 teaspoon pepper
3/4 cups grapes (halved or quartered)
2 stalks celery (finely chopped)
1 Medium cucumber (finely chopped)
2 tablespoons fresh dill (finely chopped)
1/3 cup Hidden Valley 'Cucumber Dill' dressing
Optional
1/2 cup sliced almonds or walnuts
Directions
Step 1
Season chicken breasts in olive oil, salt, pepper, garlic powder, and dried dill. Preheat grill and coat with non stick spray. Cook chicken 5-6 minutes per side. Remove from heat and let cool completely.
Step 2
In a large bowl, add cooled chicken, chopped cucumber, grapes, celery, nuts (if desired), and fresh dill. Mix until well coated and add salt/pepper to taste.