'Make ahead breakfast bakes and prepped daily school lunches will change your life!  Get your kids off to get a great start everyday with a balanced breakfast and fueling nutritious lunches!'
I can't even believe it… 2017 is upon us!  The holidays are now all officially behind us and its a time for the resolutions, plans, continuing the good habits we have in our lives', AND creating even more healthy habits that will enrich our bodies and hopefully our lives' as well!  While a large majority of the population is (re)starting their journey to healthy living with incorporating exercise & better food choices into their routines, how about healthier living for the ENTIRE family?  I always find it interesting when someone gets the itch to lead a healthier life by becoming more active and eating more whole foods, yet when it comes to their children absolutely nothing changes.  Makes no sense!  YES, absolutely the ENTIRE family should be taking steps to getting & staying healthy day after day, year after year!
Now I strongly believe that most kids do not and should not be on a "diet", but there is a very big difference between restricting/limiting food and providing more nutrient dense options for them.  Many parents will use the excuse "Well, its too hard to get my kid to eat healthy" or "I don't have time to prepare healthy meals all of the time".  I call BS friends.  Yeah, I call bullshit on your excuses!  If someone like myself who lives with DAILY chronic pain and disease can do it, ANYONE can.  Some days are easier than others so I do what I can when I can, but for the average healthy parent (working or not), it can be done!  Granted, preparing food & meals may take a little bit of extra time than having your kids pour a big bowl of cereal for themselves in the morning BUT the more commitment you make in your kids health, the healthier they will be in the short and long term.  Isn't that what we all want for them anyways?
Hands down one of the BEST ways to get your kids day started off right is BREAKFAST PREP!!!  In addition to ensuring your kids get some nutrients into their bodies throughout the day by providing fresh cut vegetables and quality protein sources, taking 10-20 minutes in the kitchen ONCE a week to prepare their breakfast will also save you SO much time (and heartache) each and every single weekday morning.  I swear to you.  Prepping breakfast will save your AM mommy (and daddy) sanity AND you will have the peace of mind of sending your kids off to school on the right track for success with a better, healthier, and steadier clear mind to soak up that knowledge at school!
Start 2017 off with a bang fellow parents!!!  Health for not only yourself because you know its good for YOU, but for your KIDS as well!!!  I promise, make this a new habit for 2017… it will reap rewards ten times over and you will no longer want to revert back to your old breakfast ways!
The problem with most households is the lack of vegetables that we all know we should be eating, but more than often than not, simply don't.  Kids are especially more difficult when it comes to anything green thats good for them.  So, hiding vegetables is absolutely KEY for a large majority of children.  Smoothies are a great way to hide some extra nutrients, but these days with so many fun options its now even easier!  Breakfast bakes are AWESOME and a killer way to hide some veggies right in their meal!  Protein from the eggs, fueling carbs from the potatoes, healthy fats, and lots of good micronutrients from the "hidden" veggies… yup, thats right friends!
For the first week of this new year, I opted for a one pan dish thats easy to prepare, balanced, delicious, versatile to make it more "kid friendly", and also happens to be LOADED with nutrients (and protein… the building blocks of our bodies)!  We all know how awesome one pot meals are right?  Throw everything in a pot, cook, and call it a day?  Turns out you can do the same exact thing for breakfast… subbing a baking dish for a pot though!
First things first.  Lets think about those nutrients.  I'm fortunate to have kids that like vegetables, but I know its a precious rarity that I am thankful to possess.  They may not love them, but they eat them with no question if its on the plate I'm serving them.  I could easily make this dish with large cuts of broccoli, mushrooms, peppers, onions, and spinach without my kids flinching but for other parents who struggle to get their kids to even think about eating a stalk of something grown in the ground or on a tree… not so easy.  I have a product secret to share with you…
RICED BROCCOLI… YAAAAS!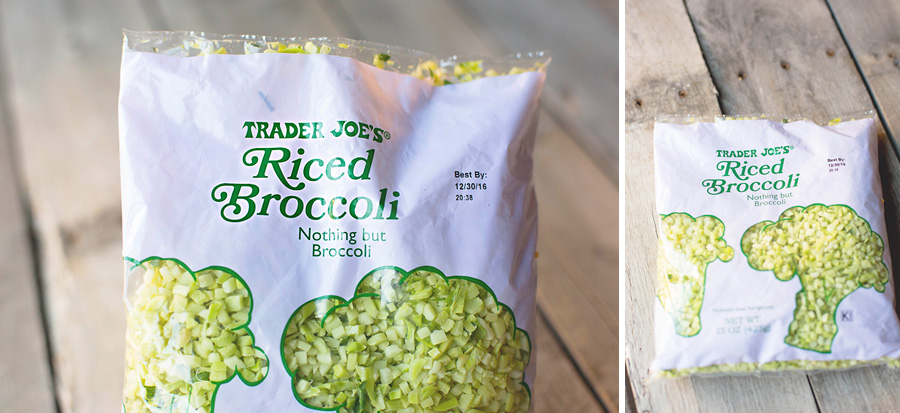 Genius.  By now most people have already heard of riced cauliflower, but Trader Joe's recently came out with another veggie option!  These are amazing for kids simply because the pieces are small, inconspicuous, and can be hidden in virtually every single meal you prepare.
Alrighty, let's get to the first breakfast prep of 2017 shall we???
First things first.  Get the eggs, egg whites, seasoning, and coconut flour into your blender.  Mix until smooth and let sit for a few minutes while you prepare the veggies!
Next, to save a bit more time you could use freshly cut raw veggies BUT if you have a picky eater (or are one yourself and making this dish), if you lightly saute them a bit in coconut oil, butter, or ghee the veggies will soften a bit, making them even less noticeable.  Since I was doing this batch mainly for my daughter and it was packed with veggies (more than my recipe called for), I opted to cook them!  5-6 minutes under low/medium heat will do ya.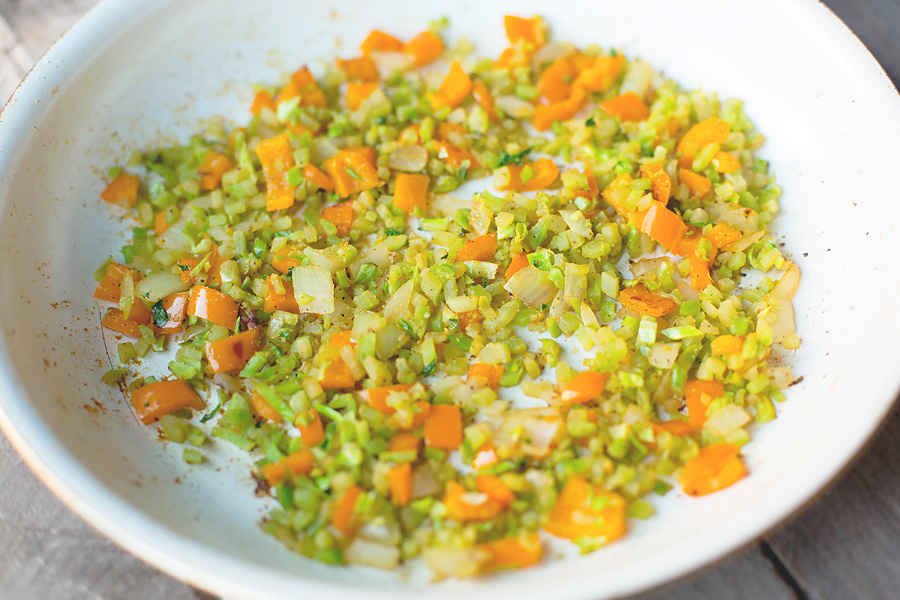 And just like that you are ready to put it together.  Cooled veggies, egg batter, hash browns (see tips below for the keto version of this)!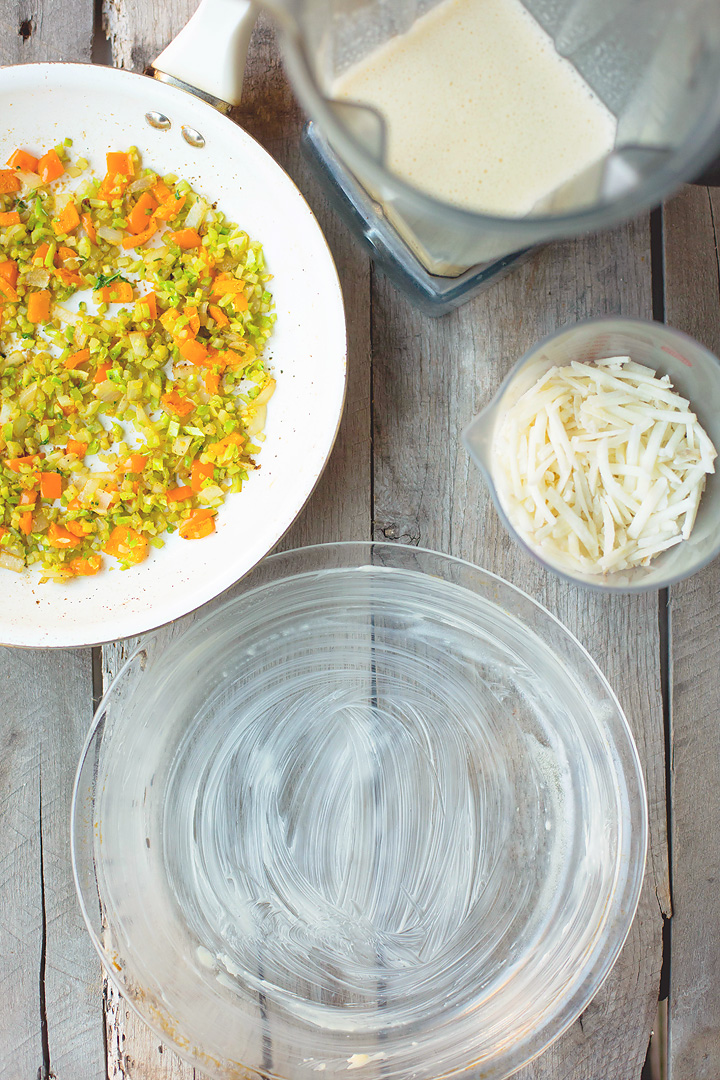 Hash browns and veggies down…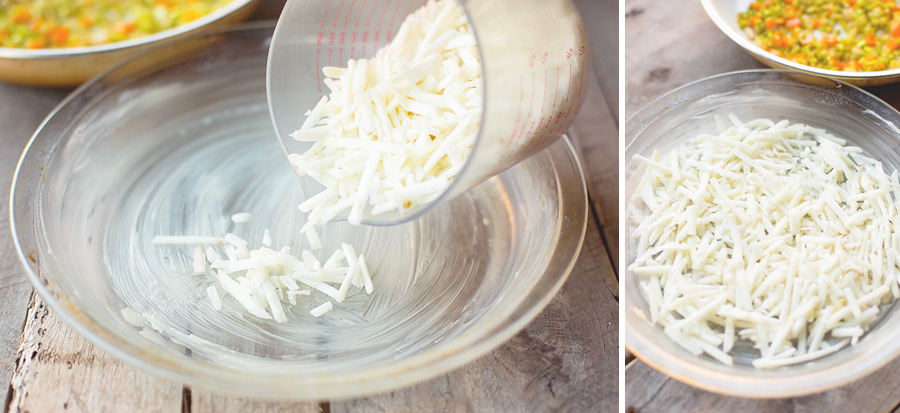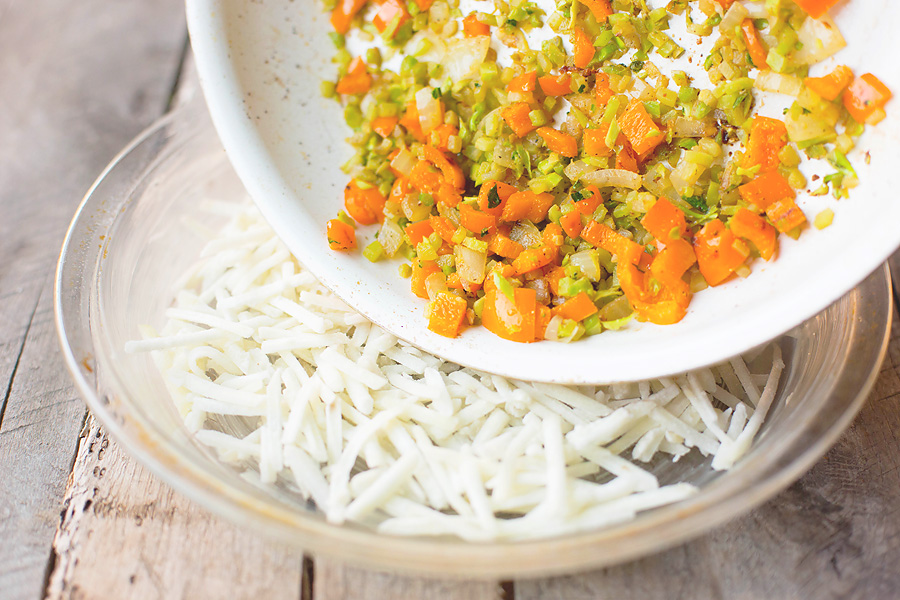 Pour egg batter directly onto the veggies.  Things will move around a bit, but thats ok.  You want every little bit and piece to be distributed nicely because it will give the best texture, bite after bite!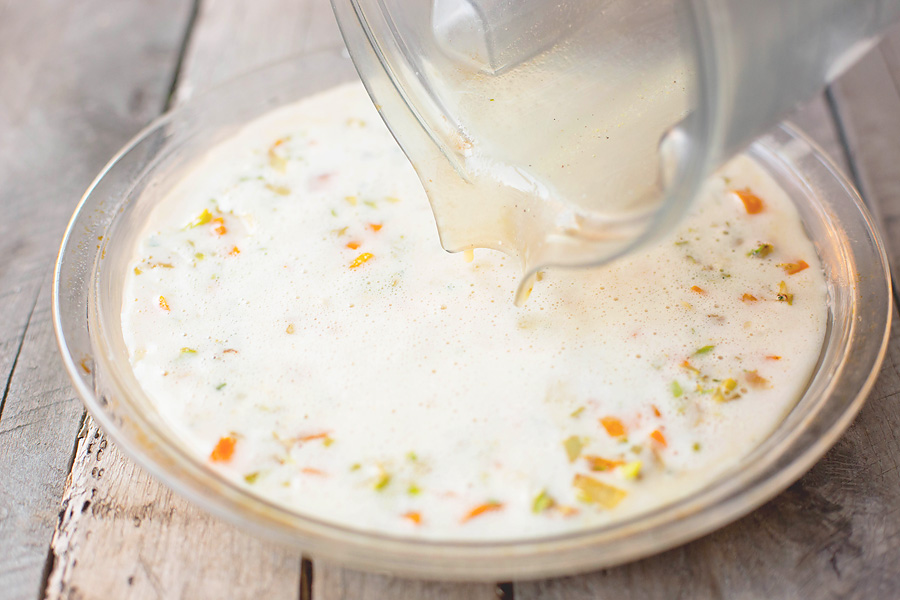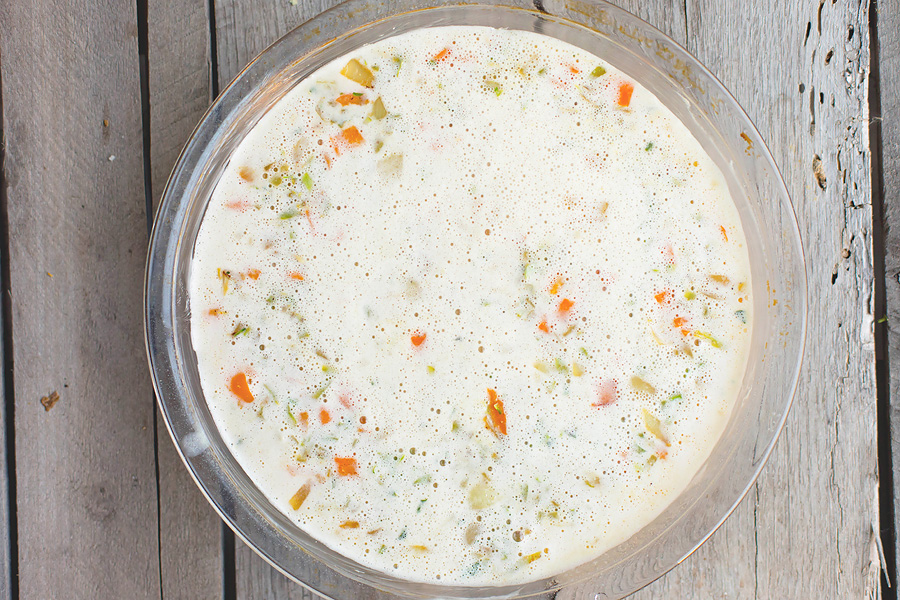 At this point, if you have dairy in your diet, you could just sprinkle on cheddar, mozzarella, feta, or whatever cheese floats your boat.  Bake for 45-55 minutes in a 350 until golden brown!  Edges will begin to slightly pull away from the edges of the pan as it shrinks a bit in the oven.
Peep the crispy edges though… and thats WITHOUT cheese.  Think of the gooey amazing crunchy cheese bits WITH it 🙂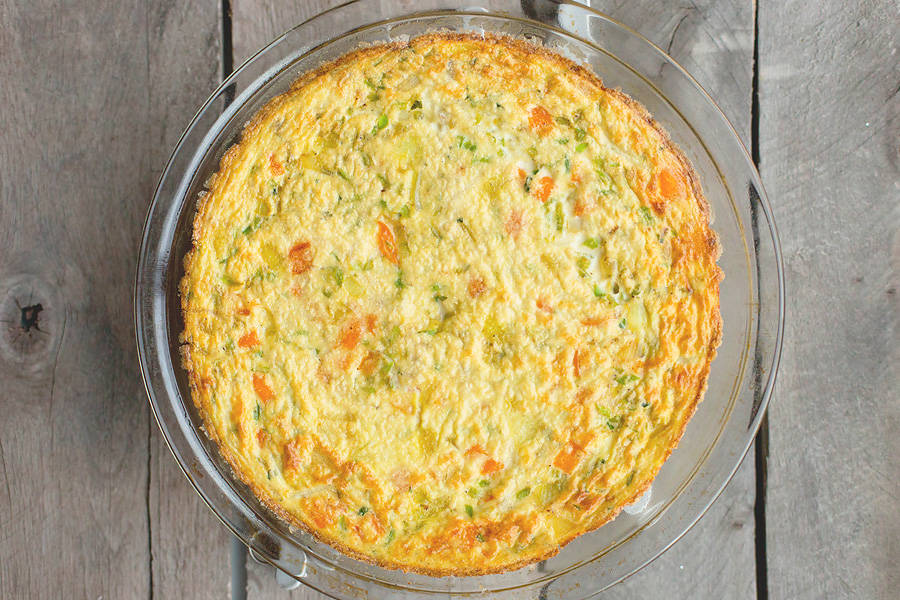 And get a load of this… look at how perfectly these slice up!  All in one piece, can be held up with nothing hanging or falling out.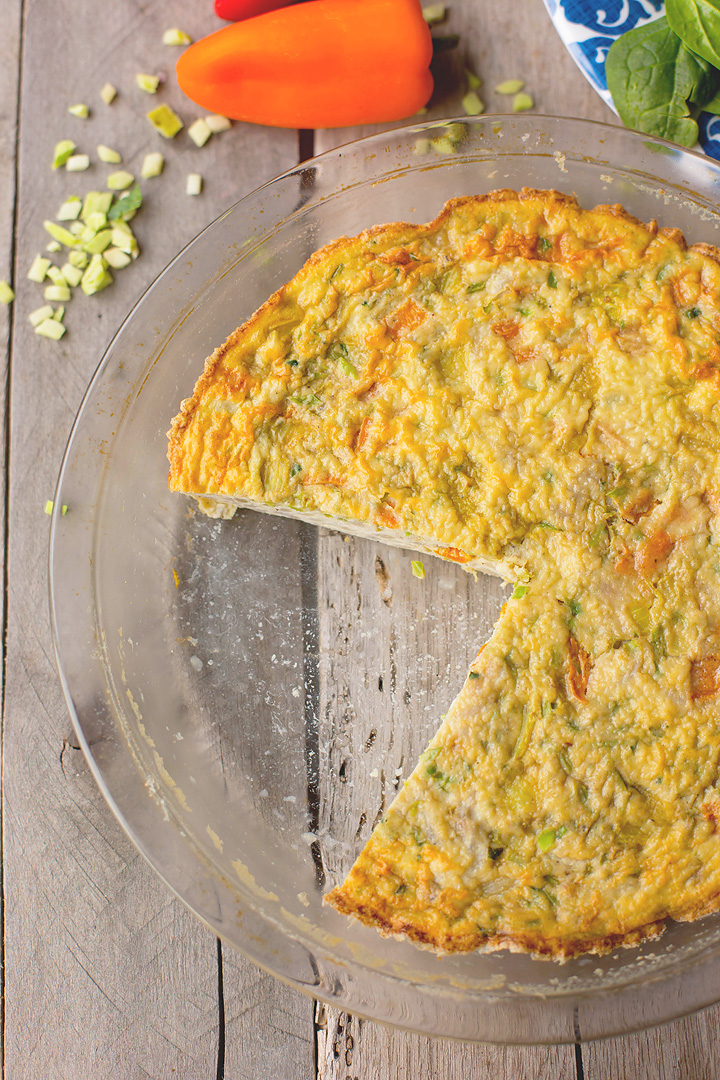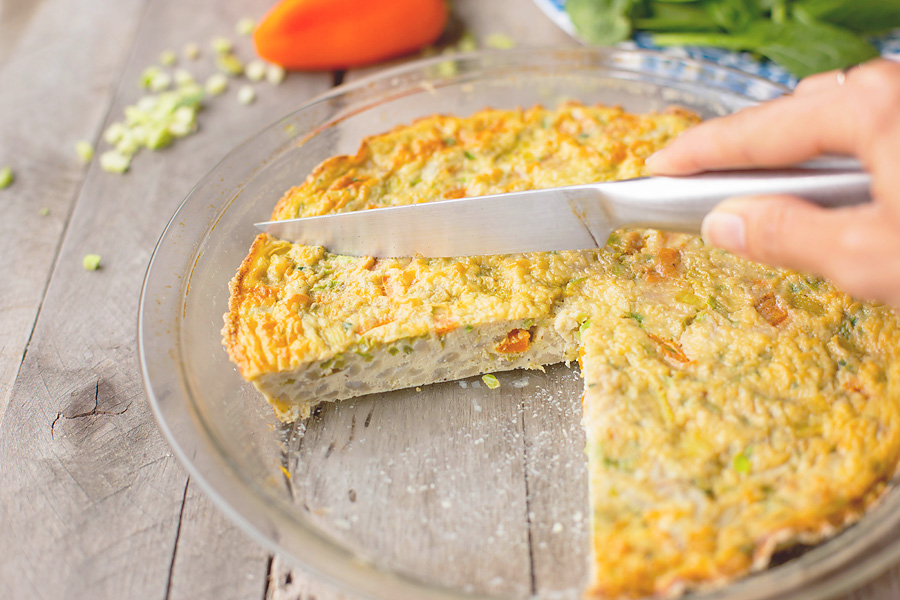 Time to portion for the kid.
I laid each slice on a bed of spinach which will wilt a bit in the microwave when reheated.  If you pop these in for 30-45 seconds, the spinach will barely be "cooked" and no extra moisture will accumulate at the bottom!  Also, since the breakfast bake is mainly all protein with some carbs in the veggies/potatoes, I wanted to make sure I balanced the meal a bit better.  Adding some fat in by the way of avocado is a perfect pairing here.  I did a quick guacamole (mashed avocado, lime juice, salt, pepper) and put a dollop on each slice.  And then in the morning, I would also slice up a piece of toast with some butter and homemade no sugar added jelly.  The toast & jelly would obviously not be keto (unless you made your own), BUT I'm in the "Not EVERYONE needs or should be doing keto!"  I may love keto, but my family enjoys a "varied" diet thats healthy and well balanced 🙂  I can share my love for my way of eating, but would never push it on someone 'just because'!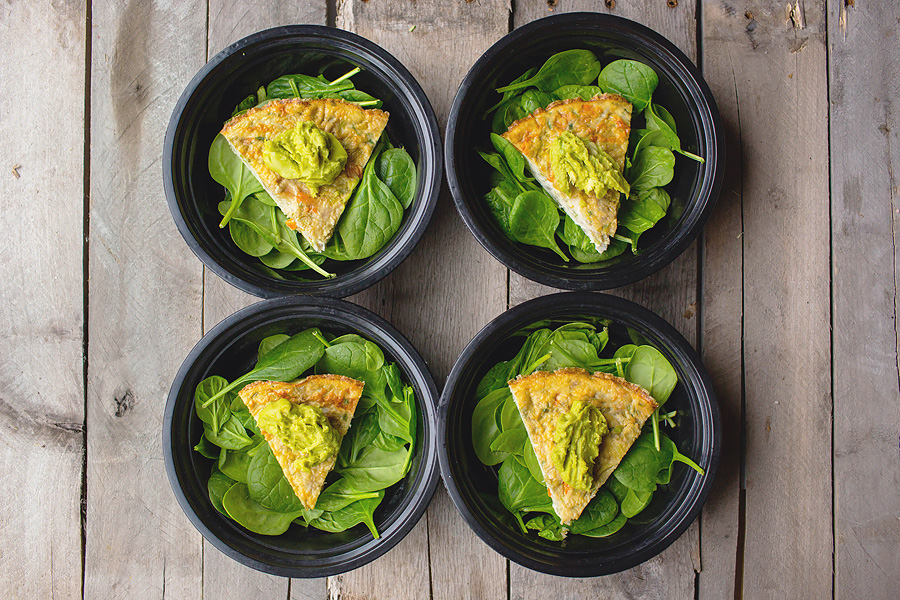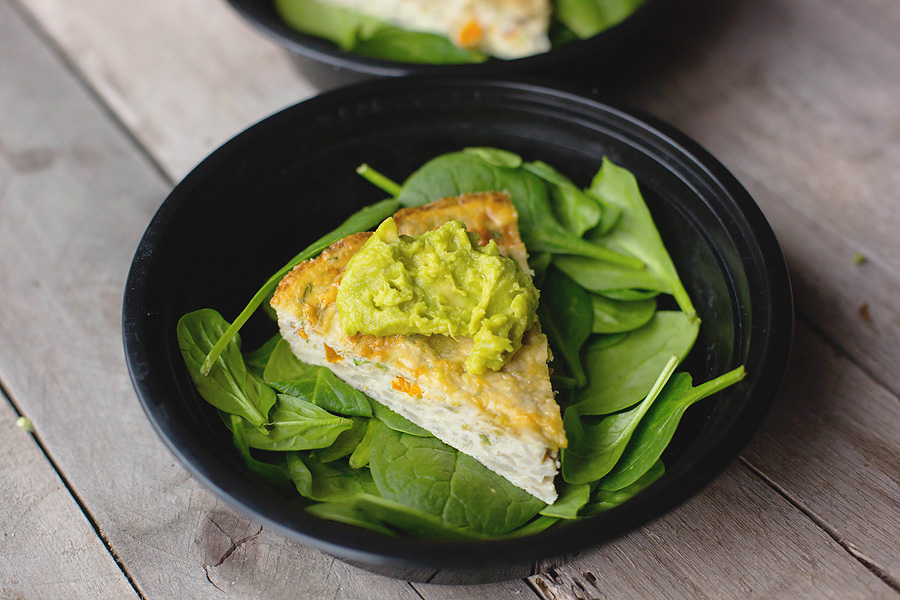 Just like that, breakfast for the week is now completed… baking definitely takes a bit more time than my usual prep, but this was the first week back to school in the New Year!  Had to make it a bit more special for the little one.  Thankfully it was just as easy and painless as all of my others!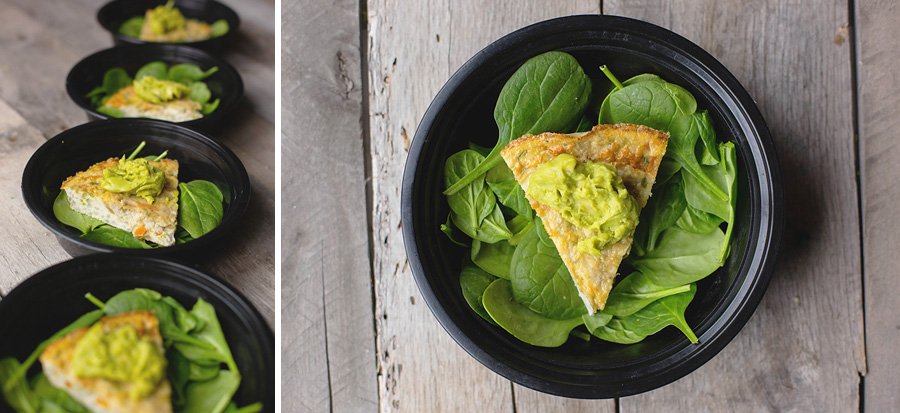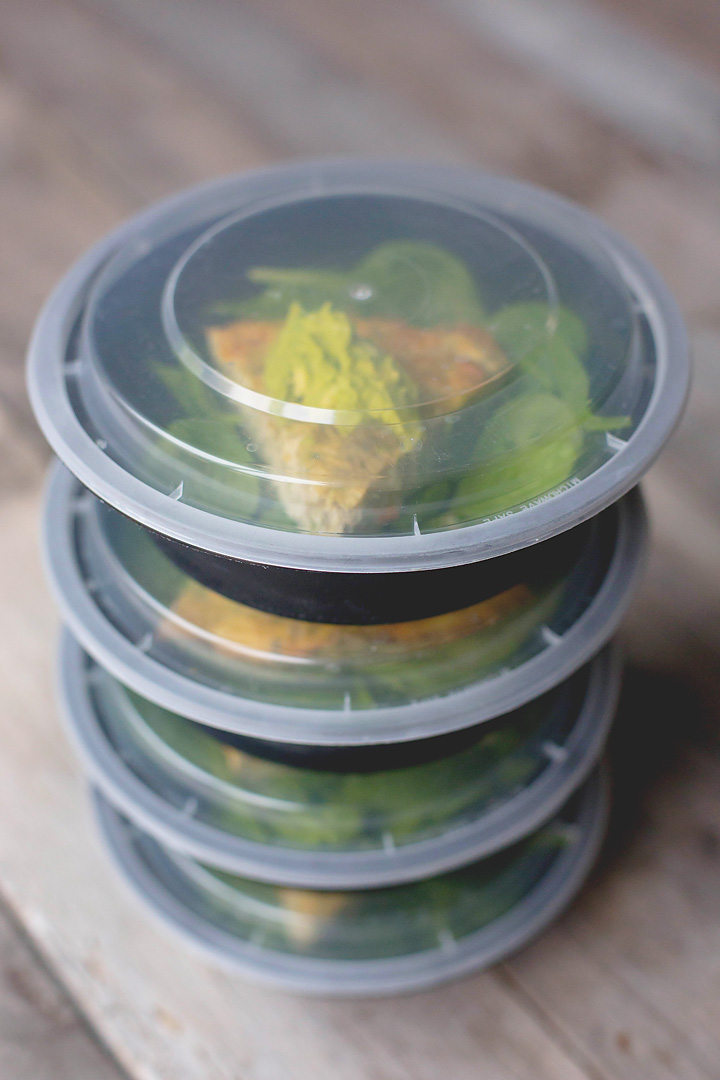 Here's another meal and food prep tip…
I see a LOT of people struggling with how to incorporate keto and non keto meals into their families lives'.  When you have a household of more than 2 people, things can get a bit trickier if everyone eats a different way.  I NEVER make separate meals for my family at all.  Instead I choose to make things that I can easily change to keto.  If you prep the main protein and veggies together, all you have to do to make it non keto is add in the carbs (potatoes, pasta, breads, grains, etc.).  To make it more keto for myself, just add in more fat 🙂
So for this dish, I did a double batch of the egg batter and veggies then instead of using potatoes in my keto version, I used shredded JICAMA!  A lot of people who do keto will not do ANY veggies that grow underground, but my approach is a bit different.  I'm not quite as strict and hardcore with my veggies.  I feel like each has its place and as long as I can still keep my carbs low and stay in ketosis… I'm good with that!  Also, thanks to reverse dieting and never being in a caloric restriction (my entire life) which gave me my KICK ASS metabolism, I also find that I'm getting away with more carbs than most on keto.
Anyways, so yeah.  Jicama is a GREAT option to replace potatoes!  It's still low in carbs and has a ton of fiber (on keto, most subtract fiber from the total carbs to give you your NET carbs)!  So using one WHOLE medium size jicama would only be 26 NET carbs, then divided by your total slices (let's say 8 for this dish) which would give you only 3.25 grams of carbs per serving (for just the jicama of course)!  Sounds pretty damn good to me!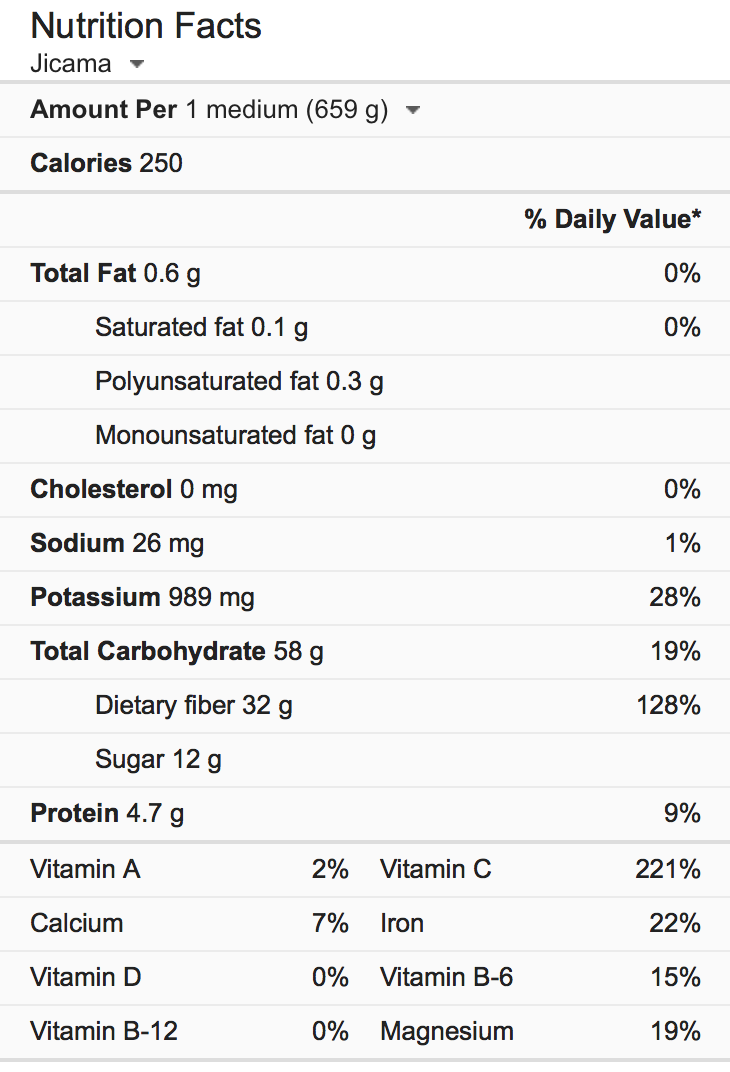 Served on fresh baby spinach and then topped my version with with some fresh avocado… delicious!  You will just need to make sure that you ring out as much water from your shredded jicama as possible.  The more liquid that you have, the soggier the final product will be.  If you get most of it out, your good though!  It holds up as slices just as good as using potatoes!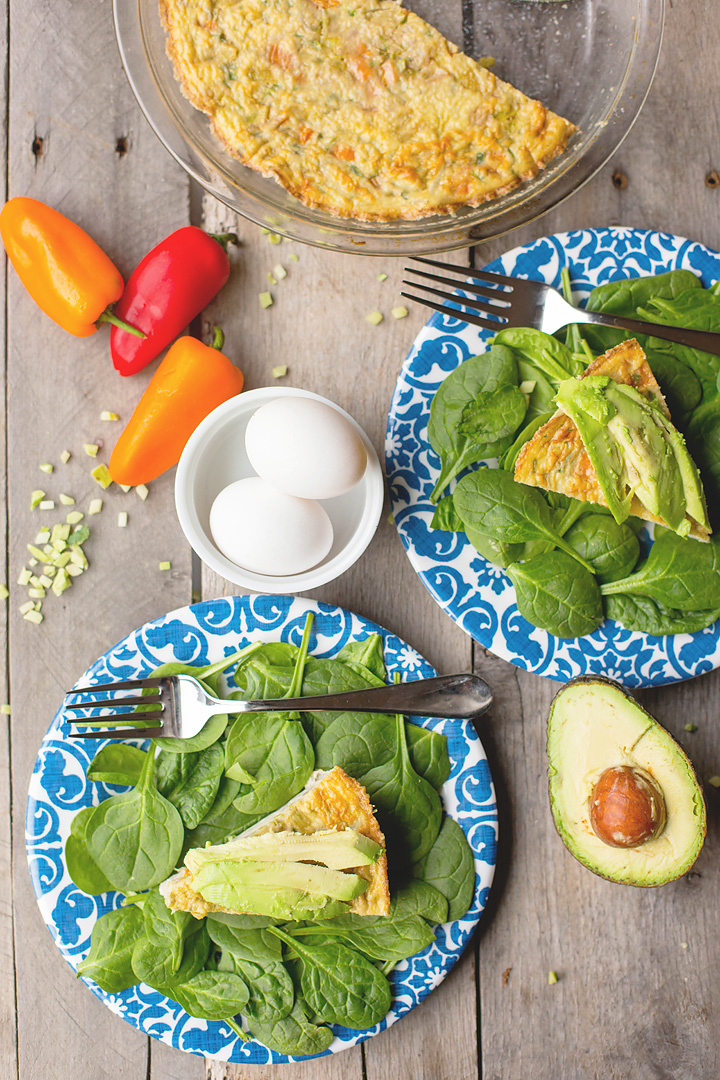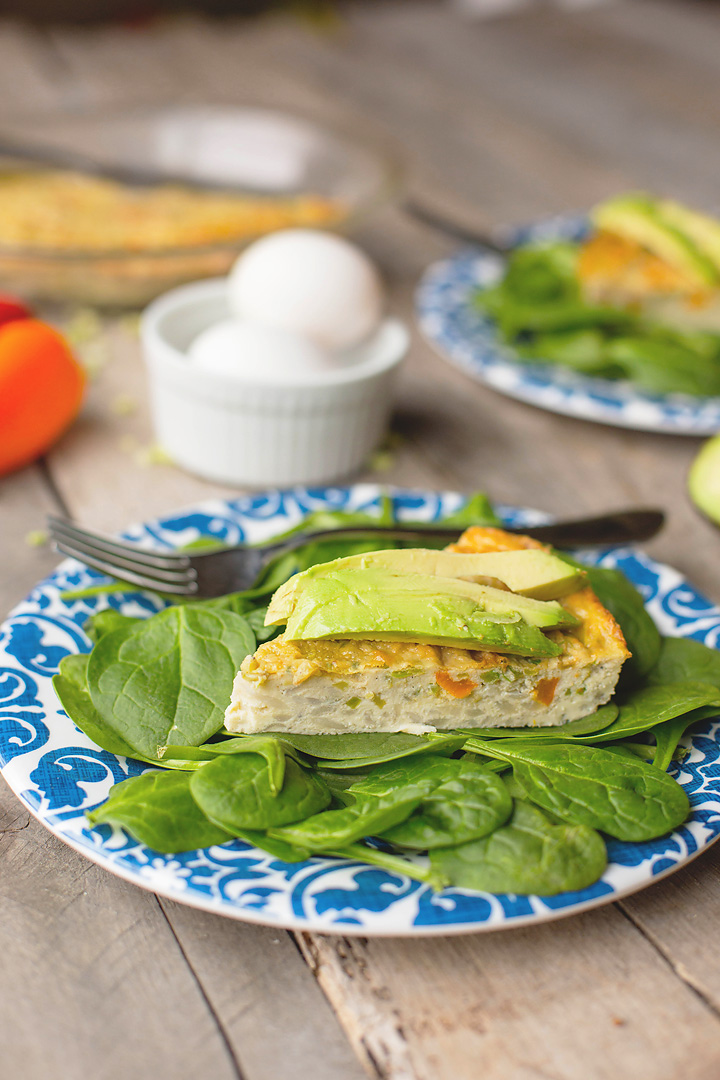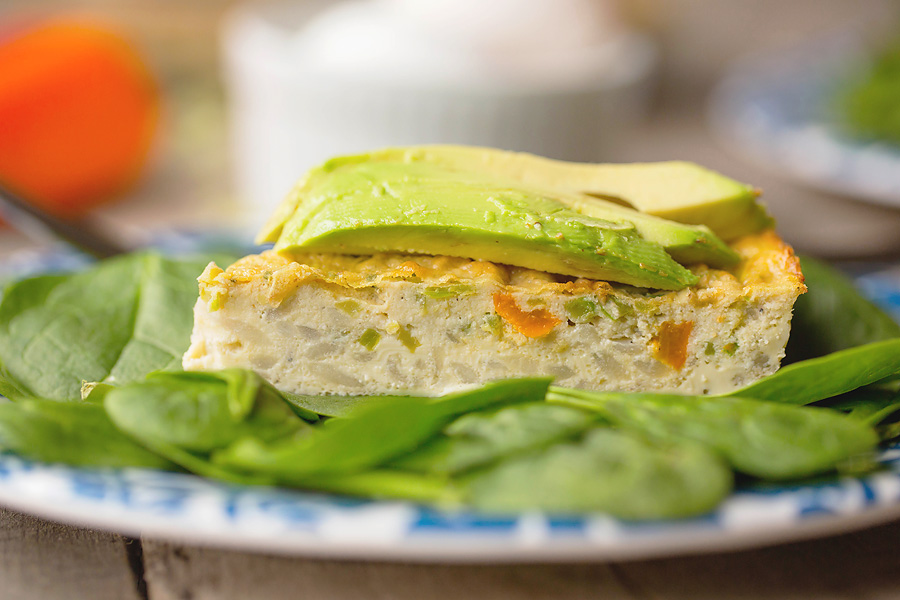 Look at that, a prepped & HEALTHY breakfast for the entire family… keto and non keto versions with the simple swap of ingredients!  Definitely an easy week here even though I had to spend time with this in the oven!!!  No problem there though… if I'm prepping something for my daughters breakfast that requires baking time, that's when I try to get my other meal & food prep done like washing, chopping, storing veggies/fruit for the week, meal planning, portioning my proteins for quick meals, etc.  Since I'm already in the kitchen, it just makes sense to get the most out of my time right?
Hidden Veggie Breakfast Bake

Print recipe
| | |
| --- | --- |
| Serves | 6 |
| Prep time | 5 minutes |
| Cook time | 35 minutes |
| Total time | 40 minutes |
Ingredients
1 heaped tablespoon butter, ghee, or coconut oil
1/4 cup yellow or orange bell pepper (finely chopped)
2 heaped tablespoons onion (finely chopped)
3/4 cups riced broccoli
3 Large whole eggs
1 cup MuscleEgg organic egg whites
1/4 cup milk of choice
2 tablespoons coconut four
1/2 to 3/4 teaspoon salt to taste
1/4 teaspoon pepper to taste
1 1/2 cup hash browns OR jicama (shredded)
Optional
3/4 cups grated cheddar or cheese of choice
Directions
Step 1
Preheat oven to 350 degrees and coat a pie pan or baking dish with non stick spray or butter.
Step 2
Heat butter/ghee/or coconut oil in a skillet under low/medium heat. Sauté onion, peppers, and broccoli until tender, about 5-6 minutes. Add a little salt and pepper if desired. Remove from heat and let cool.
Step 3
In a blender combine eggs, egg whites, coconut flour, salt & pepper. Mix for 30-45 seconds until light and fluffy. Let sit for 2 minutes.
Step 4
Add hash browns (or jicama for keto version) to the greased dish, sprinkle on cooked/cooled veggies, then pour in egg mixture. Top with cheese if desired.
Step 5
Bake for 35-40 minutes until edges are golden brown, have begun to pull away from edges, and center is just set (a LITTLE wiggle is perfect because it will continue to cook a bit longer).
Step 6
Top with fresh avocado or guacamole, portion, and store/serve.
Note
NUTRITIONAL INFORMATION: calories- 96, fat- 3 grams, carbs- 8 grams/fiber- 3 grams,  protein- 9 grams PER SLICE
NUTRITIONAL INFO FOR NON KETO VERSION
Nutrition Facts
Serving Size 1 slice
Servings Per Container 6
---
Amount Per Serving
Calories 112
Calories from Fat 27
% Daily Value*
Total Carbohydrate 13g
4%
---
*Percent Daily Values are based on a 2,000 calorie diet. Your daily values may be higher or lower depending on your calorie needs.
NUTRITIONAL INFO FOR KETO VERSION
Nutrition Facts
Serving Size 1 slice
Servings Per Container 6
---
Amount Per Serving
Calories 96
Calories from Fat 27
% Daily Value*
---
*Percent Daily Values are based on a 2,000 calorie diet. Your daily values may be higher or lower depending on your calorie needs.
Finally, Makena's lunches for the week… short 4 day week here 🙂
TUESDAY:
Grilled cheese sandwich, grapes, rice crackers, and celery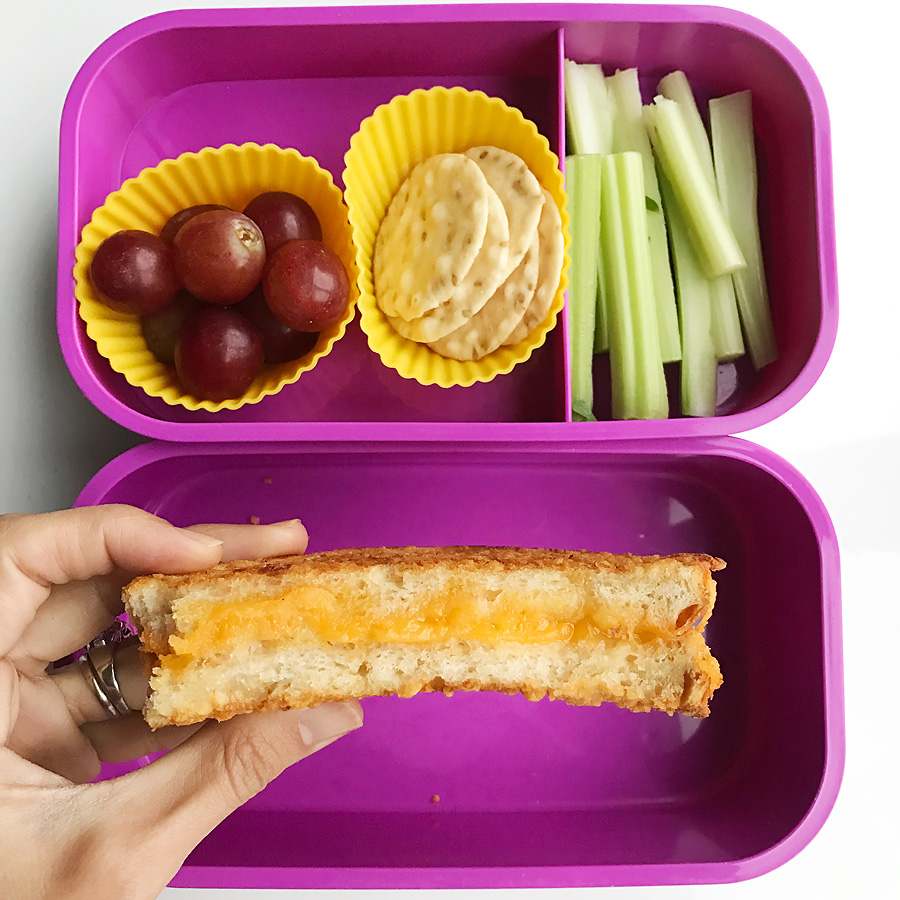 WEDNESDAY:
Leftover grilled chicken, roasted radishes, and broccoli (snacks were pineapple & toasted seaweed)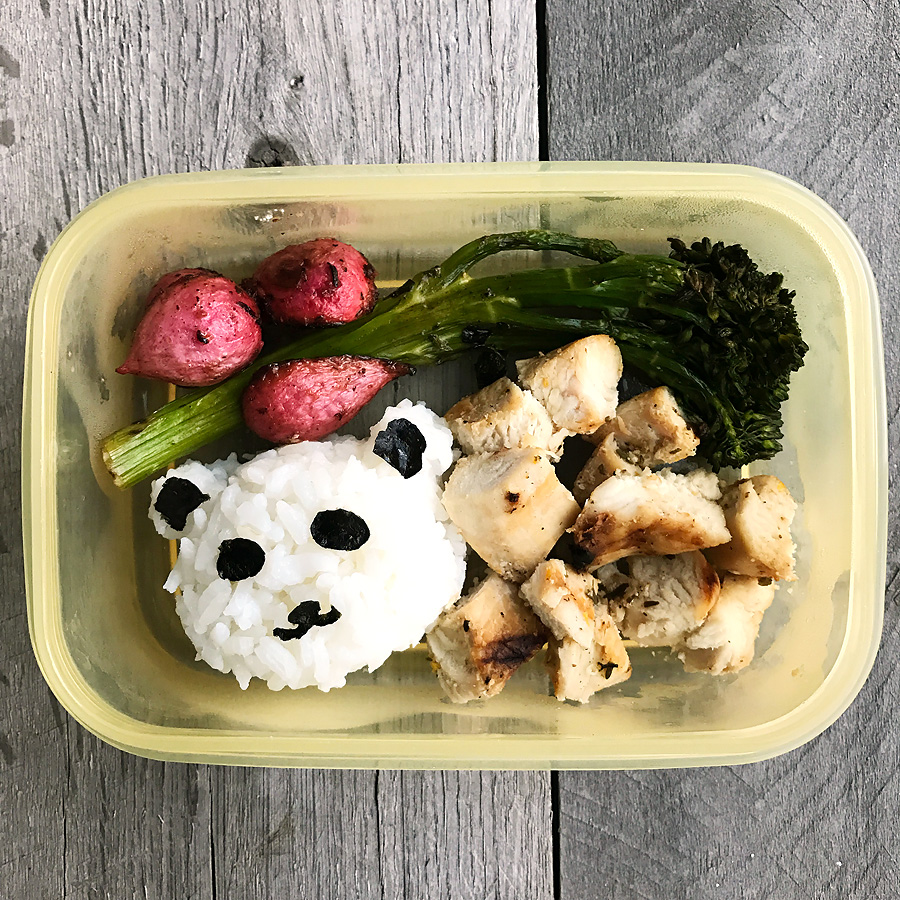 THURSDAY:
Chicken caesar salad, hawaiian roll sandwich, kiwi, and chez its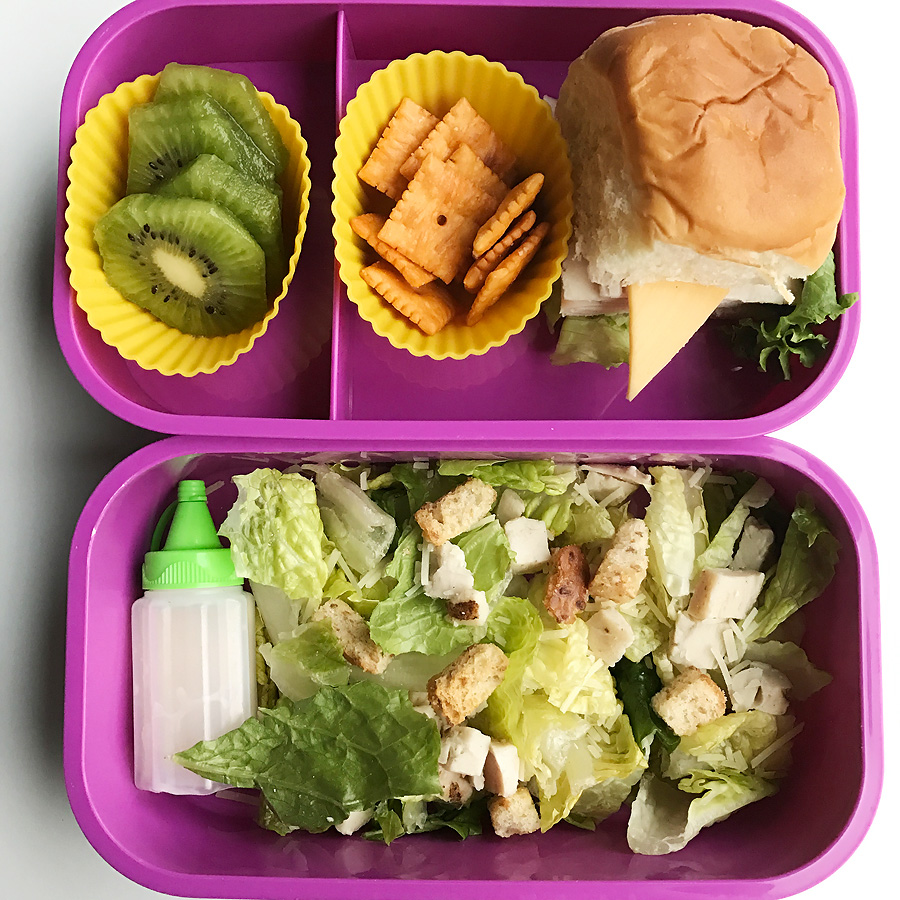 FRIDAY:
Was so good she wanted it again… chicken caesar salad, hawaiian roll sandwich, cutie orange, and BBQ chips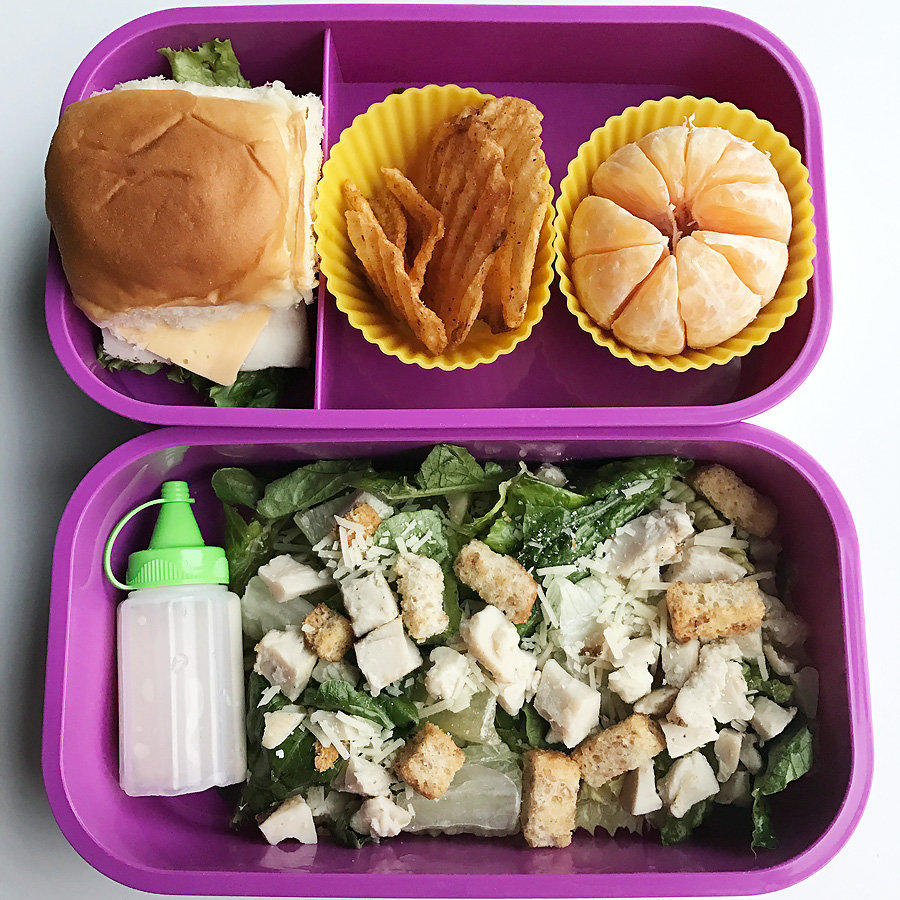 And here are all of the previous prep weeks right at your finger tips:
Find me on Facebook:


Find me on Instagram for daily food inspiration, ideas, and tips: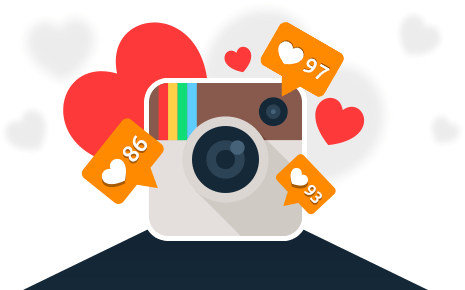 MY FAVORITE FOOD & MEAL PREP SUPPLIES