'Your new favorite nut butter has arrived and what better way to enjoy it than with these LOW CARB white chocolate nut butter jelly cups!'
Watch out world, there is a new nut butter in town and I can say with absolute certainty you are going to fall head over heels in LOVE!  This Perfect Keto Butter is unreal.  So smooth, so rich, so decadent, and so perfectly keto!  Only 3 ingredients: macadamia nuts, cashews, and vanilla bean.  Great for keto and non keto'ers alike though since this is a wonderful option for you to get in all those healthy fats!
So after going through my first jar of this stuff (that should have been called Perfect Keto Crack), it was time to start coming up with recipes that I could incorporate it into.  The jar and a plain old spoon was getting far too dangerous for me.  What comes to mind when you think of peanut butter/nut butter (besides that spoon of course)? Nut Butter Cups!  For this amazing new product though, I knew I had to take those traditional PB cups up about 10 notches and make these extra special.  Of course it helped my recipe development brain that I also happened to have a batch of my "keto strawberry jelly" on hand for the inspiration.  Nut butter, jelly… yeah, they go hand and hand since age 5.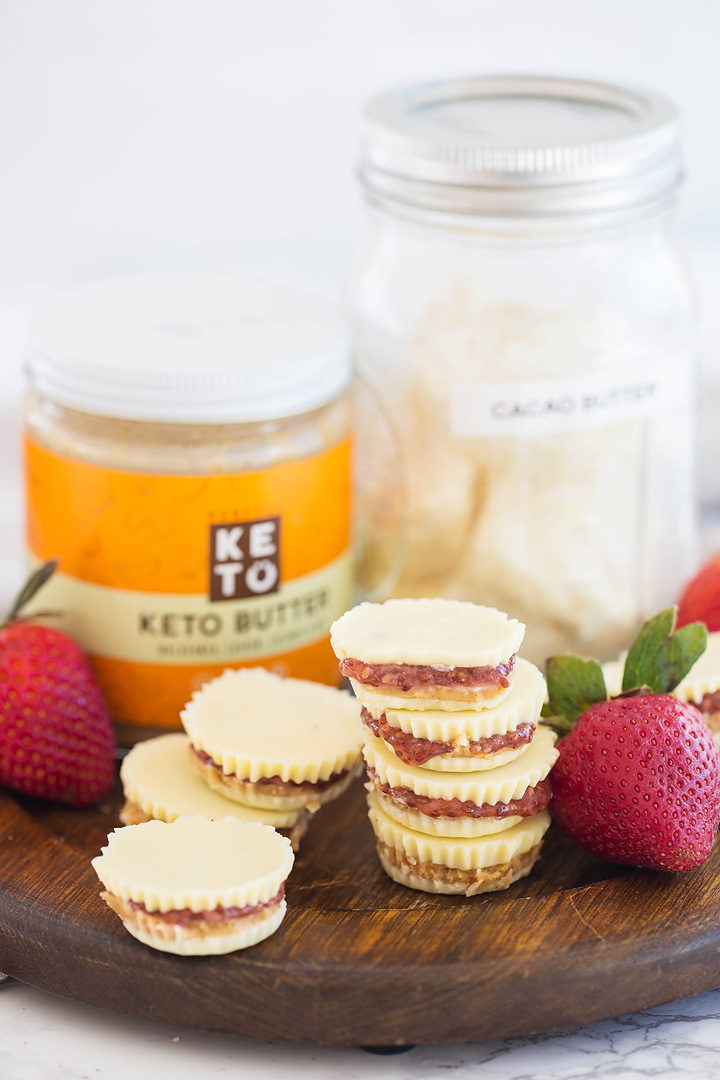 Not only that, I also opted for 'white chocolate' nut butter & jelly cups.  Using dark cacao would have worked just as well, but I really really wanted the flavor of the new nut butter to shine on these.  The raw cacao butter serves as such a great set point for flavors since its virtually tasteless.  Just a touch of sweetener, the new nut butter, and some homemade strawberry chia seed jelly.  You could also use a sugar free store bought brand as well if you like, I'm just not personally a fan of the artificial taste and the higher quality ones won't work as well if you are on a ketogenic diet.
Any way you bite into it though, these will become a staple in your fat bomb rotation!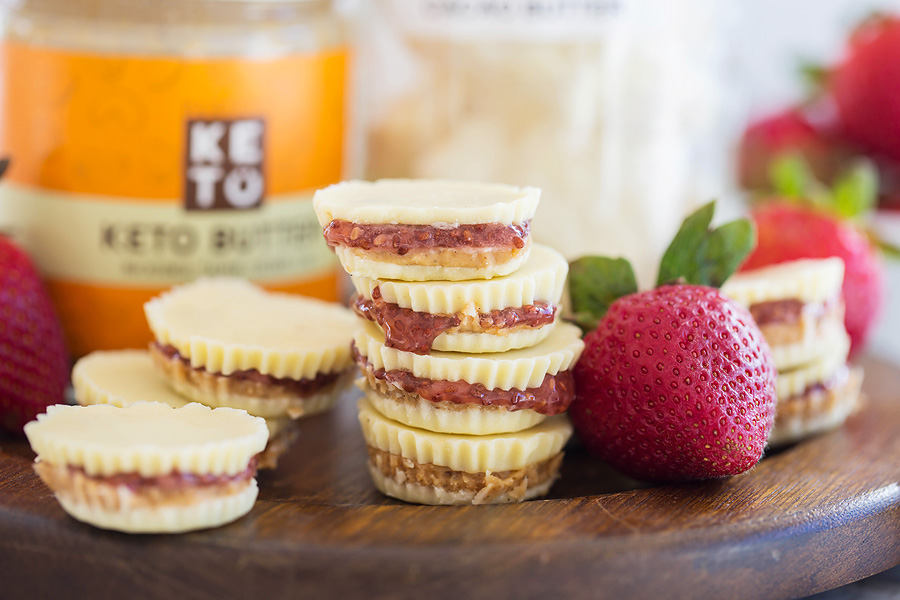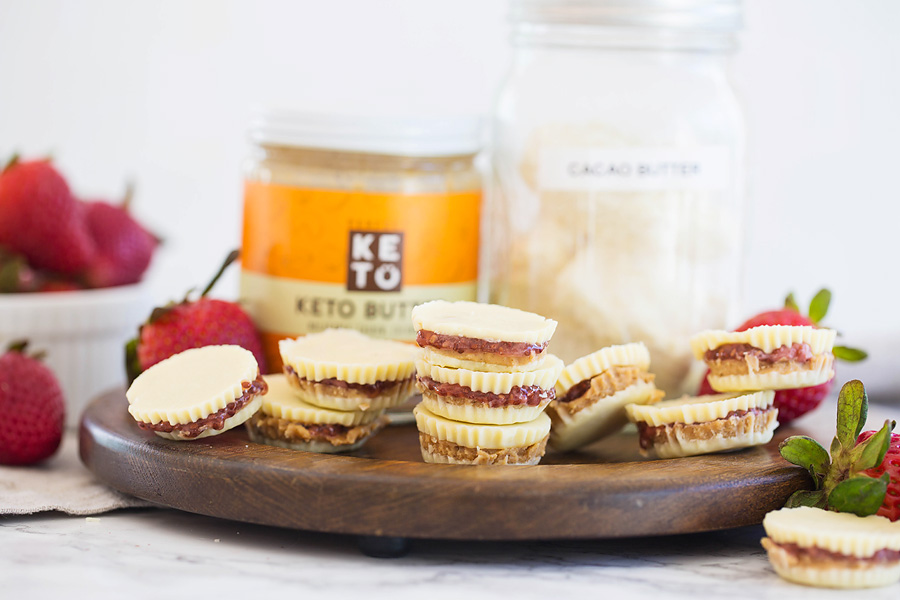 These also make for a wonderful make ahead treat.  Make a batch at the beginning of the week and enjoy them anytime a sweet craving kicks in.  Once made they can be stored in the freezer or fridge.  Right out of the refrigerator they are ready to eat.  If they are coming out of the freezer, let them sit out for 5-10 minutes until they soften just a bit.
Perfect Keto Nut Butter & Jelly Cups

Print recipe
Serving Size

1 cup
Per Serving
Calories
185 kcal
Protein
7g
Total Carbohydrate
6g
Total Fat
19g
Fibre
3g
Ingredients
1/2 cup cacao butter
3 tablespoons Swerve, Lakanto, or keto friendly sweetener of choice
pinch salt
3/4 cups Perfect Keto 'nut butter' (coupon and link below)
1/4 cup keto strawberry jam ((recipe linked above))
Directions
Step 1
Add cacao butter, salt, and sweetener to a small pot. Heat over low fire until cacao butter is melted. Stir well to combine. Remove from heat.
Step 2
Line a pan with cupcake liners. Pour in 1-1 1/2 tsp of melted cacao mixture into each liner. Gently swirl to bring "white chocolate" slightly up the sides of the liner. Place pan in freezer for 5 minutes to harden.
Step 3
Remove from freezer and add 1-2 tsp of nut butter evenly on top of white chocolate. Pour an additional 1-2 tsp of melted white chocolate over nut butter layer. Freeze for 10 minutes until set.
** GET PERFECT KETO FOR 20% OFF **
HERE
PROMO CODE: LIVEKETOFIT20
SaveSave
SaveSave
SaveSave