Cozy up with this thick and creamy cauliflower soup recipe.  It's healthy, loaded with flavor, and so easy to make.  Enjoy this gluten-free, paleo, and keto friendly Instant Pot recipe any day of the week!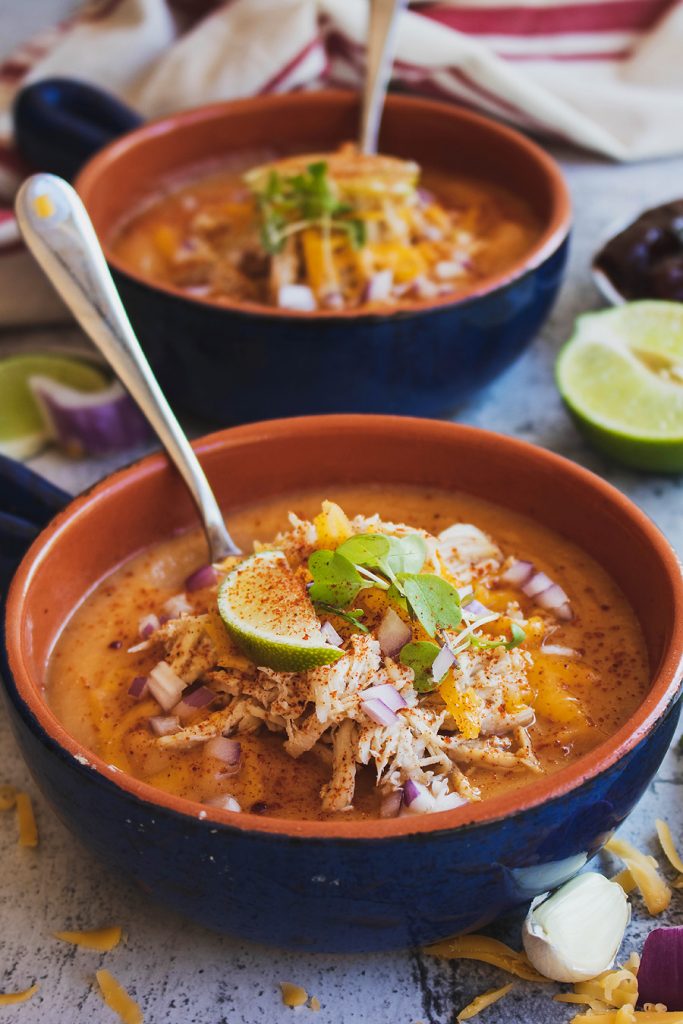 One of my favorite easy weeknight meals hacks involves grabbing a rotisserie chicken from the store. Plain chicken can get pretty boring on its own, however it doesn't take much to spruce them up!  The easiest meal idea of course is slicing off some meat and serving it with some vegetables, but that gets boring real quick.  It is good in a pinch when you have absolutely no time to prepare anything else, but there are a ton of ways to turn a store bought chicken into an entirely new meal.  This cauliflower soup recipe is one of those ways!
Store bought chicken + Instant Pot= Magic
While the chicken waits to get shredded, it really is just a matter of throwing everything into the Instant Pot to cook.  The hardest part of the process?  Crisping up the bacon!  The bacon definitely adds flavor and another layer of richness to this creamy cauliflower coup, however it is not an absolute necessity.  Without it, you could have dinner on the table in about 10 minutes.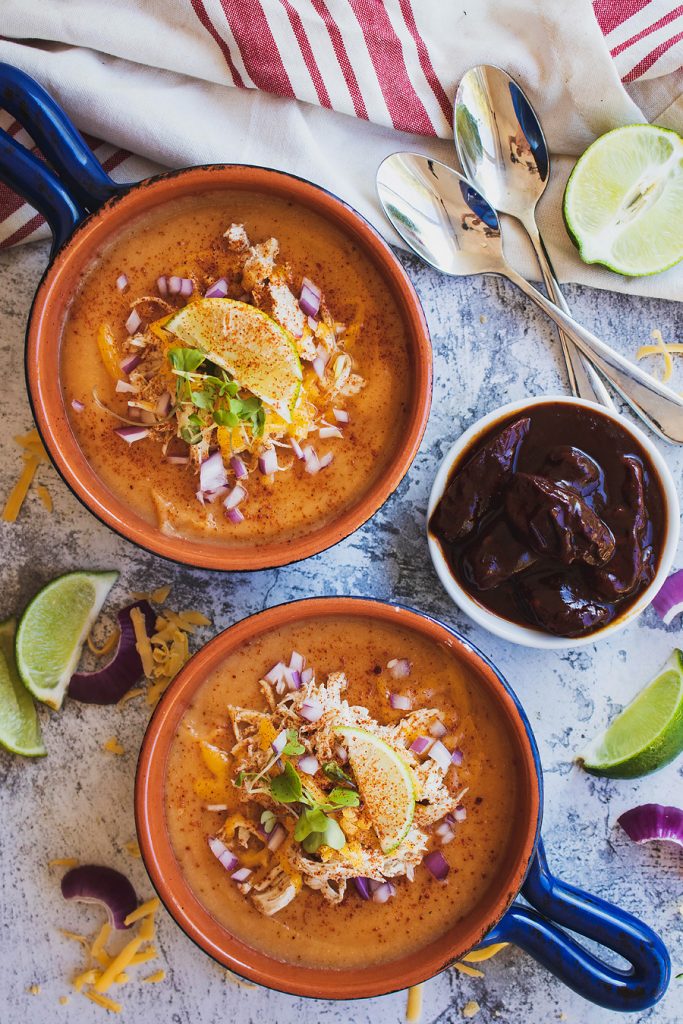 Is the "extra" 5 minutes crisping up the bacon worth it though?  I'm going to have to say yes!  While the bacon adds that extra layer of flavor, the main star here is the chipotle peppers in adobo sauce.  These alone will provide all of the smokiness and color to this soup recipe.  The great thing about canned chipotle peppers is they are easily found in any regular supermarket!
Fall, Winter, or early Spring you are going to crave this rich and creamy chipotle soup.  Unlike other soup recipes that still leave you feeling hungry, one big bowl of this cauliflower soup and you will feel completely satisfied.  You will not even realize it is completely low carb.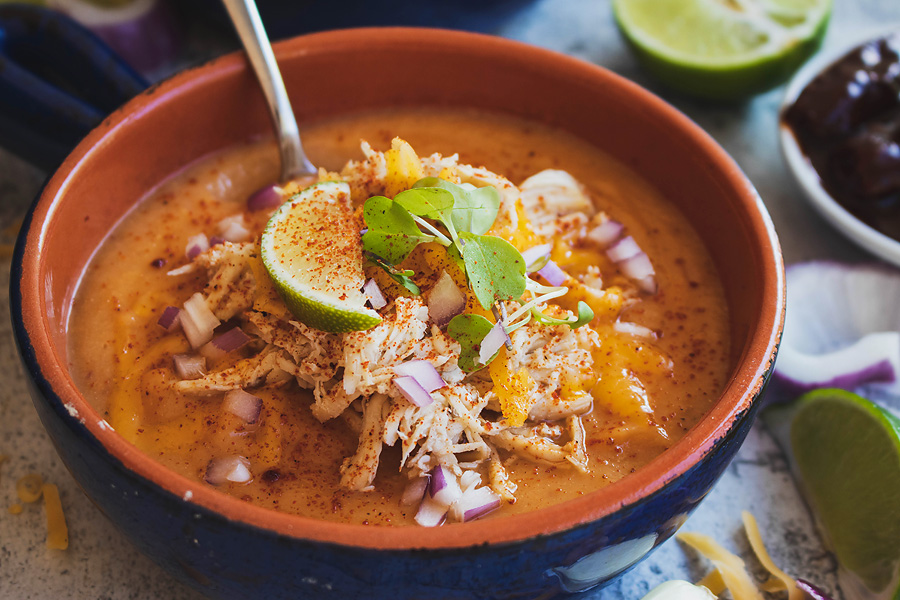 Have an extra few minutes one night to add even BIGGER flavor to this cauliflower soup recipe?  Or perhaps you do not have an Instant Pot?  NO PROBLEM!!!  Roast your cauliflower florets instead!!!
Roasted Chipotle Cauliflower Soup Instructions:
preheat oven to 400° degrees F and line a baking sheet with parchment paper or coat with non stick spray
add cauliflower to baking sheet and coat with 1-2 tablespoons of extra-virgin olive oil, bacon grease, or avocado oil
season with 3/4 teaspoon of salt, 1/4 teaspoon of pepper, and 2 teaspoons of garlic powder
toss to coat evenly
roast for 20-25 minutes until cauliflower is tender and golden brown
remove from oven and add cauliflower and remaining ingredients to a high speed blender
mix on high until smooth, adjust seasoning to taste
top with shredded roasted chicken, red onions, cilantro or green onions, and a wedge of lime
If you ask me, this roasted cauliflower version of this soup is even BETTER!  Loads more flavor from a simple roast of the vegetable.  Whichever version you pick though, you will fall in love with these rich Mexican flavors and silky smooth soup.  Next time you need dinner on the table in under 20 minutes, this cauliflower soup will come to the rescue!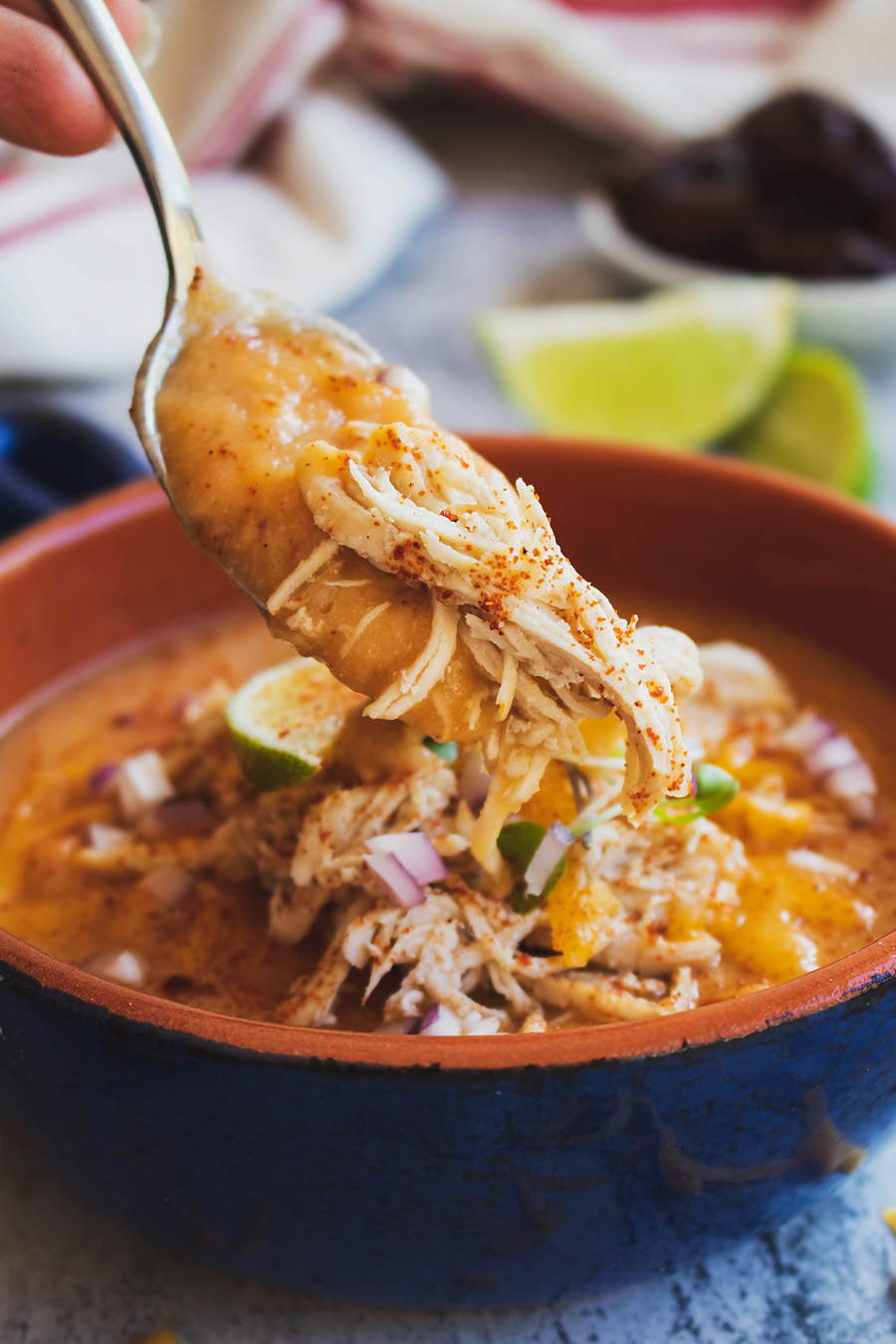 Print Recipe
Instant Pot Spicy Chipotle Cauliflower Soup
Ingredients
1 large cauliflower (cut into small florets)

4 slices of bacon (roughly chopped)

1 small onion (roughly chopped)

3 cups chicken stock

2 tablespoons chipotle peppers in adobo sauce

1 teaspoon salt

1/2 teaspoon pepper

1/4 to 1/2 chipotle powder
Instructions
1
Turn press SAUTÉ function +10 minutes on the Instant Pot. Add bacon. Cook until crisp. Remove bacon pieces from Instant Pot and reserve grease.
2
Add onions to Instant Pot and sauté for 2-3 minutes.
3
Turn Instant Pot OFF, then press MANUAL + 10 minutes. Add remaining ingredients (chicken stock, chipotle peppers, salt, pepper, and chipotle powder.
4
Replace lid and close valve. When timer goes off, manually release pressure. Place contents in a high speed blender and mix on high until completely smooth. Adjust seasoning to taste. Top with crumbled bacon and cilantro or chives.