I have been having so much fun playing with those gorgeous Pitaya Plus packs I found at my local health food store last month!  It doesn't even matter what I make with them, that color gets me EVERY.SINGLE.TIME.  It's just so gorgeous to look at, I have been reaching for it nearly every time I go to make a smoothie.  After about 10 smoothies though, I figured it was time to find some other uses for my packs.  Oatmeal would be the obvious choice since I eat a big bowl every day, but I happened to be craving a big stack of pancakes this particular day and figured I could rock my Pitaya in those.  Yeah, the idea was pure gold.  Initially, I planned on using the Pitaya in the pancakes, but wasn't quite sure how the consistency would hold up and was far too hungry to play around… figured that using it as a topping made much more sense this time around!  I was right.  Get a load of this beautiful stack.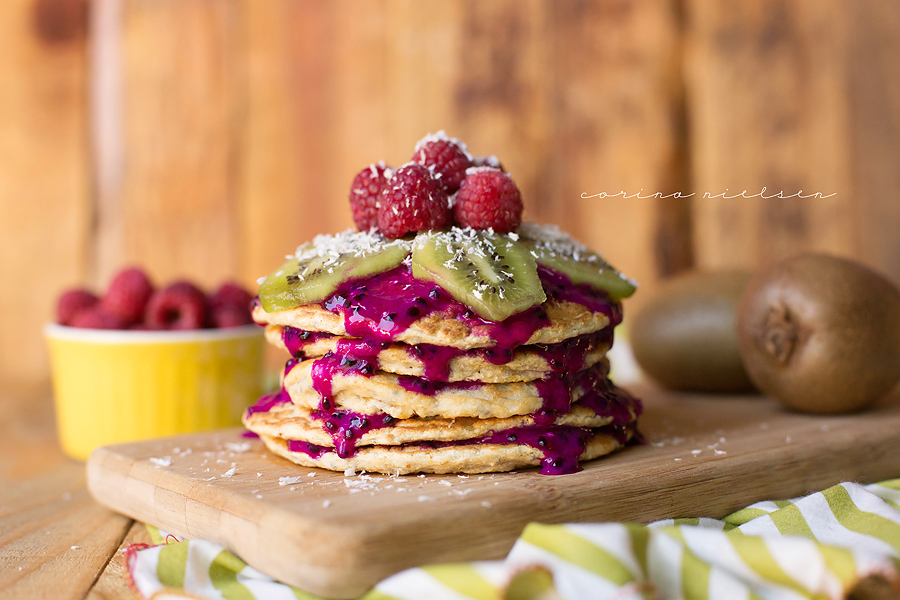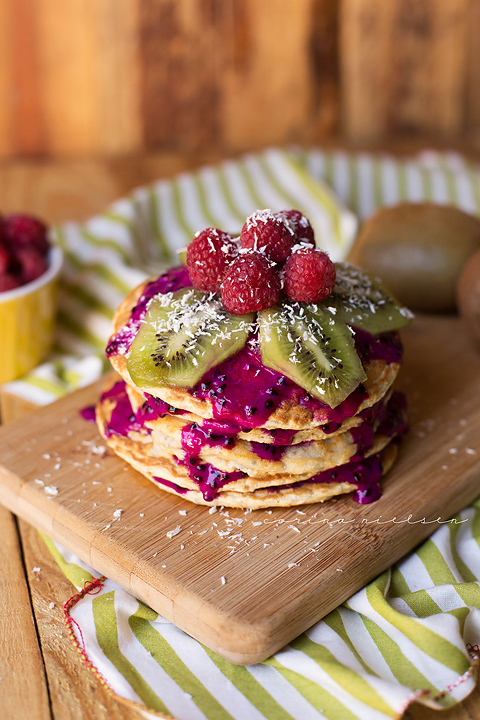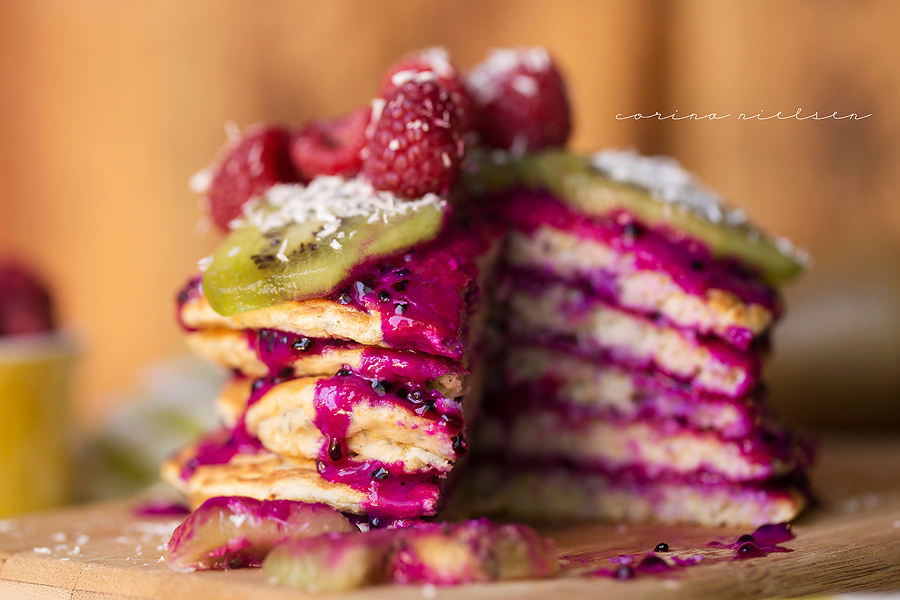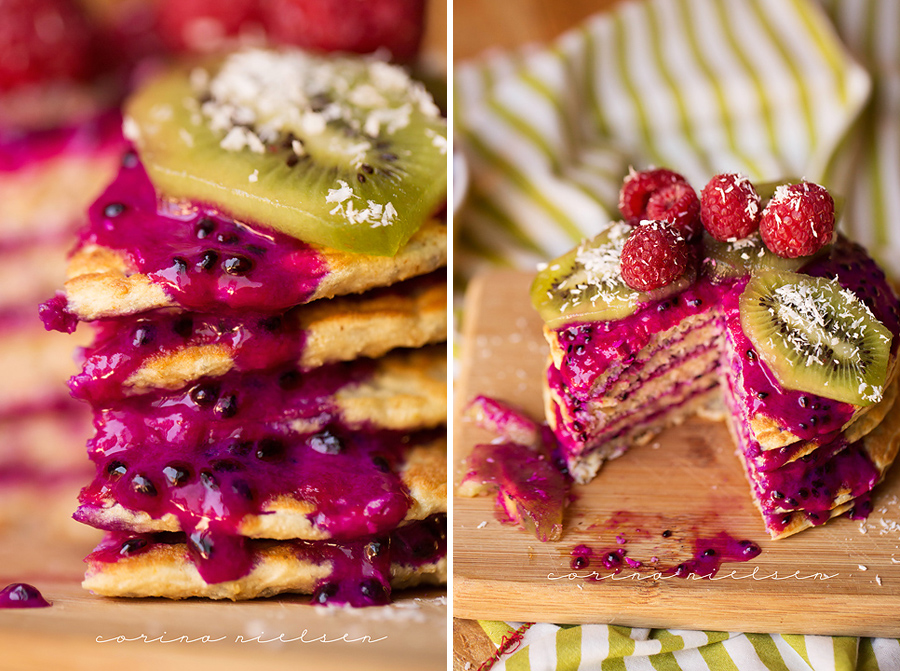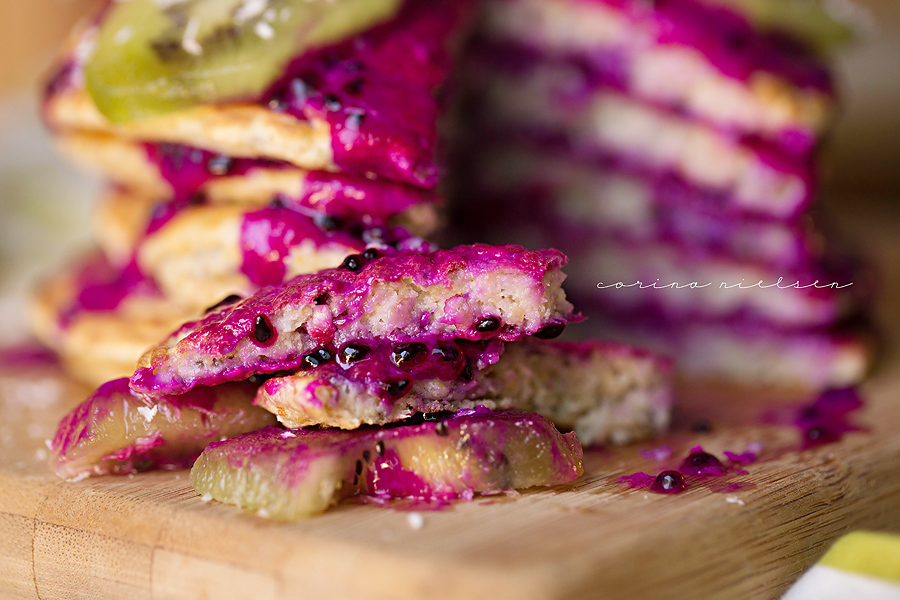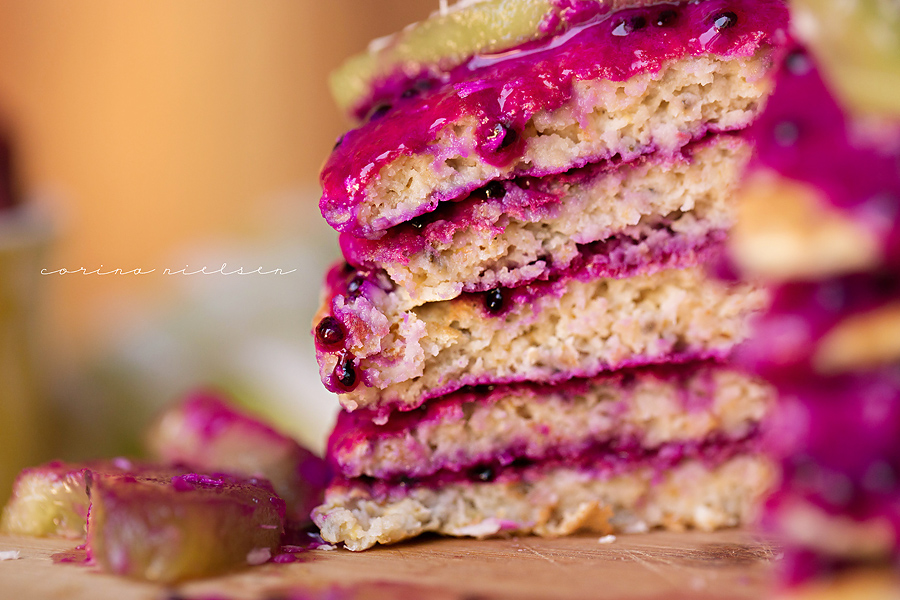 This intense pink color probably isn't something you associate with food (or pancakes), BUT try and tell me these don't look absolutely amazing?   Soft, moist, fluffy, full of flavor, and almost too pretty to eat!   I actually think this recipe for the actual pancakes is my best thus far… definitely the best texture I've made to date (and my others were pretty darn good if I say so myself)!  The topping on this just makes them THAT much better!
Coconut Pineapple & Pitaya (Dragon Fruit) Pancakes

Print recipe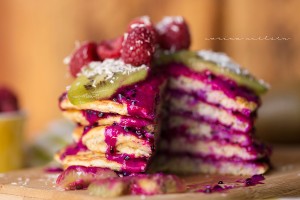 Ingredients
1/4 cup Kodiak Power Cakes Mix
2 tablespoons coconut flour
1 teaspoon baking powder
1/2 teaspoon baking soda
1/2 cup Vanilla Muscle Egg (egg whites) (www.muscleegg.com)
2 tablespoons shredded coconut (unsweetened)
1/3 cup So Delicious unsweetened coconut milk
1/4 teaspoon coconut extract
1 teaspoon vanilla extract
30 drops Coconut Sweet Leaf Stevia Drops
1/2 packet Pitaya Plus Smoothie Pack (** TOPPING **)
10 drops Vanilla Sweet Leaf Stevia (** TOPPING **)
1/4 cup pineapple juice (** TOPPING **)
2-4 tablespoons maple syrup (** TOPPING **)
1 tablespoon shredded coconut (** TOPPING **)
1 kiwi (sliced) (** TOPPING **)
4-5 raspberries (** TOPPING **)
Directions
Step 1
Place pancakes ingredients in a medium sized bowl and mix until well combined.
Step 2
Preheat a large skillet or pan under medium low heat, spray with non stick spray or coat with coconut oil.
Step 3
Cook pancakes 2-3 minutes per side until golden brown.
Step 4
For topping, mix Pitaya Plus with pineapple juice and stevia drops. Add more of less pineapple juice depending on how thin you want it. Top pancakes and add fruit, shredded coconut, and nuts if desired.