It won't matter if you are on a low carb, ketogenic diet or not.  You will only need to make this side dish ONCE and I'd go out on a limb and say it may even replace your regular potato salad recipe.  Yes, this is THAT GOOD!  I mean really.  Don't be fooled by the "NO-TATO" salad title here!
Bacon… need I say more?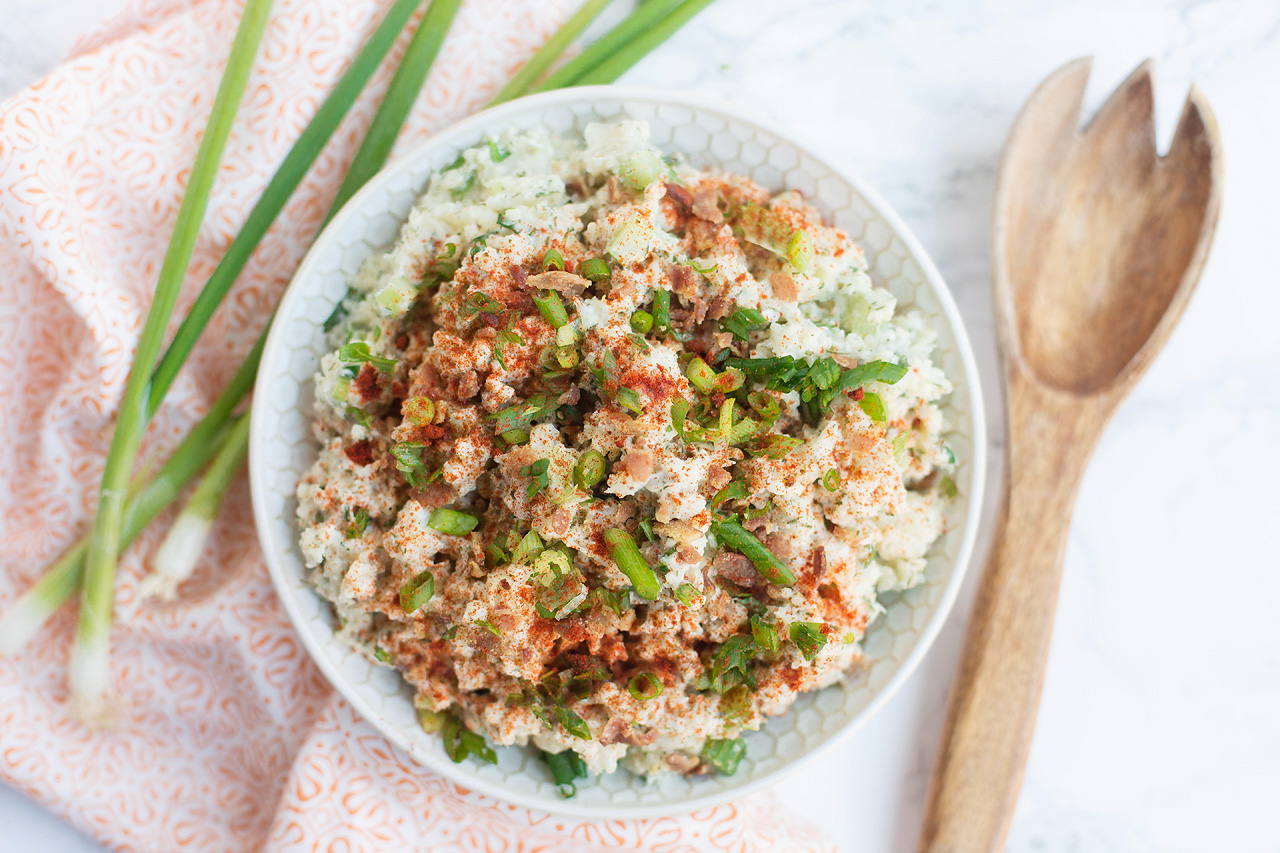 I remember the first time I made this, just about a year ago when I first started keto.  The holidays were around the corner and I was trying to figure out what the heck I was going to eat for the upcoming family gatherings.  I was already over the whole mashed cauliflower action by that point in my keto journey and really wanted something light and fresh that I could eat with my turkey.  Regular potato salad was a definite no-go, so I opted to whip up my own KETO/low carb version.
This MORE than hit the spot.  It exceeded every expectation I had.  Literally one bite and I was hooked.  I think I went through the 6 servings in about a 24 hour period.  Definitely made up the bulk of my holiday plate and I often found myself going to the fridge for a few spoonfuls quite often.  Keto or not, I honestly don't think I could ever go back to regular potato salad again!  Not only was this a perfect side dish for the holidays, but BBQ's in the summer?  Springtime picnics?  Yeah, this will have you covered!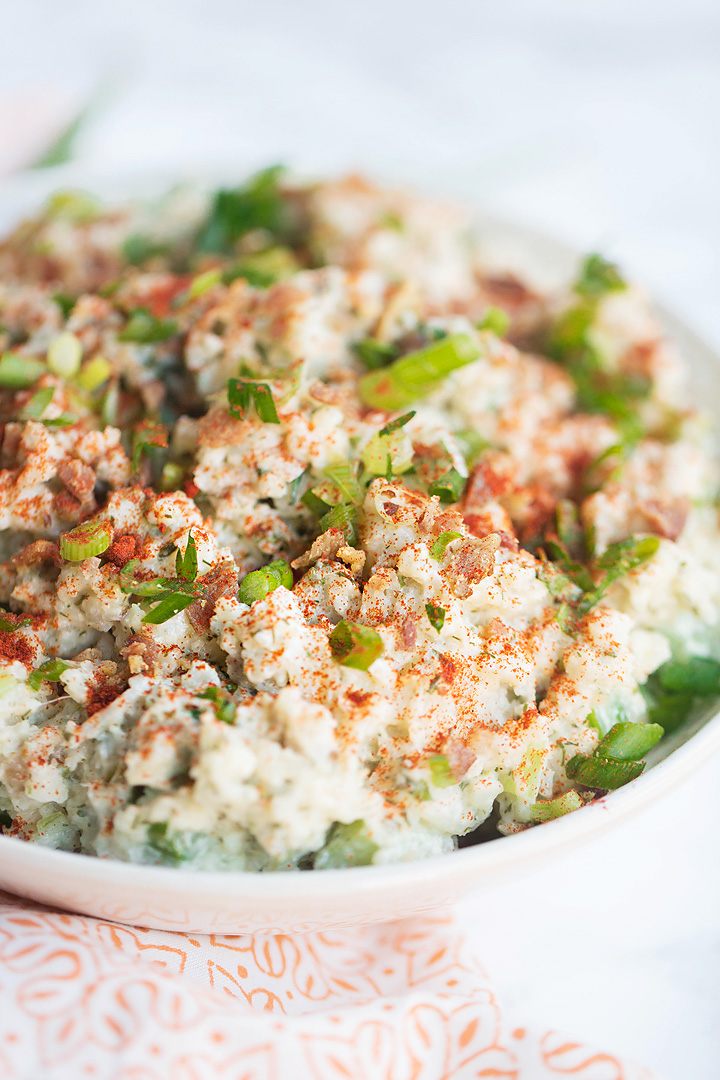 I love how the textures and flavors blend in so well together.  The bite of acidity from the apple cider vinegar, the perfect blend of ranch spices, the little crunches of celery and bacons, and then the background hint of extra bacon flavor from the bacon fat… oh my.  And unlike regular potato salad, even two servings of this at one time won't leave you feeling bloated, puffy, and lethargic.  You will still feel light, refreshed, and totally satisfied!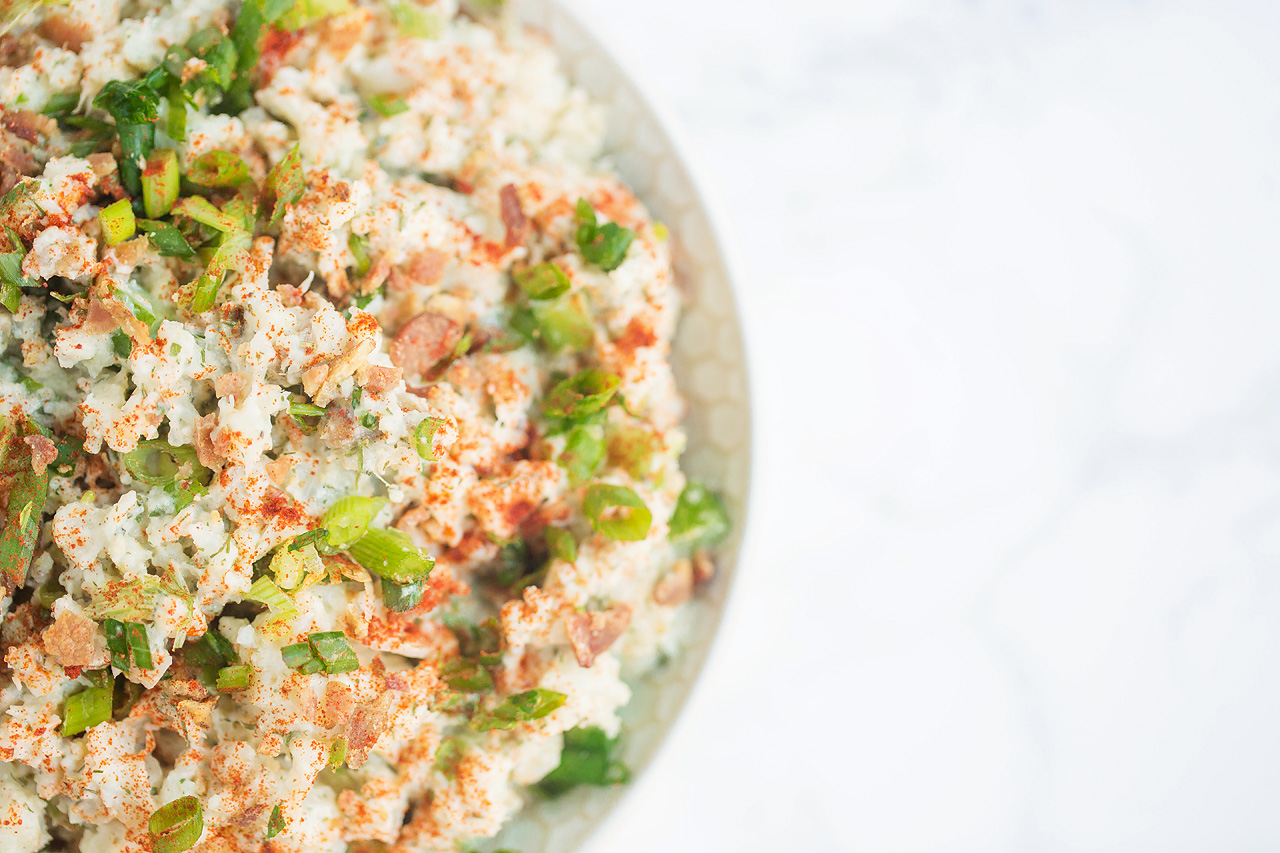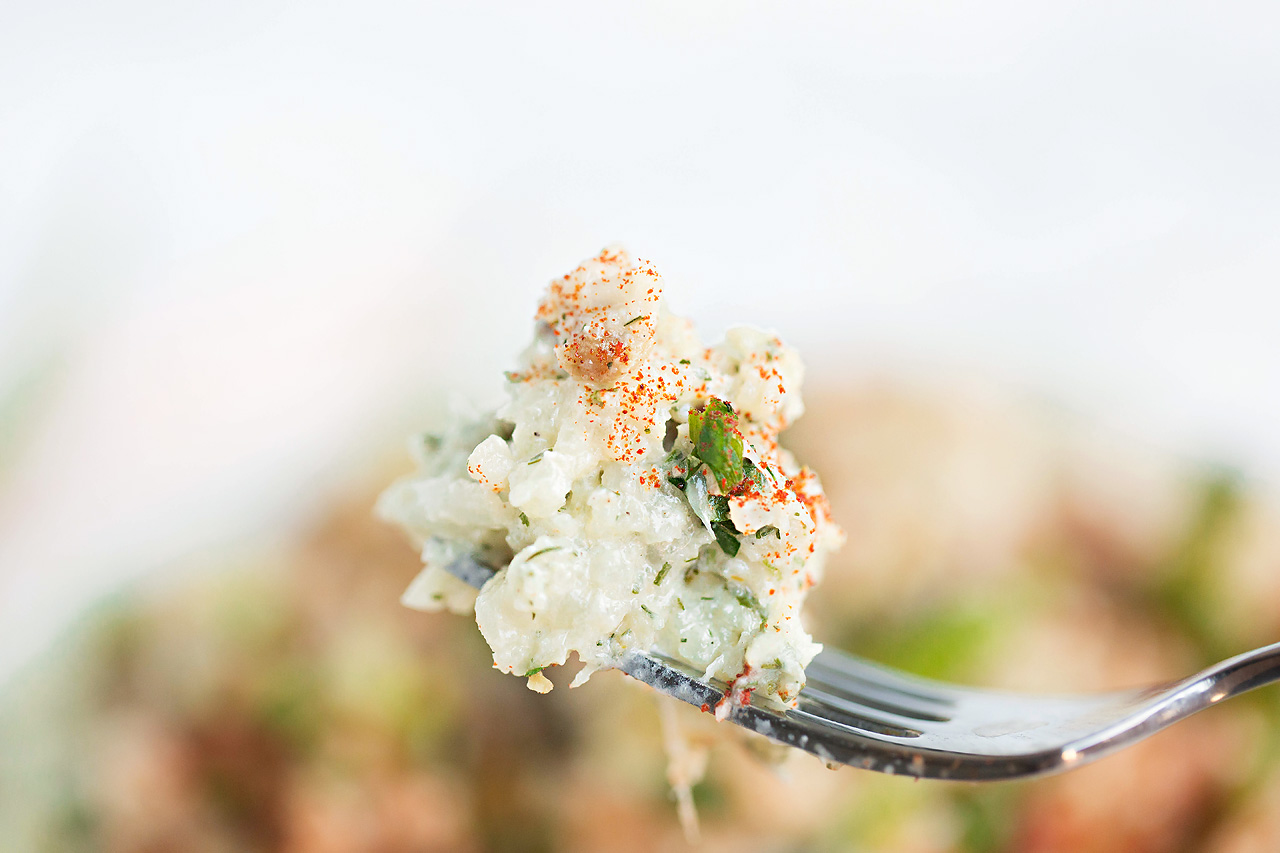 Mark my words.  This is a side dish you will come back to over and over and over again throughout the entire year!
Bacon Ranch "NO-TATO" Salad

Print recipe
Serving Size

1 serving
Per Serving
Calories
135 kcal
Protein
5g
Total Carbohydrate
7g
Total Fat
11g
Saturated Fat
2g
Fibre
2g
Ingredients
1 Large head of cauliflower
4-6 thick slices bacon
1 tablespoon minsed onion
2 teaspoons onion powder
1 tablespoon garlic powder
1 tablespoon dried dill
1 tablespoon dried parsley
1/4 teaspoon pepper
1 teaspoon salt
2 tablespoons apple cider vinegar
1/4 cup mayonaise
2 heaped tablespoons bacon fat/grease
2 Large celery stalks (chop and reserve leaves)
Optional
Directions
Step 1
Roughly chop cauliflower into small pieces (1"-1 1/2"). Steam until just fork tender (do NOT over cook, pieces should not be mushy). Run under cold water or an ice bath to stop cooking process.
Step 2
Add bacon to a large skillet and cook until crispy. Remove from pan, crumble into small bits. Reserve fat.
Step 3
Add all spices, apple cider vinegar, mayo, bacon fat, and optional mustard to a large bowl. Mix well until combined.
Step 4
Add cooled cauliflower, celery, and bacon to bowl. Carefully stir until everything is well coated. Adjust seasoning. Sprinkle on celery leaves and extra bacon bits if desired.