Wrapping up 2015 with something warm, comforting, delicious, and SIMPLE!!!  Busy Fall and Winter days will always call for crockpot meals and this 'Healthy Creamy Italian Crockpot Chicken' I made for the family last week could not be any easier!  This is a great option for an effortless weeknight meal, but I opted to make this for a typical 'football Sunday'.  Those usually call for me spending the entire day relaxing in pajamas, on the couch, curled up in front of the fire, and not leaving the house for ANYTHING!
After breakfast I just threw the ingredients in the crockpot and let it cook while I enjoyed watching the games with my the family.  Then right before the evening game, I made the pasta, cut up the chicken, and put the meal together for everyone!  If you really wanted to make this even easier, you could add more liquid to the crockpot (maybe 1-2 cups of chicken stock) and in the last 30 minutes of cooking, add the pasta in.  In all honesty, the noodles should taste even better like that because it will soak up all of the liquid and juices from the chicken and seasoning!!!  Either way though, this is a winner and a new family favorite!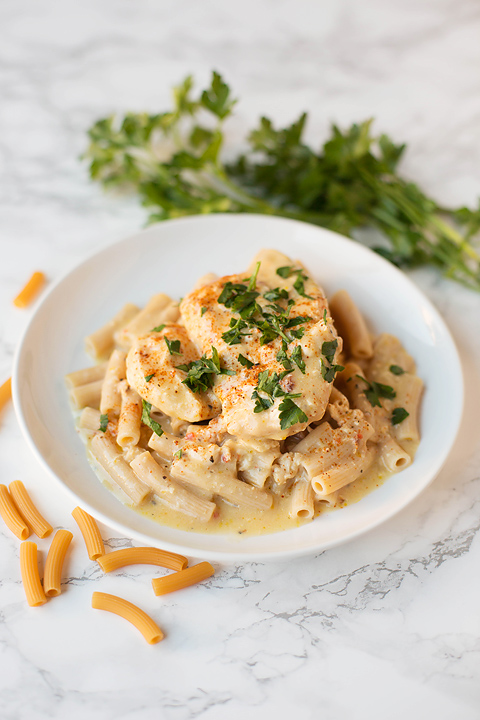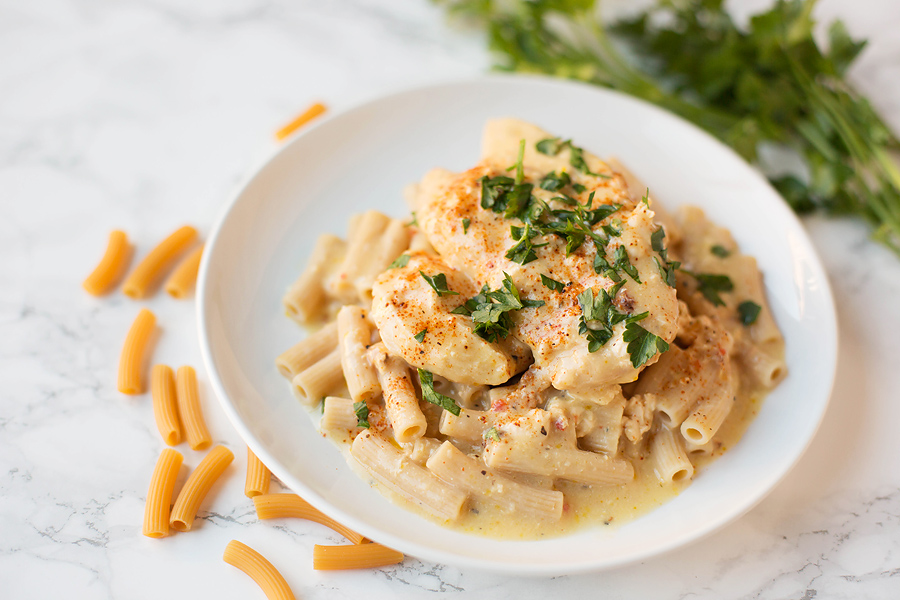 I took a step out of my comfort zone and didn't use traditional pasta for this recipe.  Normally when putting together a new recipe, I would stick with what I knew, but I had a good feeling about this Banza Chickpea pasta!  Nutritional profile is great compared to regular pastas (higher in protein and fiber, lower in overall carbs) and is a great option for those with specific dietary restrictions.  Banza cooks up just like traditional pasta as well!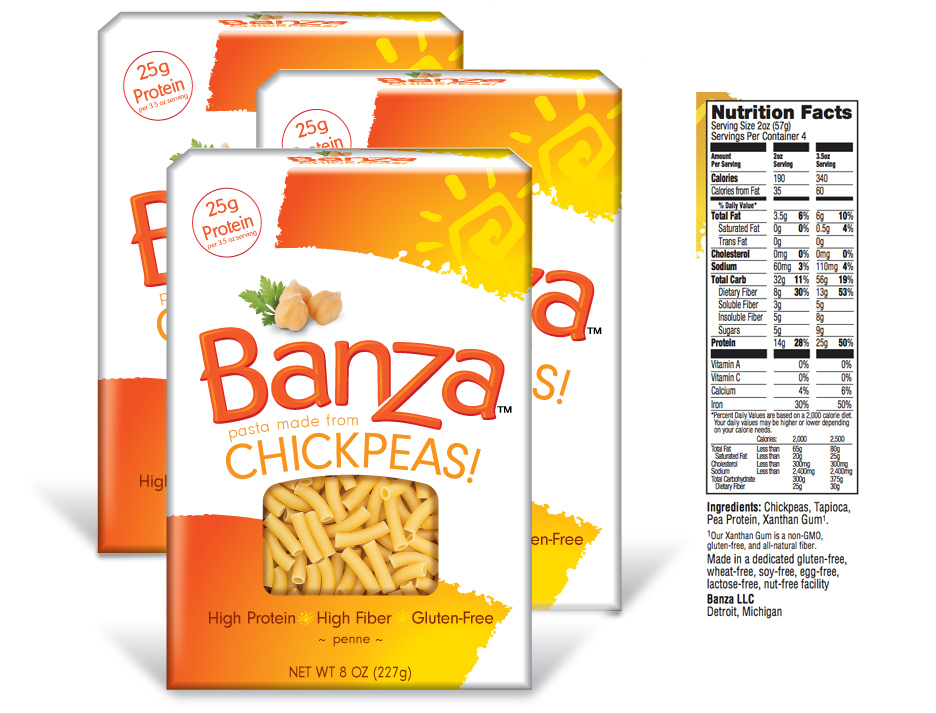 This creamy italian crockpot chicken would also work well with spiralized zucchini or even served cold with spiralized cucumber (mmm, that sounds good right now)!  Regardless of your 'noodle' choice, don't forget the final garnish of flat leaf parsley.  It really brightens & lightens up the dish!  I also added a sprinkle of paprika for a special touch of color and pop of flavor.  Isn't it pretty?  Something about that last touch of green on a meal just brings it all together!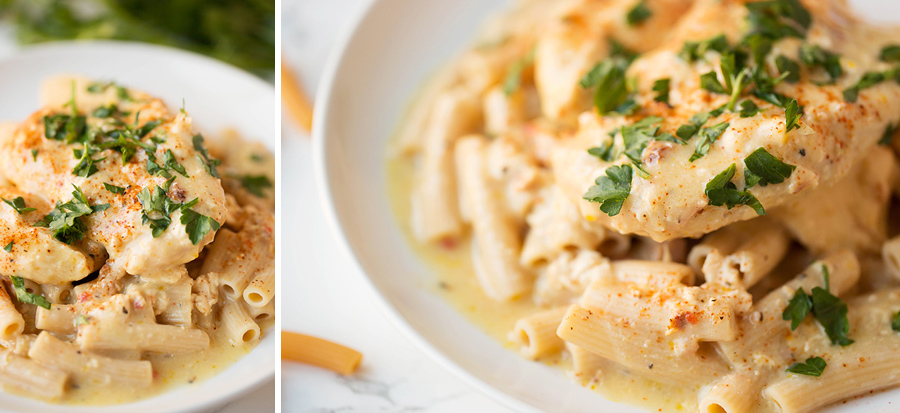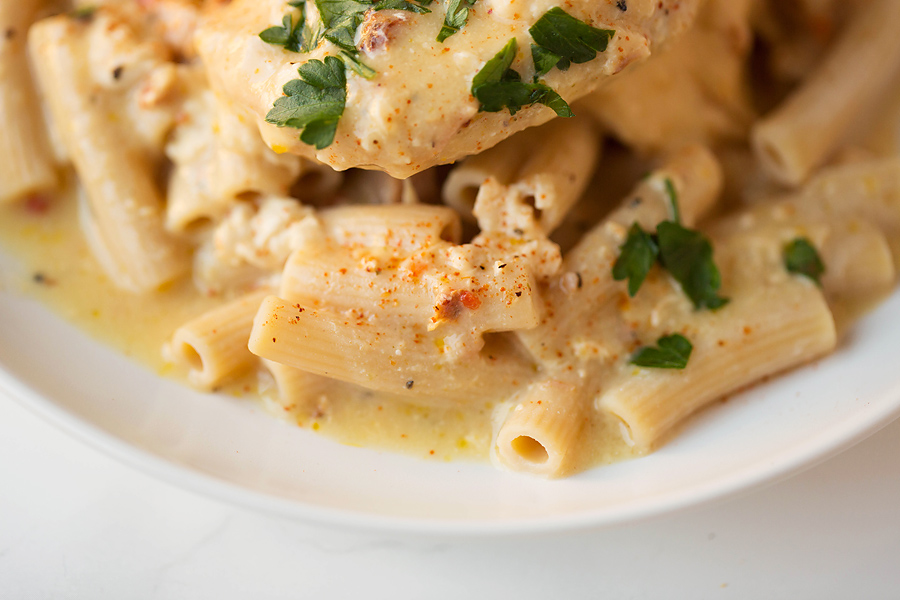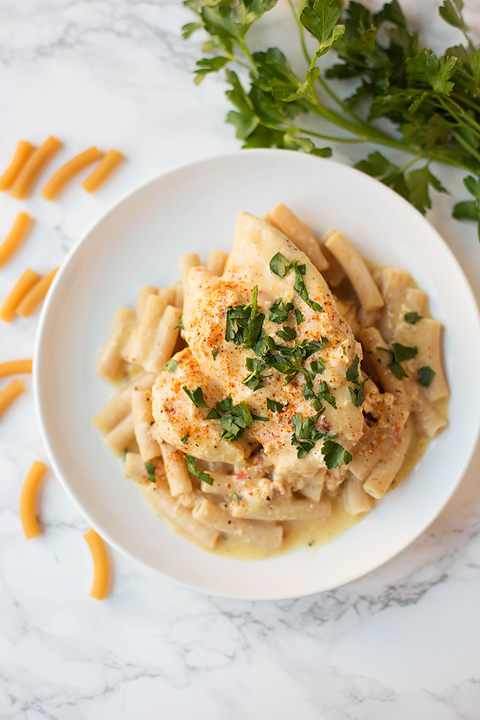 If you are in the market for a new staple crockpot meal, give this one a try.  It didn't disappoint us and I promise it won't disappoint you!
Creamy Italian Crockpot Chicken

Print recipe
Ingredients
4oz fat free cream cheese (softened/room temperature)
6oz 0% plain Greek yogurt
10.5oz Campbell's Healthy Request Cream of Chicken Soup
1 packet Italian dressing & seasoning (I used Good Seasons brand)
3/4 cups low sodium chicken broth or water
6 frozen or thawed chicken breasts
8oz pasta or spiralized vegetable of choice
2 heaped tablespoons finely chopped flat leaf parsley
Directions
Step 1
Combine cream cheese, greek yogurt, soup, chicken broth, and seasoning packet in the bowl of your slow cooker. mix well. Add chicken breasts to slow cooker and make sure each breast is coated with liquid mixture.
Step 2
Cook on high for 4-6 hours. Serve over cooked pasta and add vegetables of choice.