Before I get into my December Stitch Fix, I want to give a huge shout out and thank you to the company.  Shortly after my first 'fix' arrived, I received a letter from them in the mail.  Initially I thought it was simply a generic thank you message they send all of their new customers for signing up.  That's honestly all I expected to see.  Much to my surprise, it was actually a handwritten and extremely personalized note.  Take a lookie…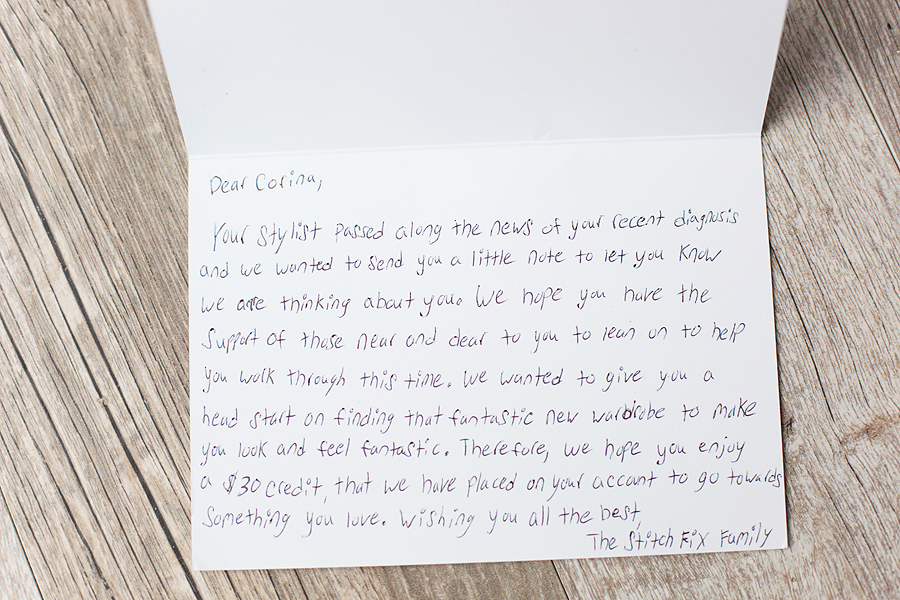 Words can't express how thankful I am for this kind gesture.  Not only does it show me that the company pays attention to their customers fix notes and style profile, but your Stitch Fix stylist really does look at your Pinterest boards to get to know more about YOU.  Truly personalized attention to detail my friends.  I was shocked and grateful all at the same time.  THANK YOU Stitch Fix for this sweet note… it actually means far more to me than the $30 credit they also happened to send.  I really hope this shows my readers and people who are on the fence about signing up for Stitch Fix that extra push to give the service a try!!!  Pretty awesome huh?  And now on to more awesome amazing stuff….
Damn you Stitch Fix!!!  Why did you have to do SO good this month?
I was beyond excited to get my December 'fix' and luckily it arrived just in time for all the family holiday festivities!  Is there anything better than getting to open up packages BEFORE Christmas???  Nope.  Early gifts and all of it JUST for ME!!!  I've actually been counting down the days since last month's 'fix' if I'm being totally honest and felt so much better prepared this time around.  After getting some tips on Pinterest, #1 I made sure to add notes and comments regarding my previous pieces and continued to pin inspiration outfits to my linked 'Fall & Winter' fashion board.  Having a fashion board just improves the chances that your stylist has a very very clear idea of the type of clothes and looks you are drawn to.  Apparently, it worked out well because I absolutely LOVED every item this month!
I think I must have looked out my window for the postman at least 10 times that morning!  My package arrived safely on its scheduled date and I couldn't wait to rip it open!  Just like last month, my items were perfectly bundled, sealed with a sticker, and this time I made sure to open the envelope with my 'Style Card', price guide, and company note!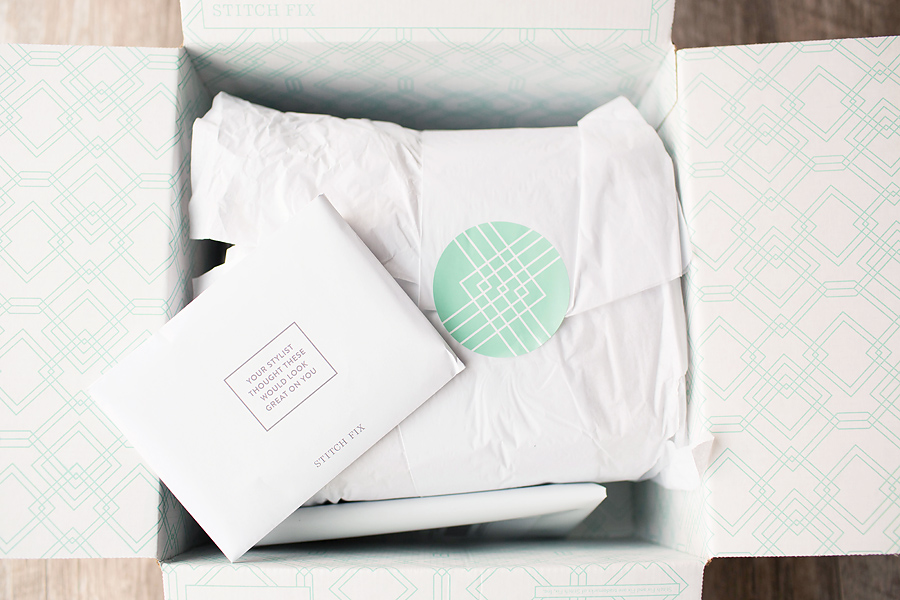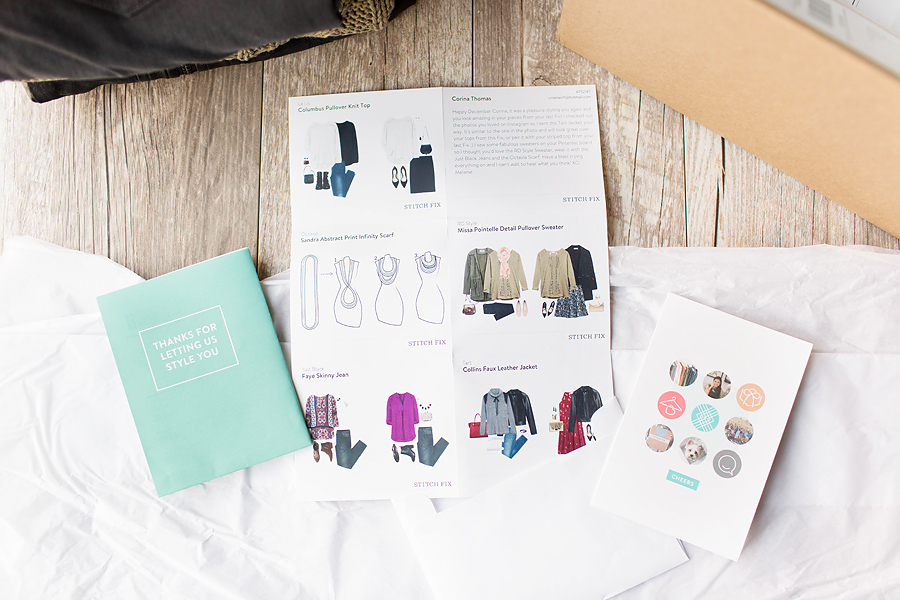 Oh the gloriousness!!!  I fell in LOVE with the colors and tones IMMEDIATELY. I've mentioned a few times now that although I LOVE colors, have a 'colorful' personality, and adore looking at brightly colored fashion on OTHER people… I'm a bit more tame when it comes to my own attire.  These picks were right up my alley though!!!  Neutral, basic, and SUCH a great mix of different textures!  LOVE.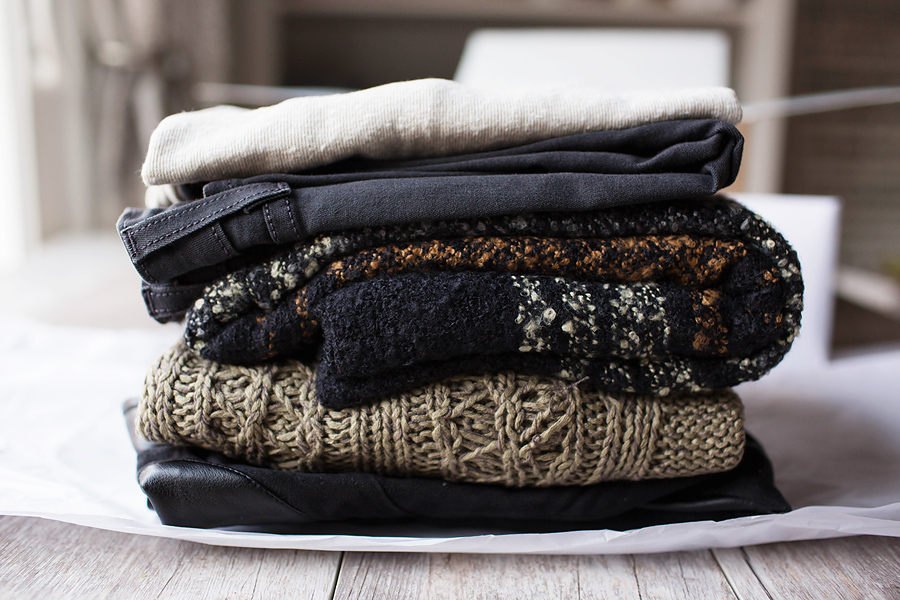 First up was this Collins Faux Leather Jacket by Tart:
This time I also made it a point to TRY ON the clothes before I made my final decision… seeing them on makes a very big difference!  Since I was doing a fashion show for my husband, it only made sense to have him snap a few pics as well.  I think this is a GREAT tip for Stitch Fix newbies!  Try everything on to see how it fits, look in the mirror, and ALSO take a few pictures (perfect time for mirror selfies)!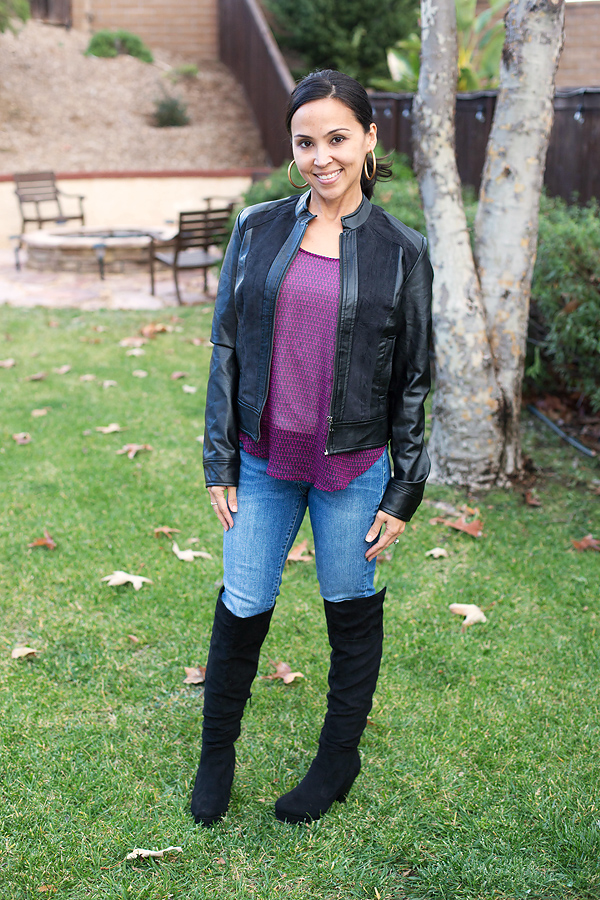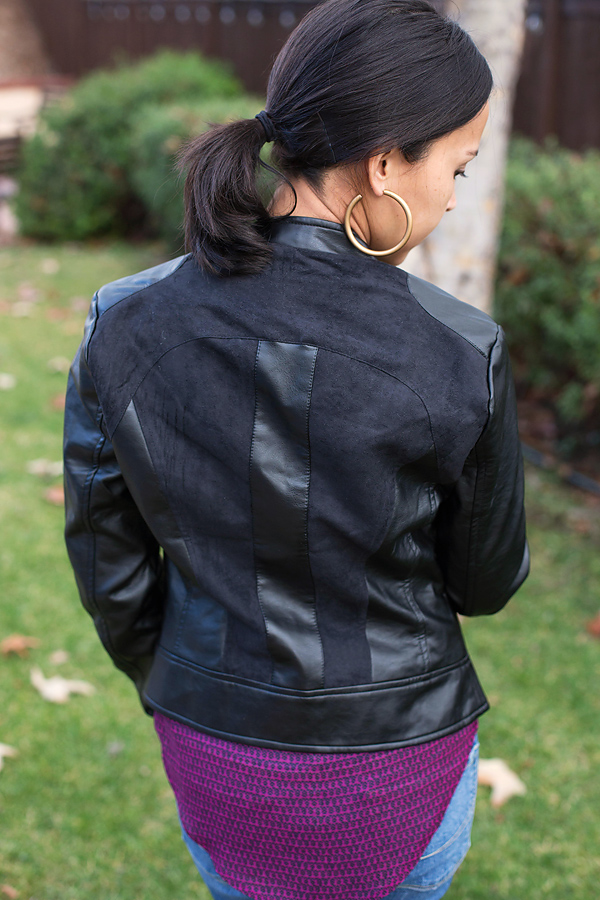 What I love about this jacket is the different fabrics/textures it has.  It's not simply just a plain faux leather jacket.  It has just the right amount of detail without going overboard.  Classic yet still very different than most other leather jackets I've seen.  Unfortunately, I recently purchased a faux leather jacket (shown in a recent'fashion friday' post).  Sigh.  I loved this one, but could't justify buying two black faux leather jackets in the same month.  This beautiful piece was reluctantly returned 🙁
Next was this Missa Pointelle Detail Pullover Sweater by RD Style: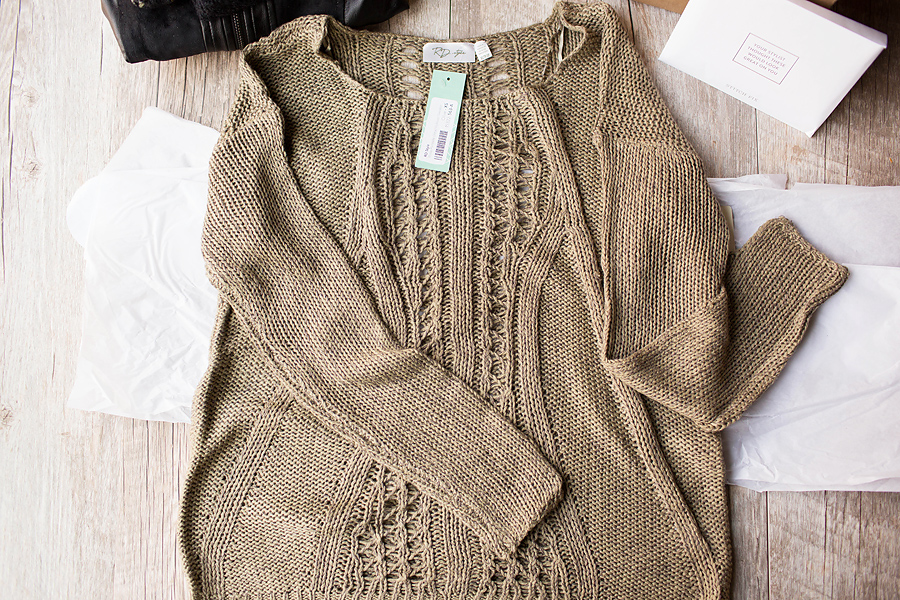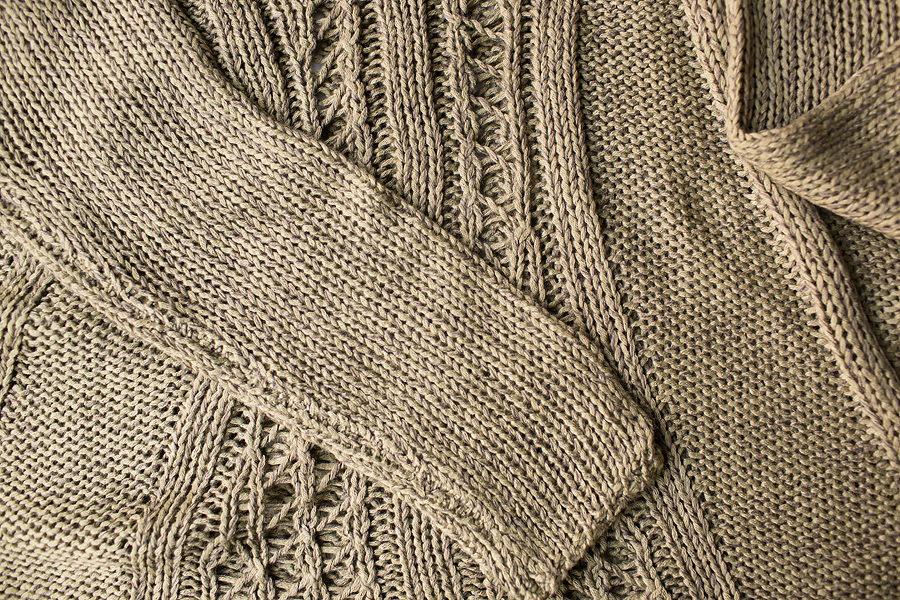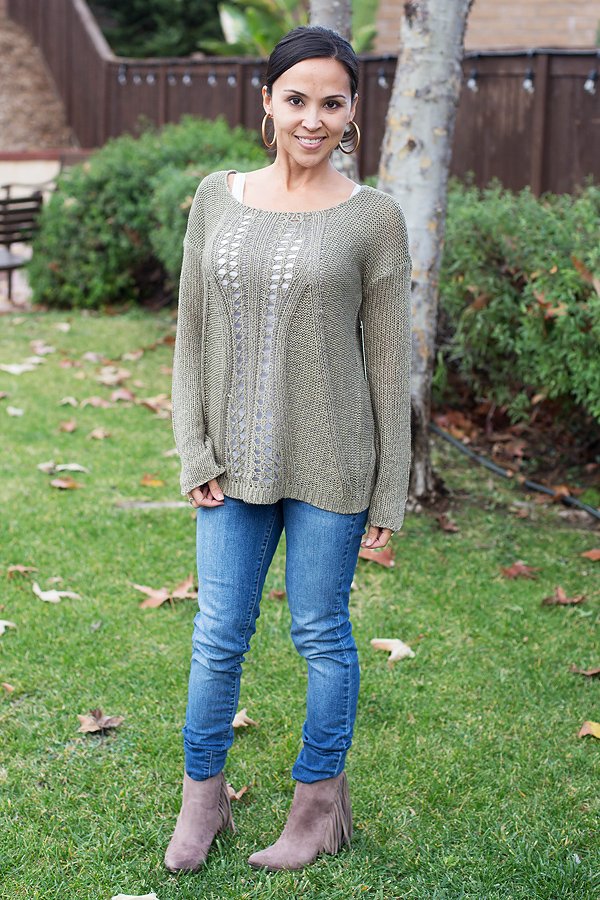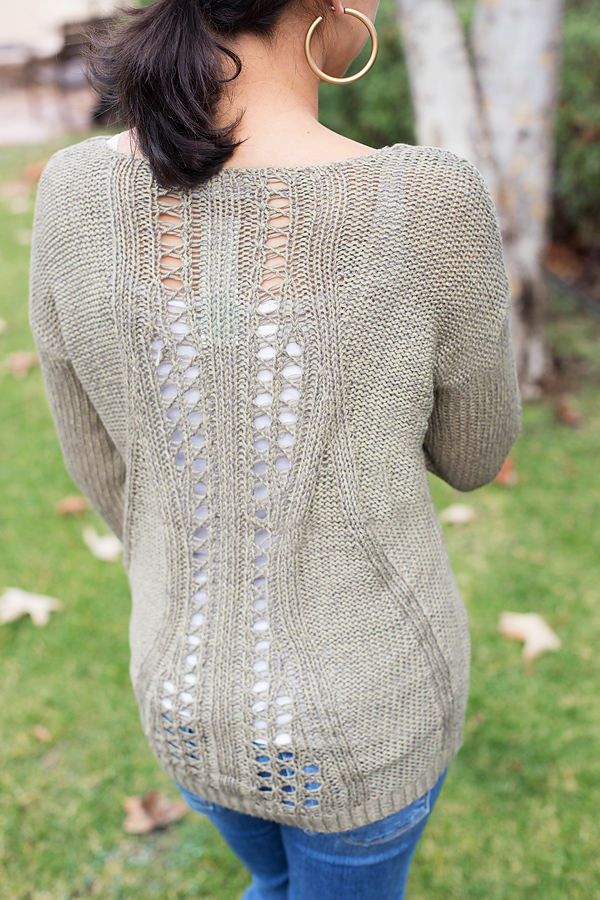 This was SUCH a beautiful sweater!!!  Lots of interesting detail/stitches, the neutral color was perfect for any of the seasons, and I considered this a great staple item for any wardrobe.  I was *this* close to keeping it… so close in fact that I originally checked out with it as a 'keep'!  Everything in me wanted to keep it, but because I promised myself I would not buy everything this month (like last month)… I had to say no to myself.  This was a difficult one to decline!!!  Sniff sniff, tear tear.
And how cute is this Columbus Pullover Knit Top by Le Lis: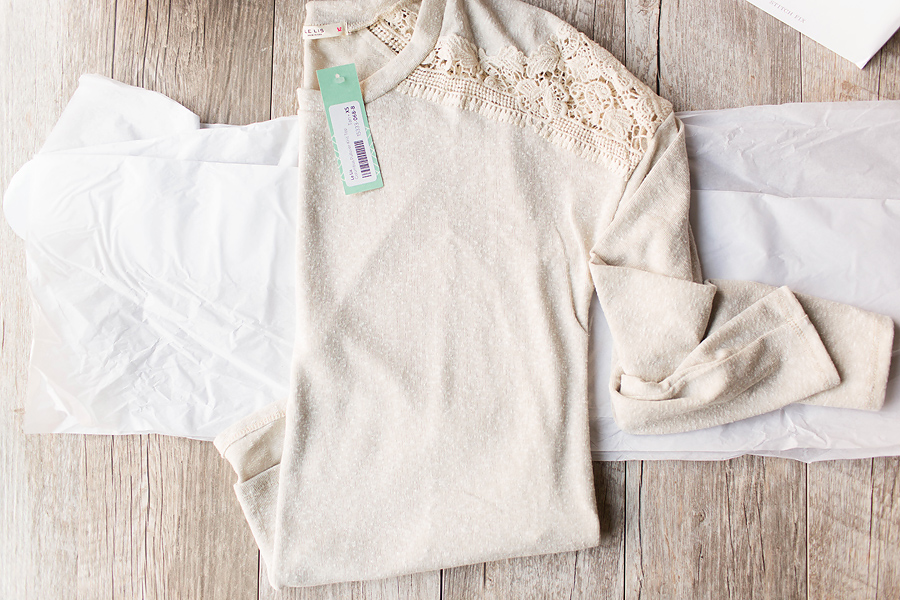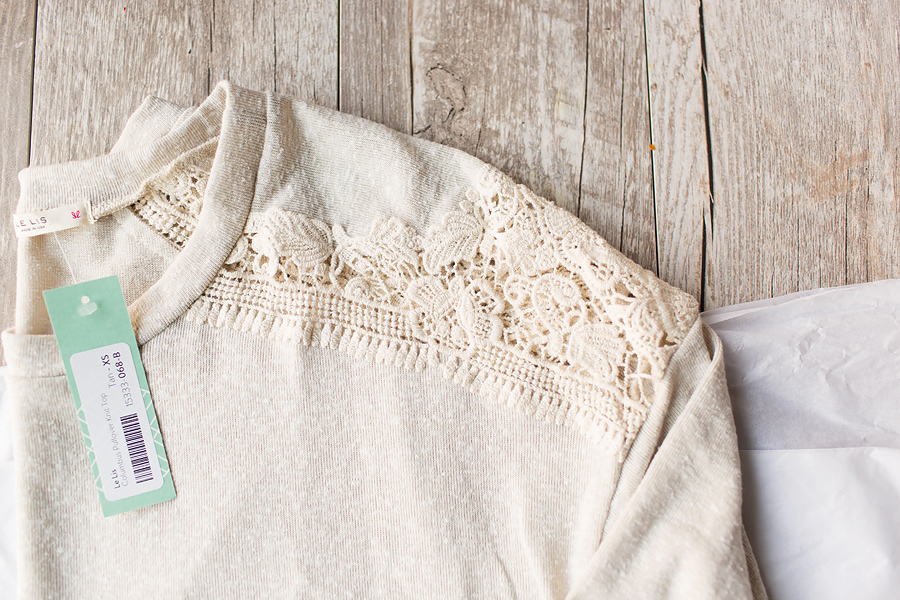 The embroidered detail on this is adorable!  I LOVE how it was located on both the shoulders AND the back.  It made the top very unique!  Again, another great basic staple piece that could be paired with so many different looks!  Unfortunately, I had literally just purchased THIS top from Target the day before my 'fix' arrived.  It simply didn't make any sense for me to purchase this top that was so similar!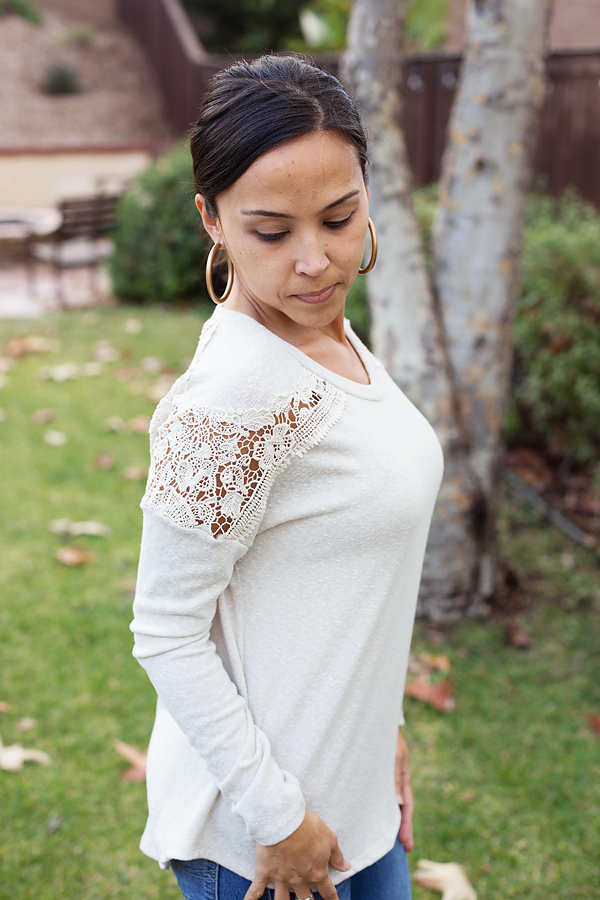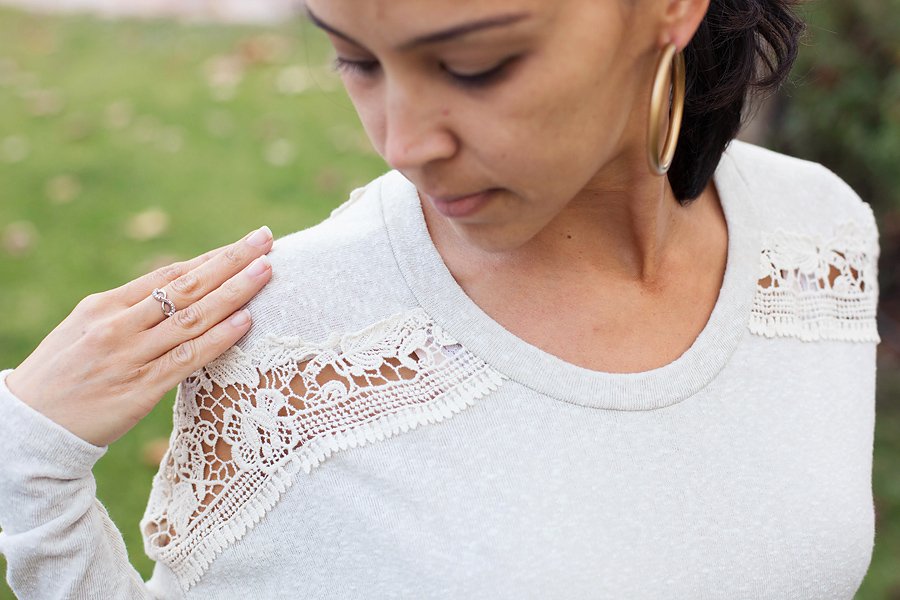 And then this Sandra Abstract Print Infinity Scarf by Octavia: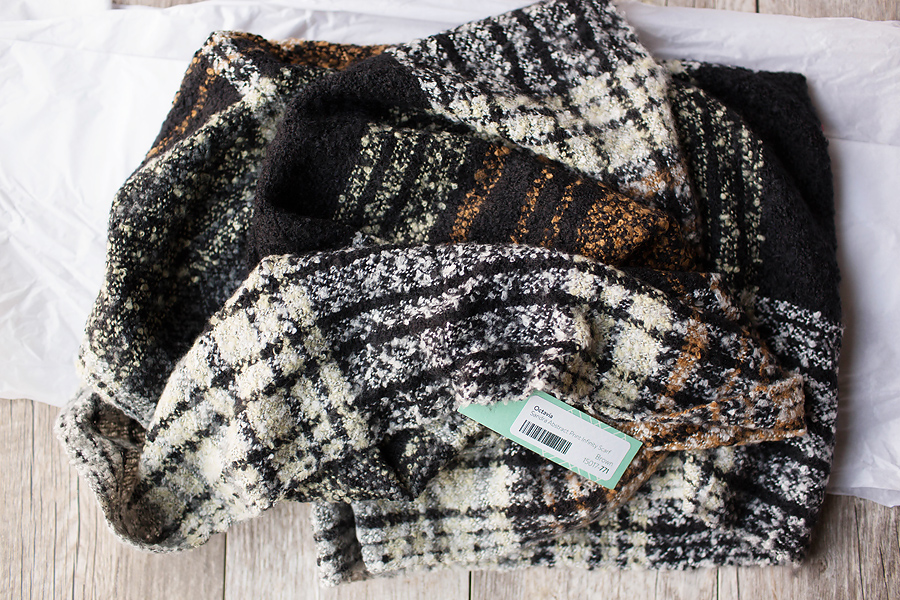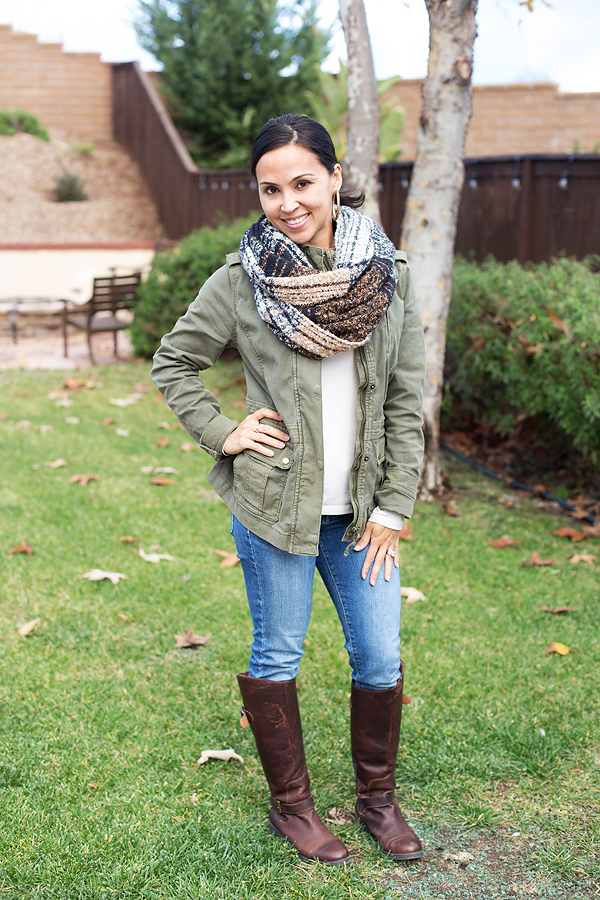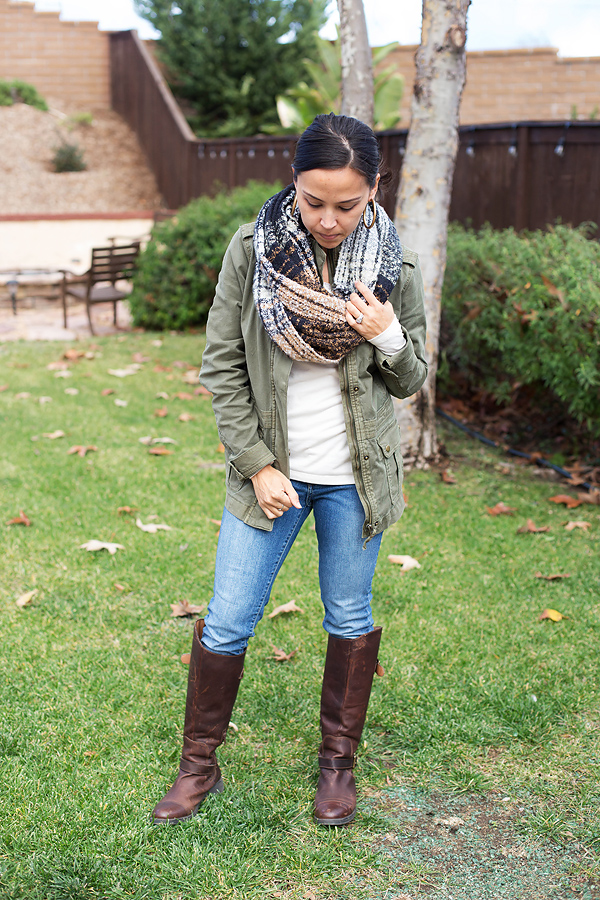 Oh this scarf.  I seriously wish TV, computers, and everything with a screen had the ability to allow sense of touch (and smell & taste for that matter)!  This scarf is SO damn soft and cozy.  I own a handful of scarves and this one has them ALL beat by a mile in terms of how soft it is.  It honestly feels like a cross between a regular knit and cashmere.  As with the other items in this fix, its nice and neutral so it can be used to tone down and outfit OR spruce it up!  LOVE and KEPT!!!  Wohoo!!!
Last, but not least my fix included these gray Faye Skinny Jeans by Just Black: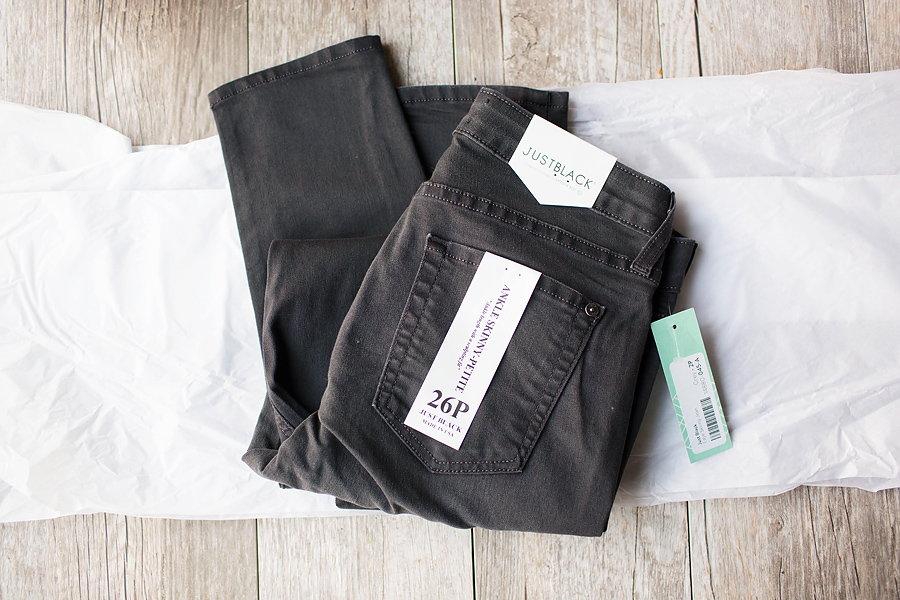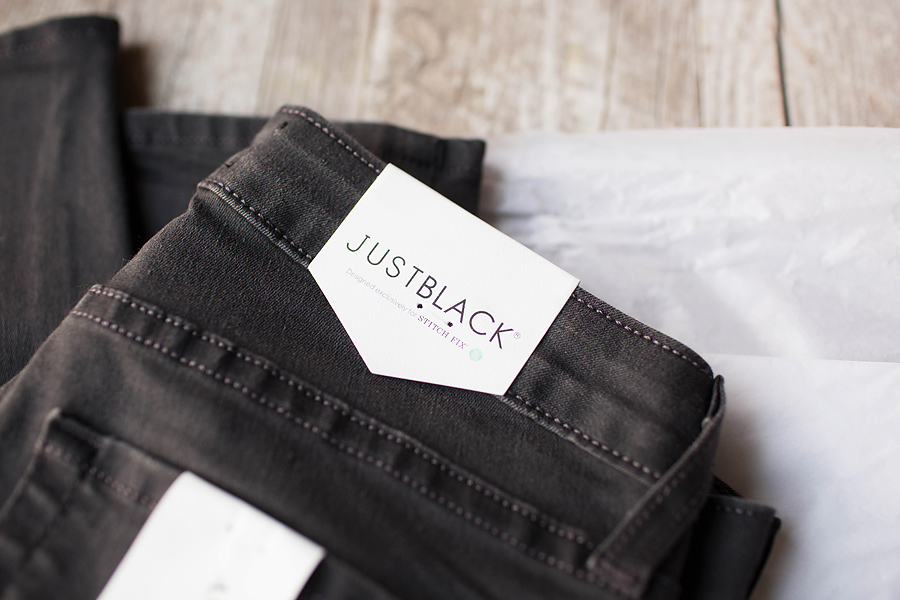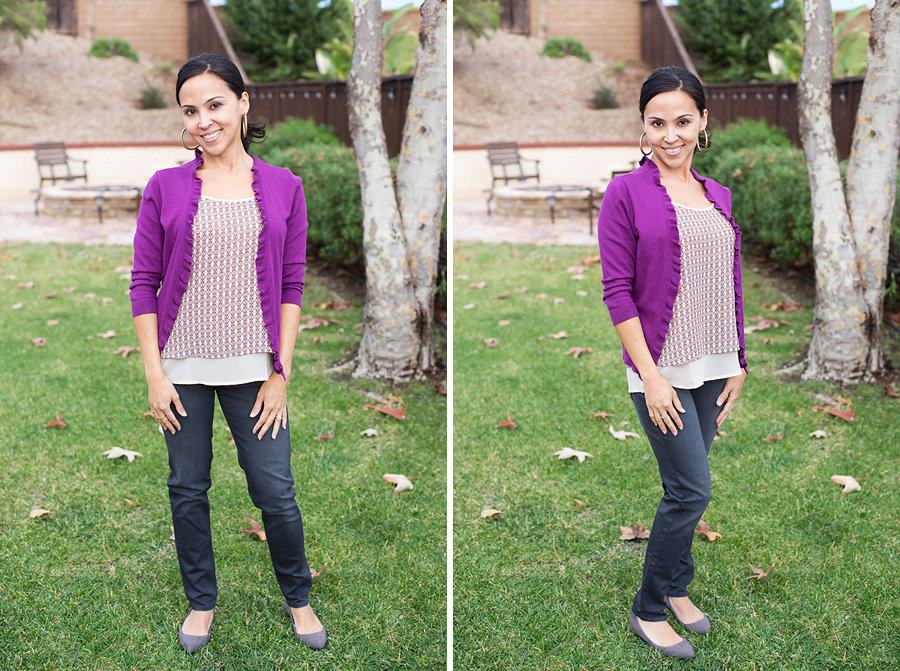 Like I said in my first fix, hands down the most comfortable pants I have ever had on my body.  Normally with pants, I find myself constantly pulling them up and adjusting (which is the main reason I have despised jeans my whole life), these just stay in place on my waist and rear end like magic.  The only gripe I have with them is they are a bit roomy in the knee area.  If I had bigger/wider legs, they would fit like a glove.  Despite that though, I decided to keep these pants as well and plan on taking them to get altered a bit so they have a really tight/'begging' type fit!
My stylist Melanie from
Stitch Fix
did good, real good with this one!!!  2 out of 2 wins so far and I have a feeling its only going to get better and better.  I'm a fan!!!  January 13th (my next schedule fix) can't come soon enough.
If you are interested in signing up for your own unique fix, you can see more information following this link: