Oh cauliflower… how do I love thee?
Hands down the most versatile vegetable in the world, in my opinion anyways.  My love affair with cauliflower had begun long before I transitioned to a ketogenic diet, but once I officially went LCHF (low carb high fat) the uses for this cruciferous veggie began to grow and grow.  I'll be sharing MANY of these magical creations soon, but in the meantime I wanted to share one of the very first "traditional" recipes I made with cauliflower: Roasted Cauliflower & Garlic Mashed 'No-Tatoes'!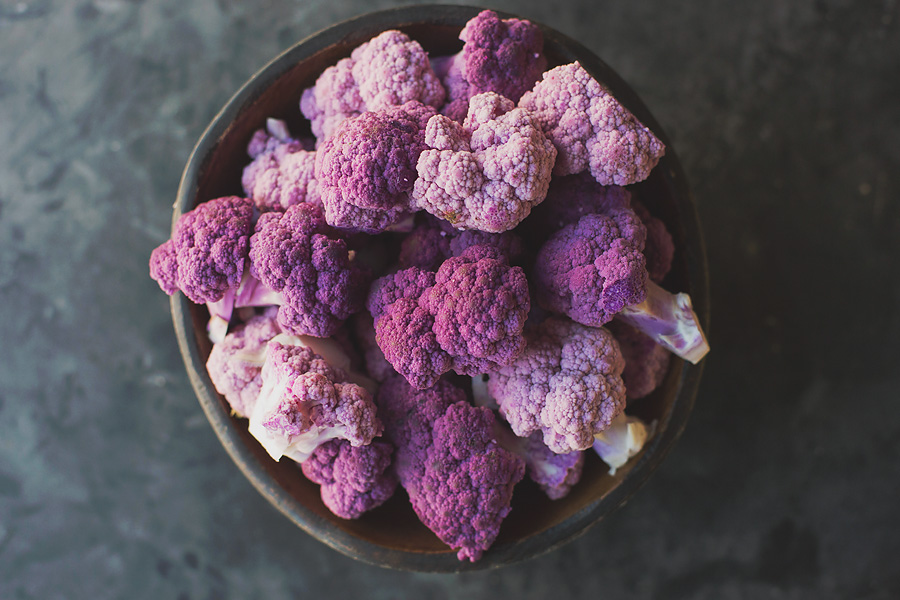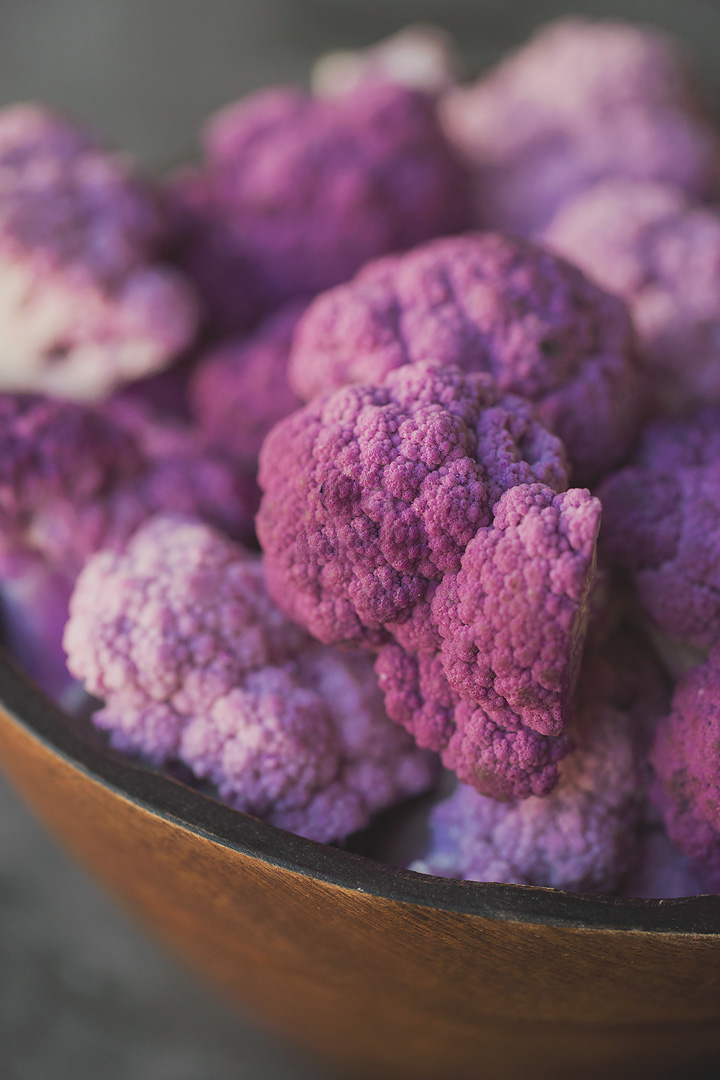 This one looks extra special simple because I chose a purple variety instead of the white… quite striking & beautiful isn't it?  I wasn't even aware that there were color options for cauliflower until very early this year when I made these low carb "tacos".  Purple, orange, yellow, green, and of course white can be found at nearly every single grocery store now!  I was under the impression they could only be found at fancy places like Whole Foods (yes, with those prices… I certainly consider Whole Foods "fancy")!  But nope… I've seen these gorgeous, colorful cauliflower heads at Vons/Safeway, Albertsons, Ralphs, Sprouts, and WinCo!
The colored options taste almost exactly the same (perhaps a bit more subtle) as the common white variety, BUT with a couple of added nutritional benefits.  Orange contains extra vitamin A (up to 25% MORE) and also contain carotenoids similar to the pigments found in carrots, sweet potatoes, dark leafy greens, and tomatoes.  Carotenoids help promote immunity as well as healthy skin and eyes. Purple cauliflower also contains something called anthocyanins which are antioxidant flavonoids similar to those found in blueberries, red cabbage, and red wine.  These antioxidants are important on a cellular level because they help stabilize the capillary walls.  In addition, anthocyanins are also anti inflammatory AND help with bone & immune function!
Regardless of the color you choose, cauliflower is an absolute MUST for keto and all things low carb.  Not only is it important to get an adequate amount of vegetables in your LCHF diet, but cruciferous veggies are especially important to my personal Wahl's/Keto approach.  This family of vegetables contain high amounts of phytochemicals, vitamins/minerals, and fiber that are important to your cellular health.  In my case, I have already have a large amount of damaged cells that are pretty unrepairable BUT I am on a mission to generate NEW & HEALTHY cells.  These cells will hopefully help heal some of the inflammation I have due to my spinal diseases as well as autoimmunity!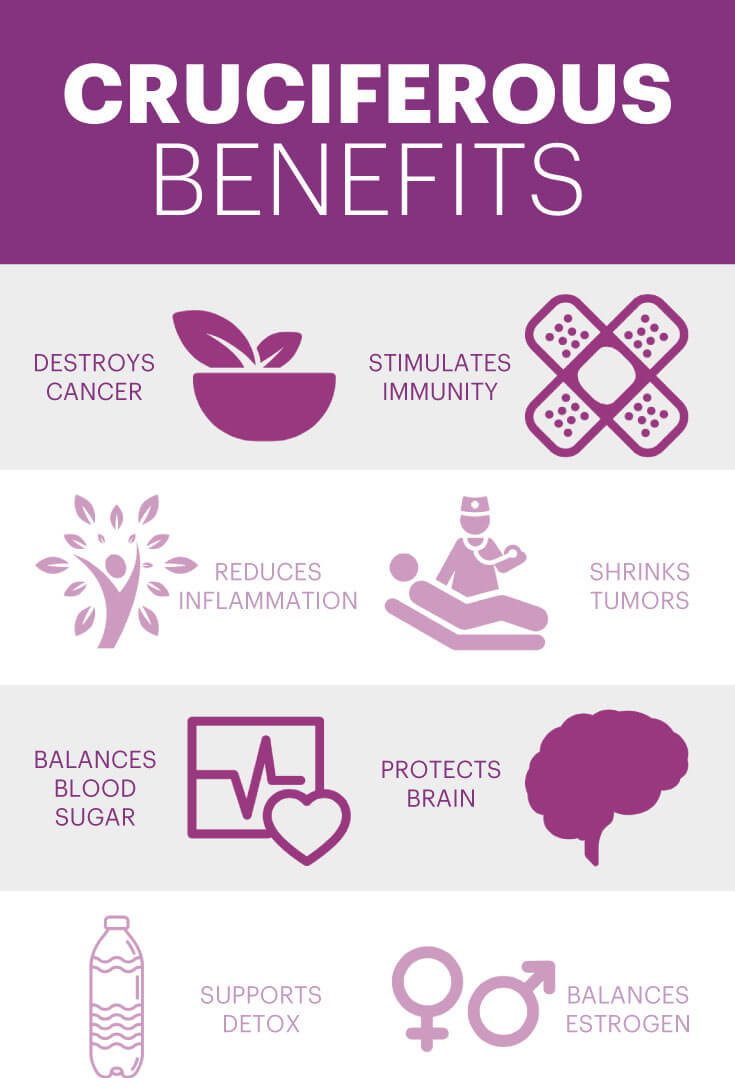 A diet high in cruciferous and sulfur rich vegetables is absolutely key for those living with diseases of inflammation, brain conditions, and autoimmune issues. Vegetables like cauliflower, cabbage, bok choy, kale, collard greens, mustard greens, turnips, radishes, arugula, broccoli, and watercress will help build amino acids and vitamins that are critical for the healthy development of bones, skin, tissues, and nerve cells.  They will also help those suffering from joint pain like rheumatoid arthritis, liver function, high blood cholesterol, and some studies have even shown sulfur rich veggies can also help prevent cancer.
Like I said… oh cauliflower… how do I love thee?   In addition to being fairly low carb, there is absolutely NO reason why cauliflower (amongst the other cruciferous family) should not be included into you daily diet!  Now back to my 'no-tatoes'….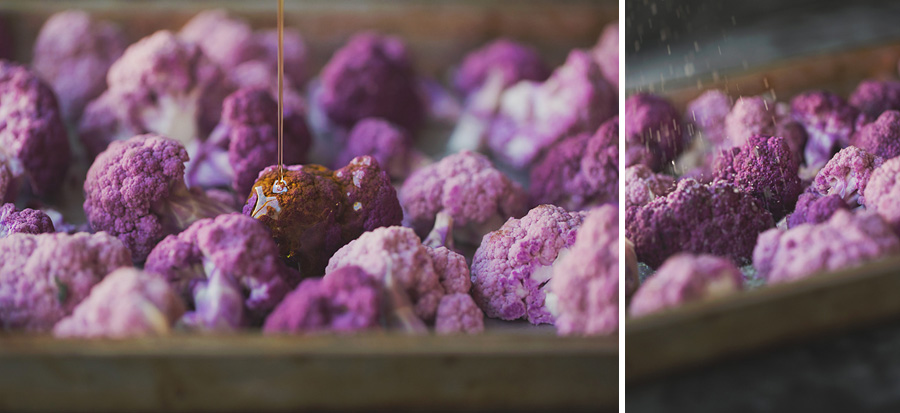 Place your roughly chopped purple cauliflower (or orange or yellow or green or even white) onto a baking sheet.  Drizzle with 1-2 tbsp of olive oil and season with salt, pepper, and garlic powder.  Then add a few sprigs of fresh rosemary in between the florets.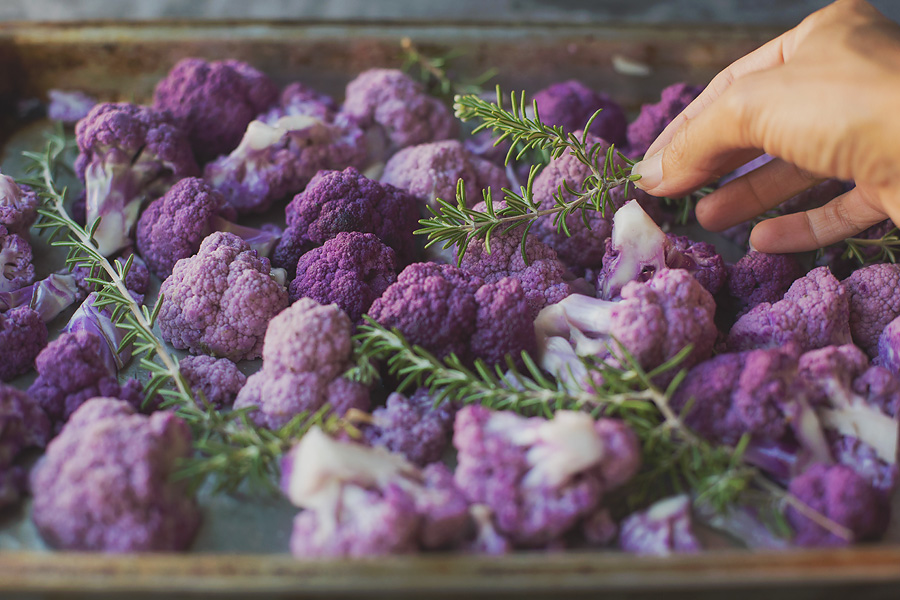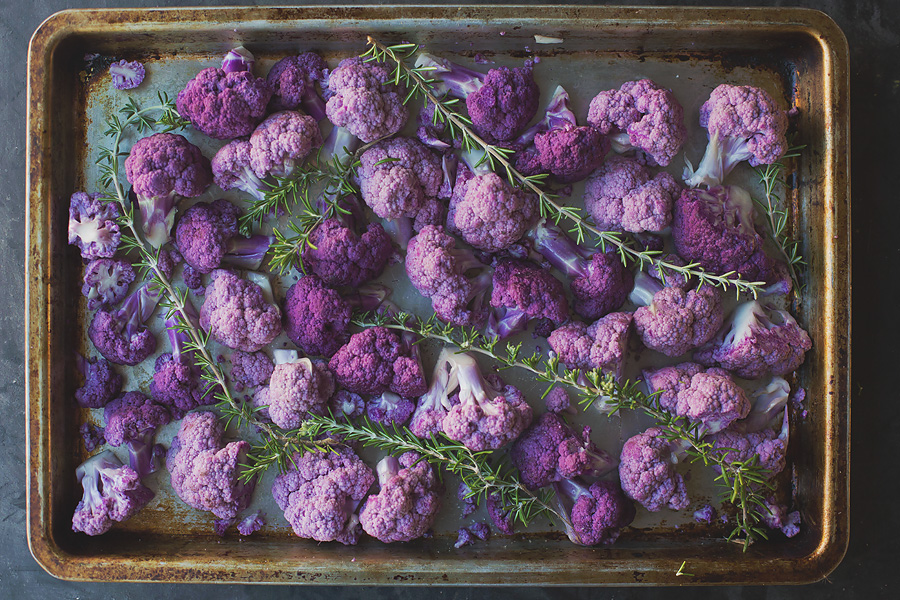 These will get soaked up by the cauliflower as it all cooks up together!  Roast in the oven and prepare to be dazzled….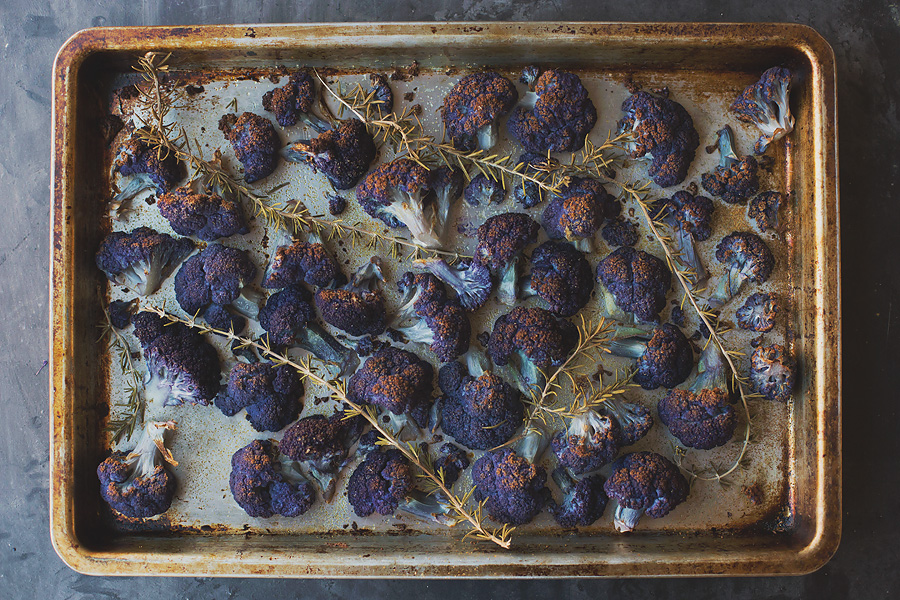 That purple color gets even richer and more deep!  Then you also have a nice little roasted texture across the tops and the rosemary is sucked up into each and every single floret.  Mmmmmm.  But you're probably thinking "I thought this was supposed to have garlic also?"  Don't fret my pet.  You could either A. throw some large garlic cloves in with the roasting OR B. (the method I prefer because I'm a garlic addict)… use a bit of FRESH raw garlic!  It's a bit more pungent this way, but again I LOVE a strong garlic anything!  As you can see from how much I use… yeah, I won't be doing any kissing after meals with this side dish!  But, its delicious 🙂
You can use a food processor like I did here OR use a high speed blender like my beloved Vitamix if you prefer a very very smooth mash.  The food processor will leave a bit of texture and "bite" which I was after for this dish!  Either way will work great though… just comes down to a textural preference.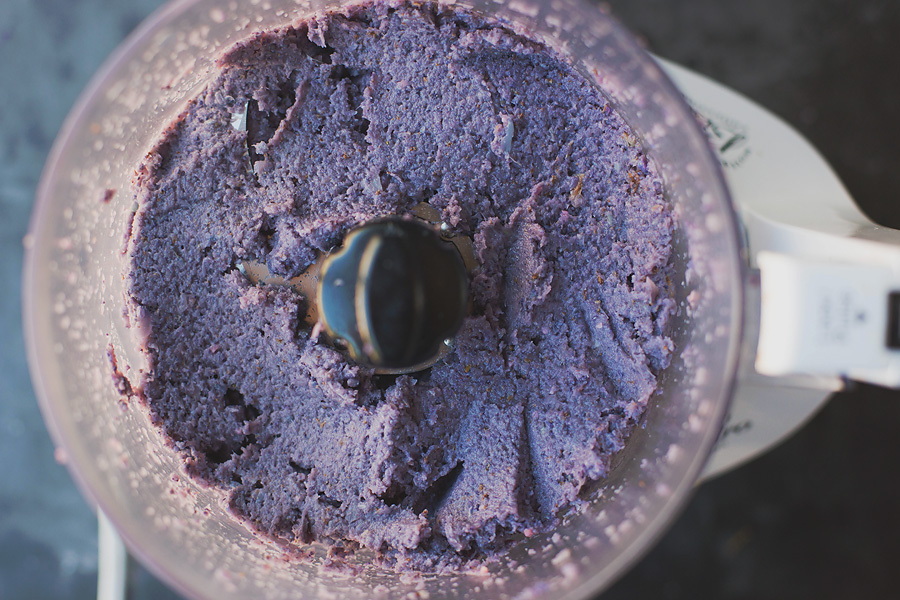 Garnish with a touch of fresh rosemary (don't go heavy handed here… a little of this herb goes a LONG way) and serve alongside your favorite protein for an easy, low carb, high taste meal!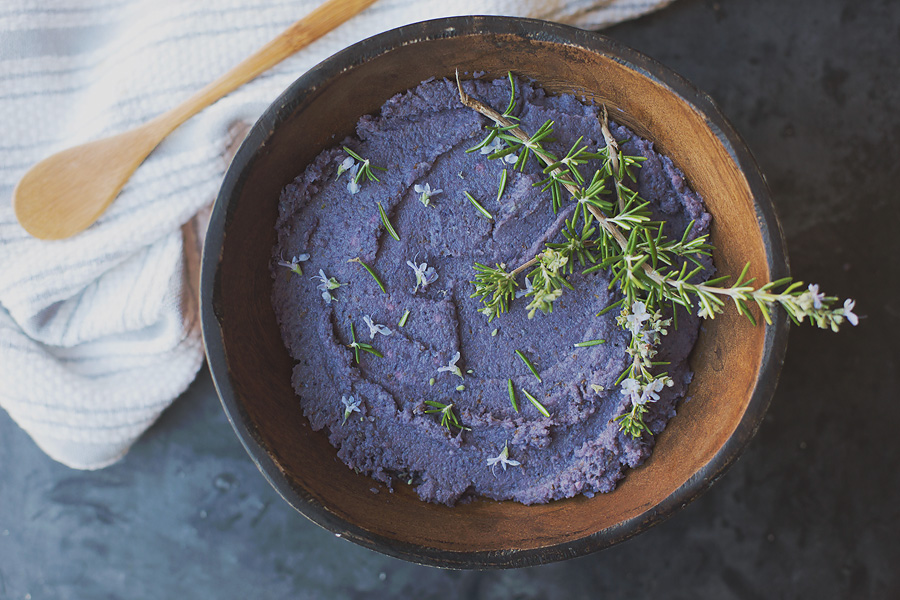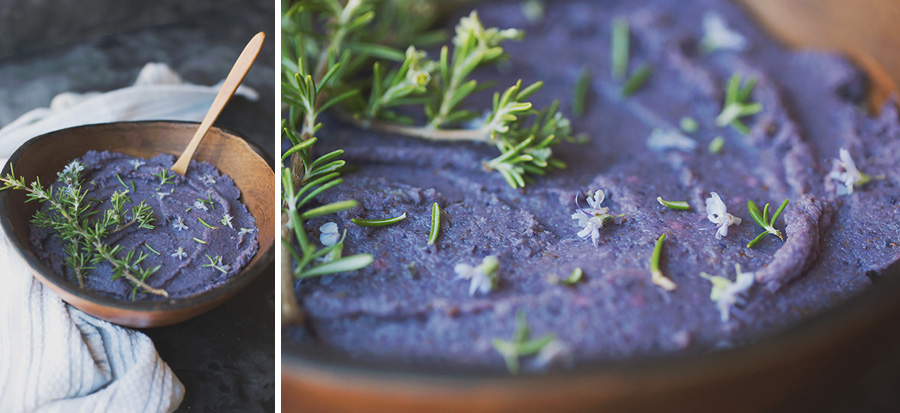 My favorite pairing for these mash 'no-tatoes' is Trader Joe's 'Balsamic Vinegar & Rosemary Chicken'… a serious staple in my life for the past 2-3 years.  This is the BEST balsamic chicken ever and wonderful for FAST meals on the go, salads, and effortless weeknight meals.  Such a rich and wonderful flavor!  Reheat, add a piece right on top of the purple mashed 'no-tatoes', and you're in some yummy business!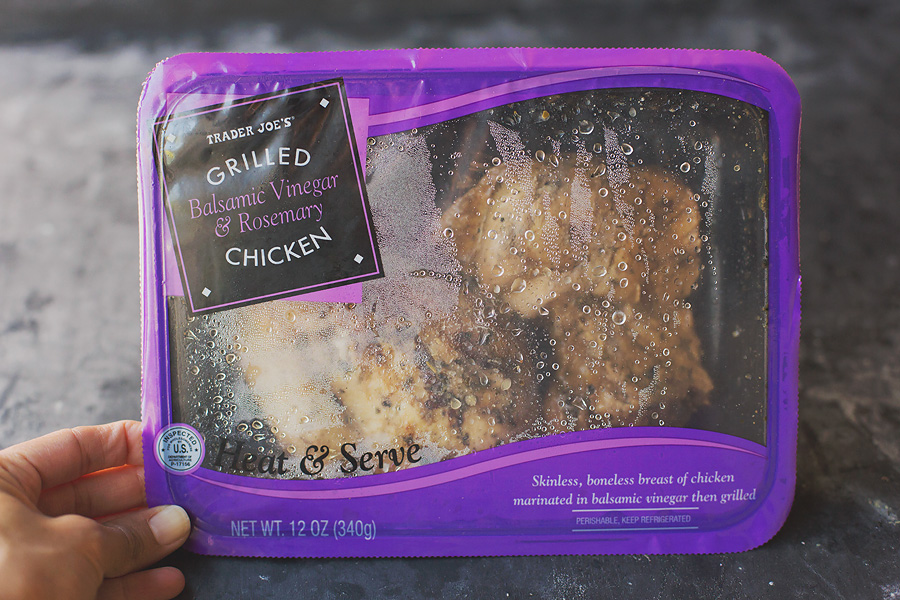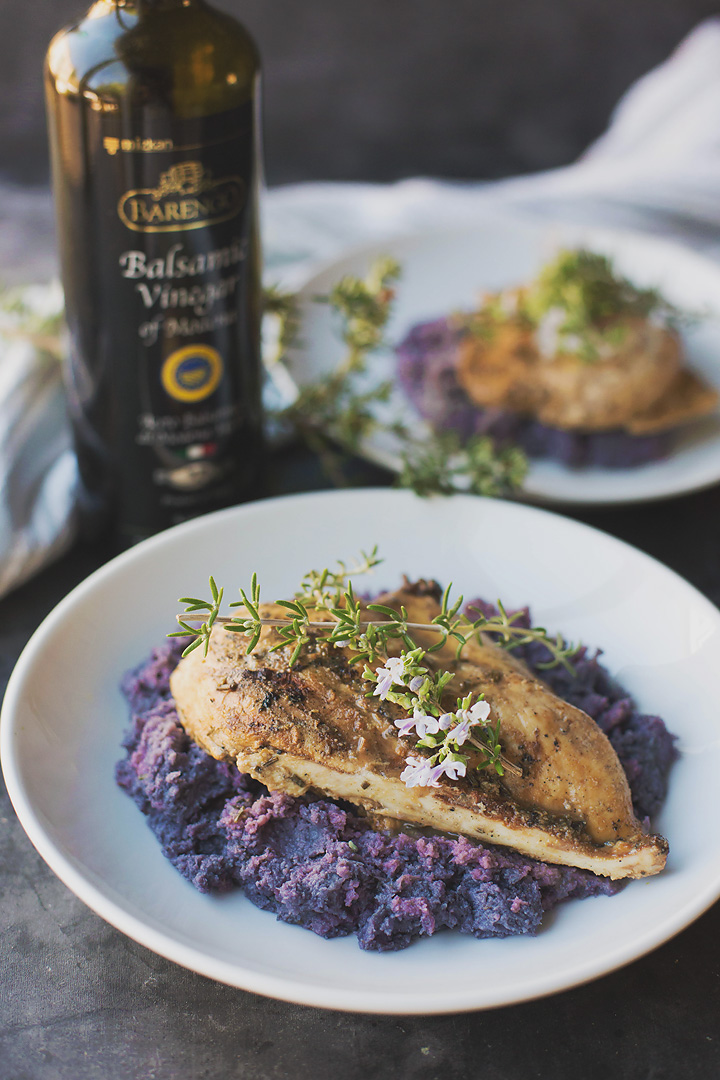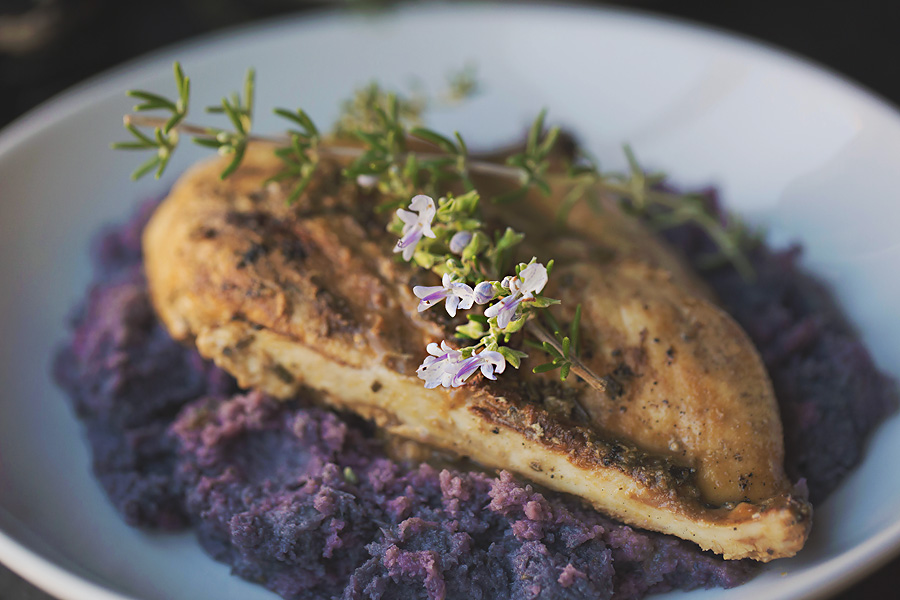 This is definitely a staple meal in my life and one dish that I NEVER get tired of.  It's high in nutrient density, quick, easy, and perhaps the most flavorful bites I've had on one plate.  Winner winner chicken dinner!!!  And like I said, lots more cauliflower action coming your way but until then, please give this one a try especially if you are new to LCHF, paleo, or even low fat for that matter.  Cauliflower mash will change your life!
Roasted Cauliflower and Garlic Mashed 'No-Tatoes'

Print recipe
| | |
| --- | --- |
| Serves | 4 |
| Prep time | 5 minutes |
| Cook time | 20 minutes |
| Total time | 25 minutes |
Ingredients
1 Large head purple cauliflower (trimmed and cut into 2)
2 tablespoons olive oil
3/4 teaspoons pink salt
1/2 teaspoon pepper
1 teaspoon garlic powder
4 Medium sprigs fresh rosemary
1/4 cup chicken bone broth or stock
2 tablespoons ghee or butter
1 heaped tablespoon fresh garlic (finely chopped)
2 cartons Trader Joe's Balsamic & Rosemary Chicken Breasts
Directions
Step 1
Preheat oven to 425 degrees and line a pan with parchment paper or cooking spray.
Step 2
Add cauliflower to pan and coat with olive oil. Sprinkle with salt, pepper, and garlic powder. Add sprigs of rosemary in between cauliflower florets. Roast for 18-22 minutes, turning the pan and vegetables 1/2 way through. Cook until fork tender and tops begin to turn slightly golden brown.
Step 3
Add roasted cauliflower to a food processor (or high speed blender for a very smooth mash), garlic, ghee/butter, and chicken broth. Blend on high until desired consistency is achieved. Garnish with fresh rosemary flowers and serve alongside your favorite protein.
Nutrition Facts
Serving Size 1
Servings Per Container 4
---
Amount Per Serving
Calories 117
Calories from Fat 81
% Daily Value*
---
*Percent Daily Values are based on a 2,000 calorie diet. Your daily values may be higher or lower depending on your calorie needs.