'The FASTEST and most flavorful BBQ chicken that's low in carbs and is on the table in less than 20 minutes!'
Aaaaahhhh, BBQ.  I love you, I always have and I always will.  Easily my favorite flavor profile in the world, no question whatsoever.  BBQ ribs, BBQ pork, BBQ chicken.  Grilled, baked, smoked, slow cooked & shredded.  It honestly doesn't matter what cooking method is used.  It all comes down to the flavors. There's just something so unique and amazing about the spice blend.  I'm a complete sucker for anything and all things BBQ!
But how in the world can you get a good, healthy, and FAST BBQ fix when you barely have time to breathe???
When you live the life I do with chronic medical conditions, a daughter with a very aggressive disease that's constantly in flux, and a husband working odd hours that can change at the drop of a hat… taking the time to for some properly prepared BBQ isn't that easy.  And as much as I love me some BBQ, there is no way I could ever wait to satisfy that tasty fix.  Some type of BBQ anything is a must in this house at least once a week and fortunately I have come up with a FAST, EASY, and DELICIOUS way to eat it in under 20 minutes!
Yup, 20 minutes start to finish that can be enjoyed immediately as well as for at least a few days following.
Of course everyone has heard of crockpot BBQ chicken right?  Sauce, seasoning, and chicken in the crockpot thats left to cook all day long on your counter top.  Who doesn't love a crockpot meal?
Well, me actually…
Now that I have the INSTANT POT anyways!  The same flavorful shredded BBQ chicken, but cooked at lightning speed.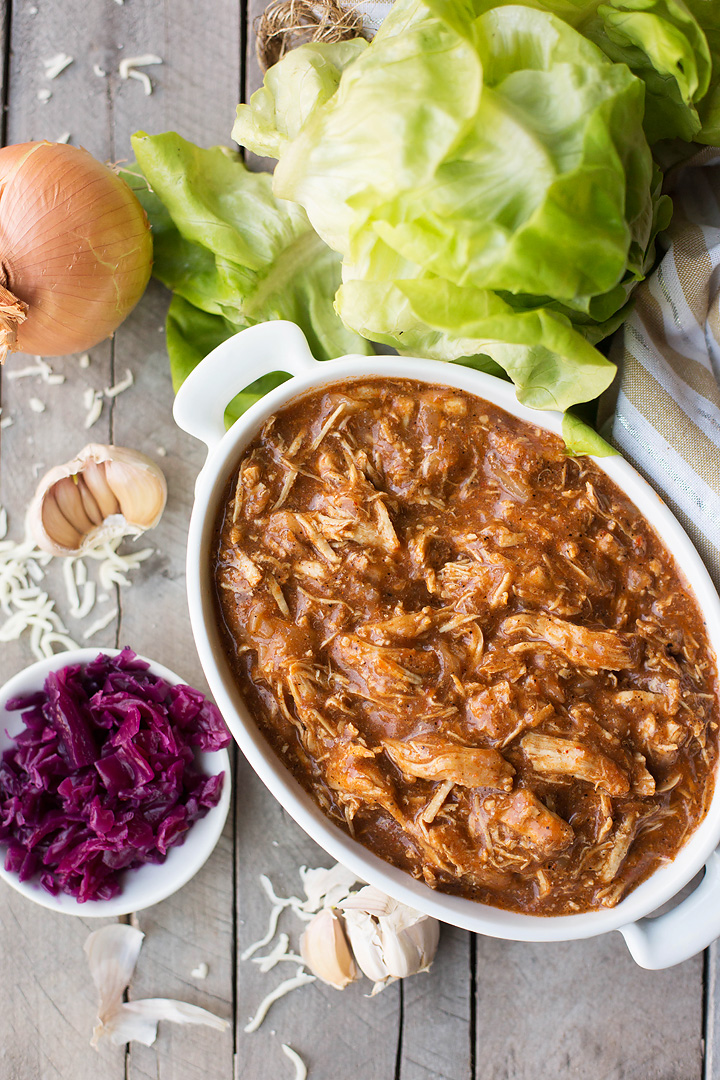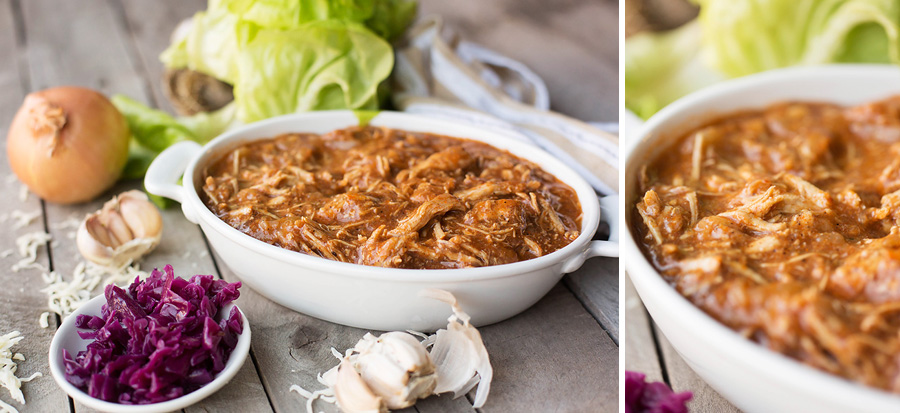 Another reason why this is a staple in our house (aside from the fact that EVERYONE loves it), this Instant Pot BBQ chicken is extremely versatile.  Regardless of the specific nutritional needs and mixed 'diets' that a family may have, the protein & flavor base works brilliant in ANY type of meal.  Sandwiches, quesadillas, wraps, salads, nachos… shredded BBQ chicken can remain the same and the vessels or sides would easily just be swapped out to accommodate everyone.
One of our favorite ways to enjoy this fast and easy BBQ chicken is in TACOS!  Since my family eats a fairly standard (yet healthy & balanced) diet , but I do nutritional keto things like tortillas and toppings would need to change slightly.  NO problem though!  The important part is the BBQ anyways right?  I use lettuce as my tortilla, don't add beans, and skip the cheese/dairy.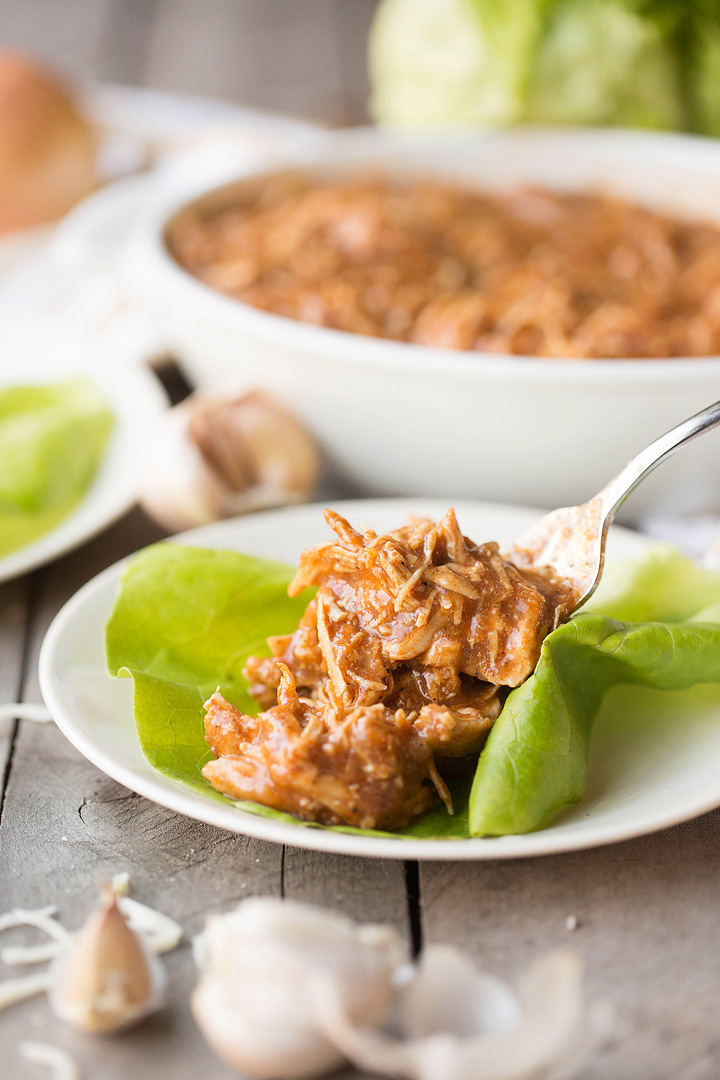 I add homemade sauerkraut for some extra tang and gut health benefits, shredded almond cheese, and some scallions!  Because this chicken is SO flavorful, I never feel like I'm missing out ANYTHING.  The shredded BBQ chicken speaks for itself, as it should.  I've been known to eat a serving (or two) on its own… cold… straight out of the fridge… from the container.  Yes, this is THAT good!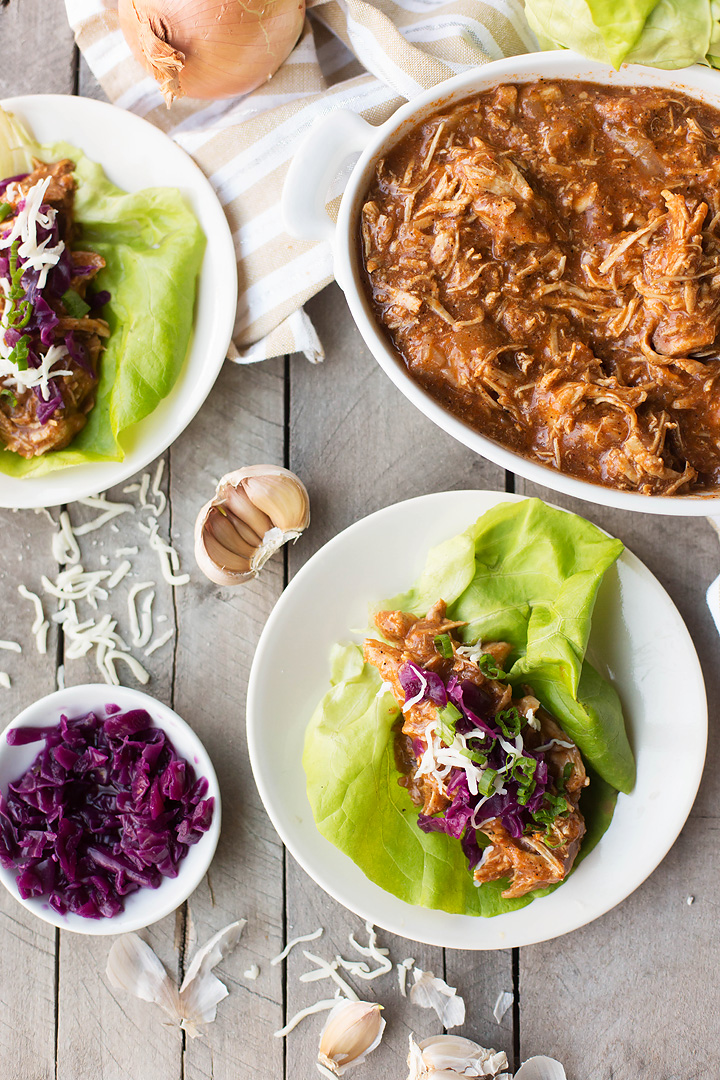 Again, SO easy to make.  You could probably even forego the seasonings and just use your favorite BBQ sauce if you really wanted to… but this way?  Yeah, its good… really really really good!  Worth getting a spoon or two dirty!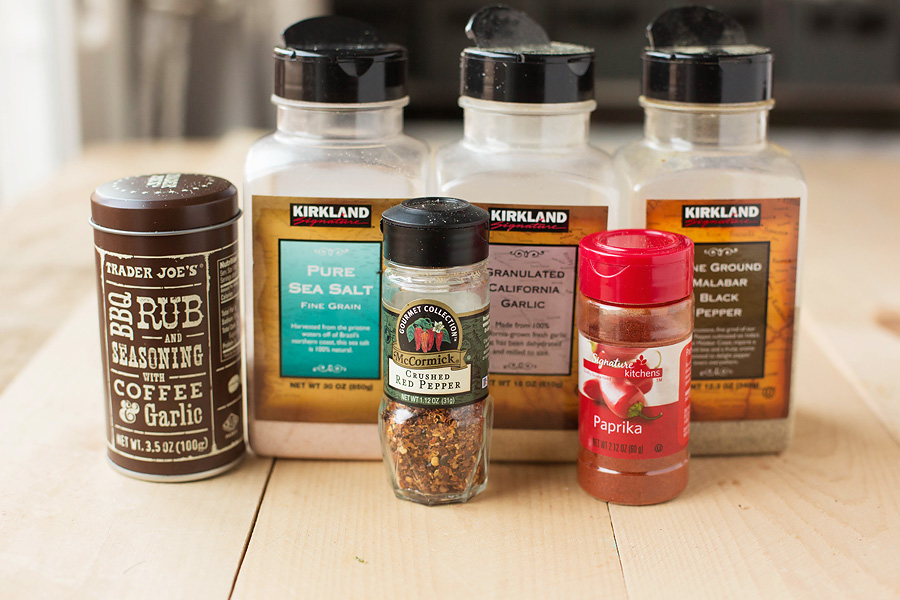 Plug your Instant Pot in.
Press the SAUTE button, then the + button and set to 5 minutes.
Once heated, add butter or ghee to the bottom of the pot.
Simple so far right?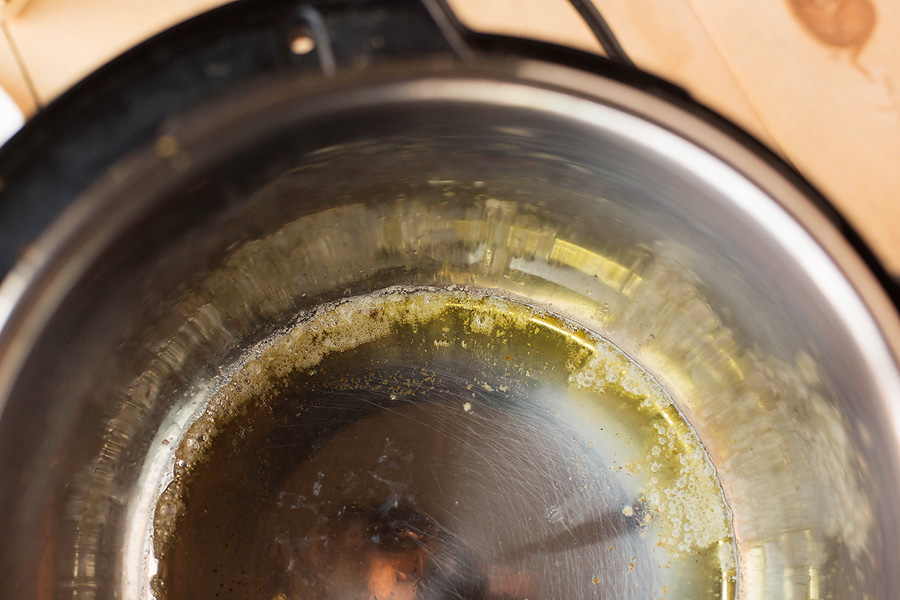 Toss in your sliced onions and stir.
Now for the sauce…
For my low carb and keto eaters, finding a low carb/low sugar BBQ sauce might pose a problem.  Fear not friends.  You do NOT have to go without BBQ for the rest of your life.  We definitely have options!
This G Hughes is one of the BEST store bought BBQ sauces you will ever find in terms of macros (and taste).  Ingredients are pretty solid as well (minus one or two things, but don't make yourself crazy over them).  Sometimes I do make my own low carb version from scratch, but seriously though.  How good does the nutritional profile look?  Hard to argue with that and a whole hell of a lot easier than making your own when you're pressed for time!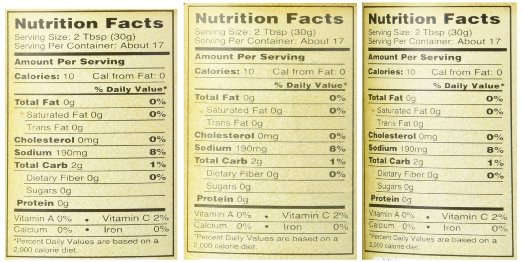 Another option is this AlternaSweets brand!  It's slightly higher in carbs than the G Hughes brand (with 4 net per serving), but I LOVE the ingredient list and the fact thats its sweetened with stevia (without any aftertaste).  Carbs are coming solely from the tomatoes and molasses!  Solid solid choice especially for those who read ingredients because they DO matter 🙂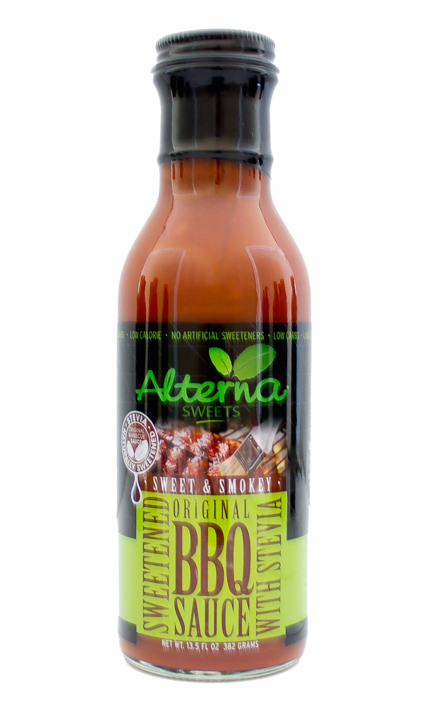 Homemade or either of these store bought brands will do ya just fine in the recipe.  Yes the sauces themselves will provide some of that flavor, but the Instant Pot magic and seasonings will as well!  Also, when you really think about it… unless you are drinking all of the sauce/liquid, you 'd probably lose some macros as well.  Sometimes I will even drain off the majority of the liquid because its truly not entirely needed.  The chicken is still extremely flavorful and juicy on its own!
So… back to my shredded BBQ chicken.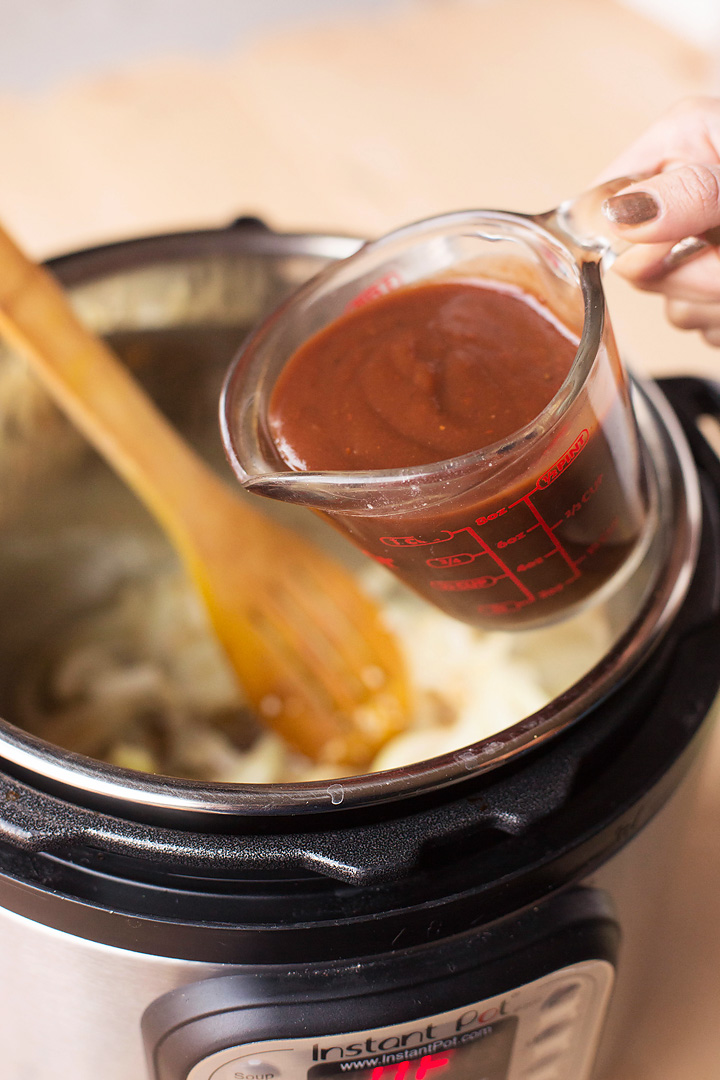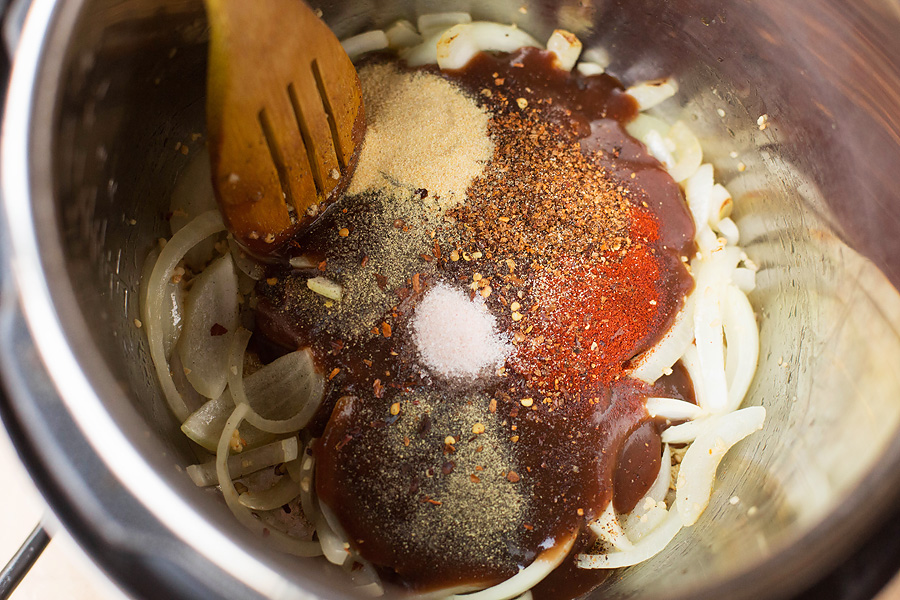 A couple of 'extras' in…
chicken stock or preferably homemade bone broth as shown here or water (you may need to adjust salt to taste if using H2O)
a splash of apple cider vinegar to help the chicken become even more moist and tender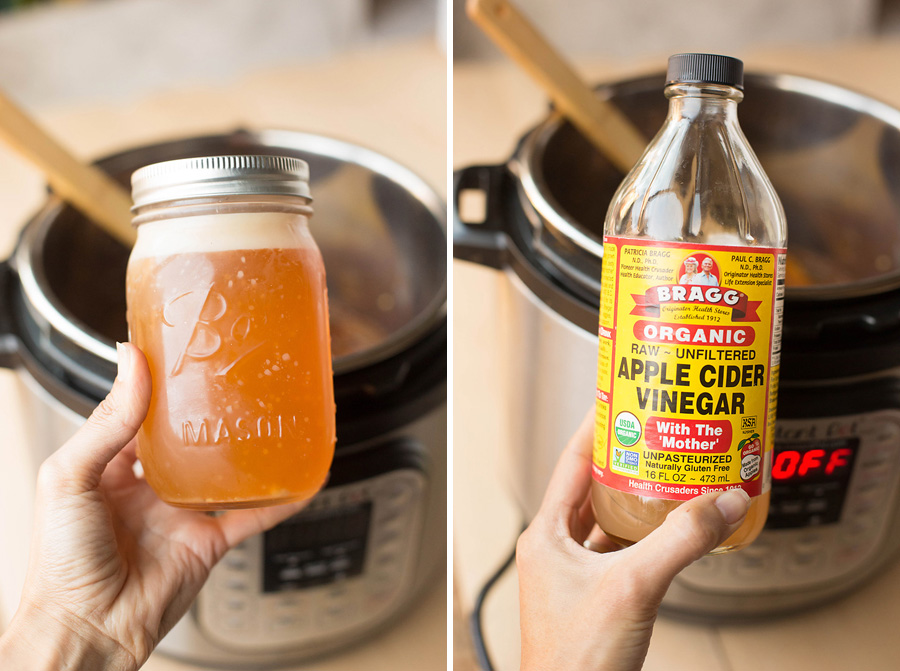 stir everything together until well mixed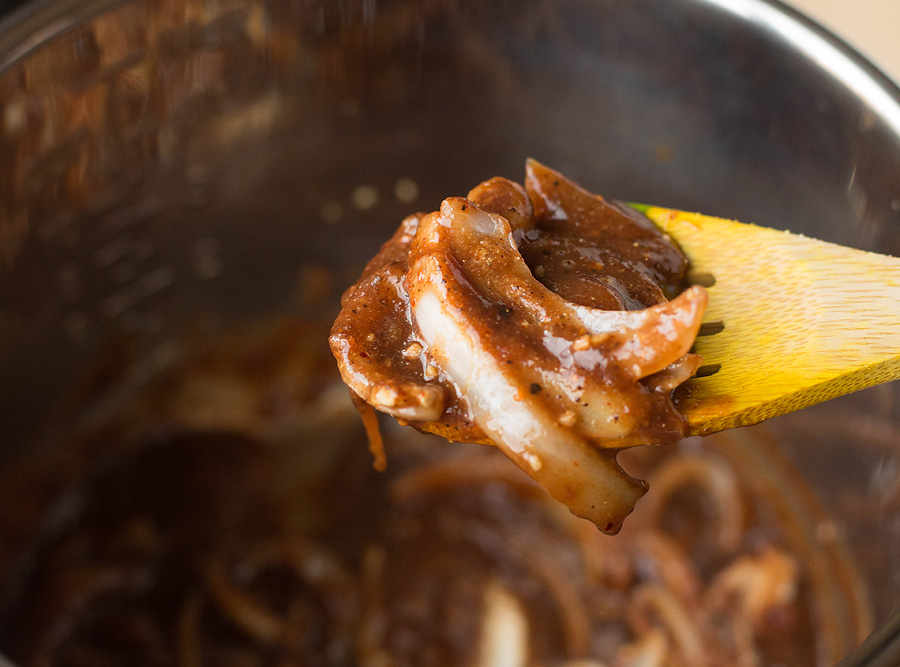 add in your chicken breasts and coat with sauce mixture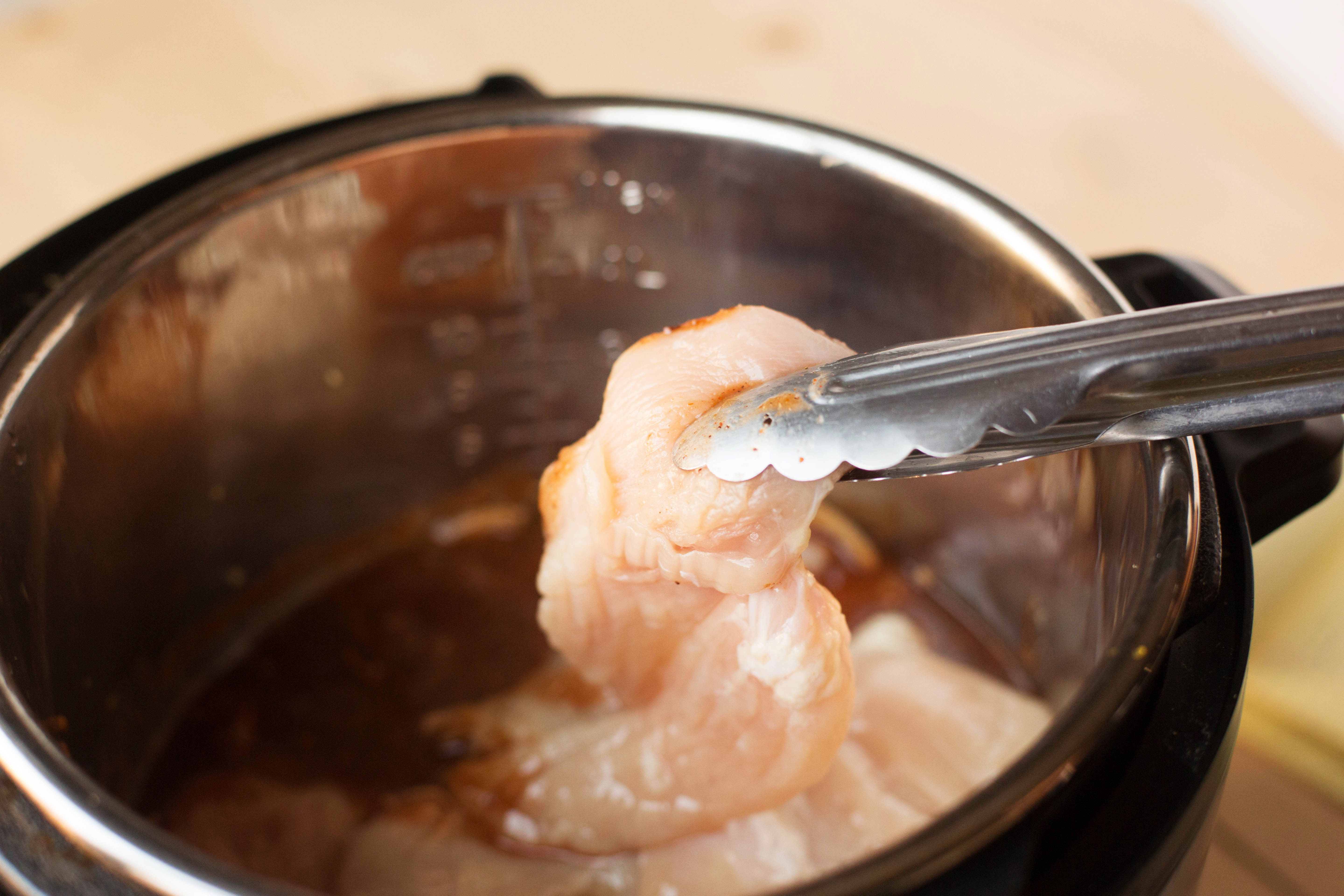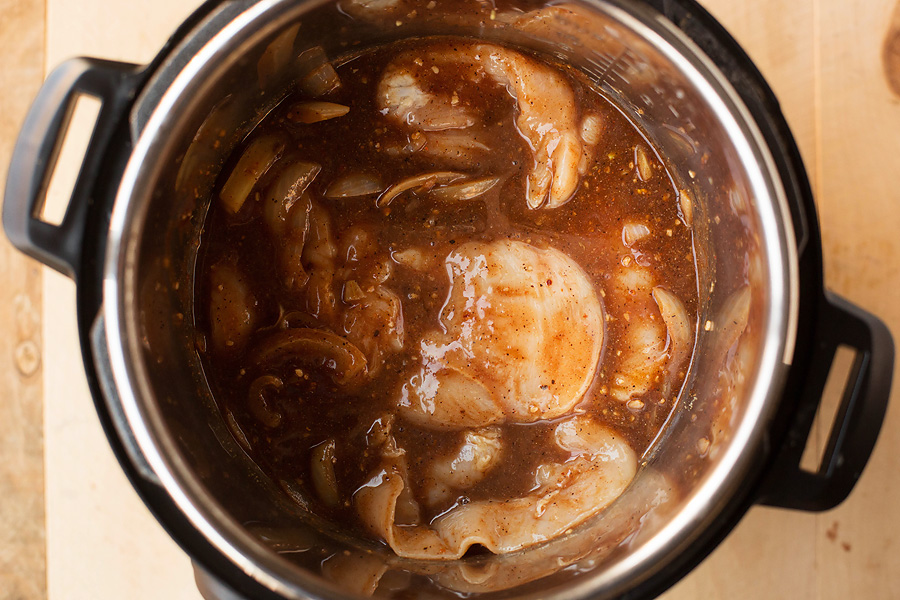 Turn off the Instant Pot, then press MANUAL
Press the + until you reach 18 minutes
Replace lid, close, and seal.
Walk away and await the magic that is the Instant Pot.

when the Instant Pot beeps, you will carefully release the pressure.  Cover the seal/cap with a kitchen towel and then I use a fork to release the steam.  After about 20-30 seconds you will see the little metal plug pop back down.  This is when the lid can come off.
prepare your nose for the beauty, intensity, and magic….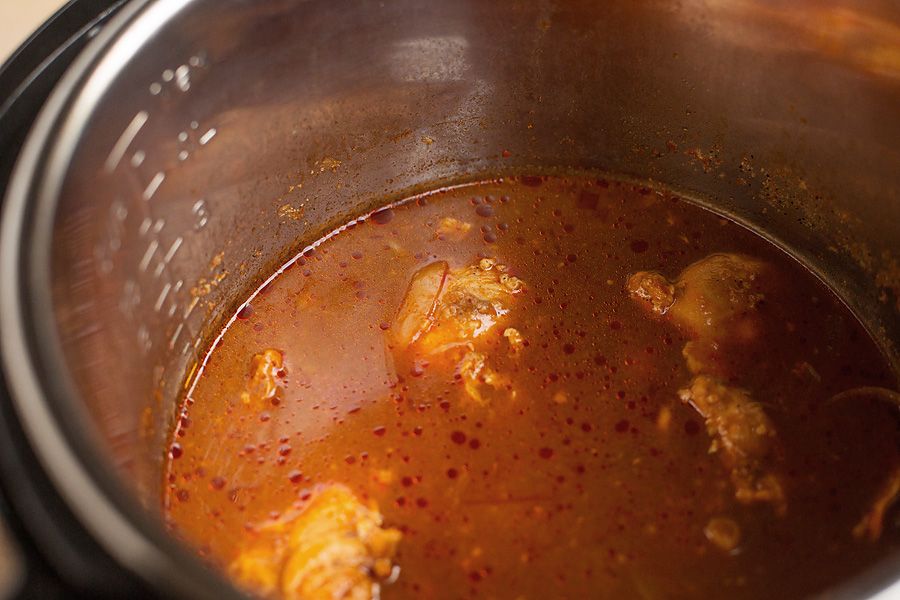 The most tender chicken and flavorful sauce EVER!  You can shred the chicken right in the pot, but I like to remove it and shred in a separate bowl.  I find that it makes it more uniform and nothing gets missed in the pot!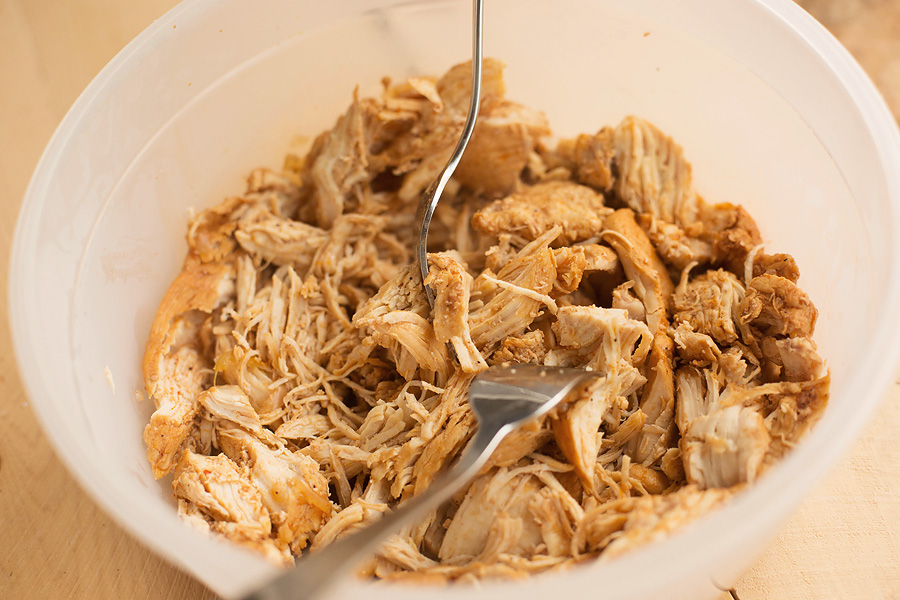 Return the chicken to the Instant Pot and stir into that amazingly flavorful sauce.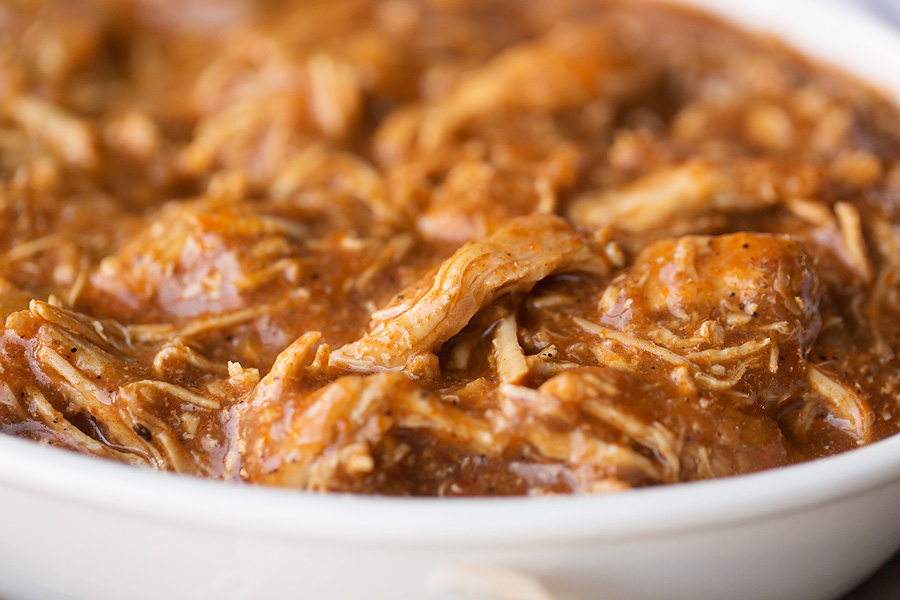 You are now ready to build your tacos or sandwiches for the night!  And if I were you, I would double the recipe so that the leftovers can be used for at least the next few days!!!
Instant Pot Shredded BBQ Chicken

Print recipe
| | |
| --- | --- |
| Serves | 6-8 |
| Prep time | 5 minutes |
| Cook time | 18 minutes |
| Total time | 23 minutes |
Ingredients
1 tablespoon butter or coconut oil
1 Medium yellow onion (sliced)
1 cup BBQ sauce
1 heaped tablespoon apple cider vinegar
1/2 cup bone broth, stock, or water
2 tablespoons Trader Joe's 'BBQ Rub'
1 teaspoon pink salt
1/2 teaspoon pepper
1/4 teaspoon red pepper flake
2 teaspoons paprika
2 teaspoons granulated garlic
1 tablespoon finely chopped garlic
6 chicken breasts
Directions
Step 1
Plug in Instant Pot and press 'saute', then +5 minutes. Add butter or coconut oil to the bottom of the pot and let heat slightly. Add onions and saute for 2-3 minutes.
Step 2
Add BBQ sauce, seasonings, broth, and apple cider vinegar. Stop to combine. Add chicken and coat with sauce.
Step 3
Turn Instant Pot OFF, then press MANUAL, then + 18 minutes. Cover pot and seal lid.
Step 4
Once the cooking time is complete and the pot beeps, carefully release steam. Open lid and shred chicken. Stir and let sit in liquid for 5 minutes before serving.
Nutrition Facts
Serving Size 1
Servings Per Container 7
---
Amount Per Serving
Calories 102
Calories from Fat 27
% Daily Value*
---
*Percent Daily Values are based on a 2,000 calorie diet. Your daily values may be higher or lower depending on your calorie needs.