'A smart, healthy, and ultra low carb idea for COOKIE DOUGH!  You'd never guess this coconut cookie dough actually contains a vegetable!'
When it comes to low carb foods, sometimes you have to get creative.  After experimenting around with using zucchini to replace garbanzo beans in traditional hummus, a light bulb went off in my head.  As I began to make different batches of zucchini hummus to test out other flavor combinations, I realized the texture was extremely similar to a dessert weakness of mine…
* COOKIE DOUGH *
Yes friends I know it sounds completely ridiculous and perhaps a bit disgusting, BUT I promise that these will blow your mind!  With a few simple swaps of ingredients, you can turn my savory zucchini hummus recipe into a SWEET cookie dough.  First step was choosing the right variety of squash though!  I opted for yellow squash mainly due to color. Before I even told my family what was going on in the test kitchen, I needed to try and make these as legit as possible… dark green skin on zucchini might just throw them off!  So yellow squash it was!
To get a fuller, deeper, richer flavor into the cookie dough I opted to slice and cook these in ghee on a cast iron skillet.  The combination produces the most amazing sweet & caramelized flavor!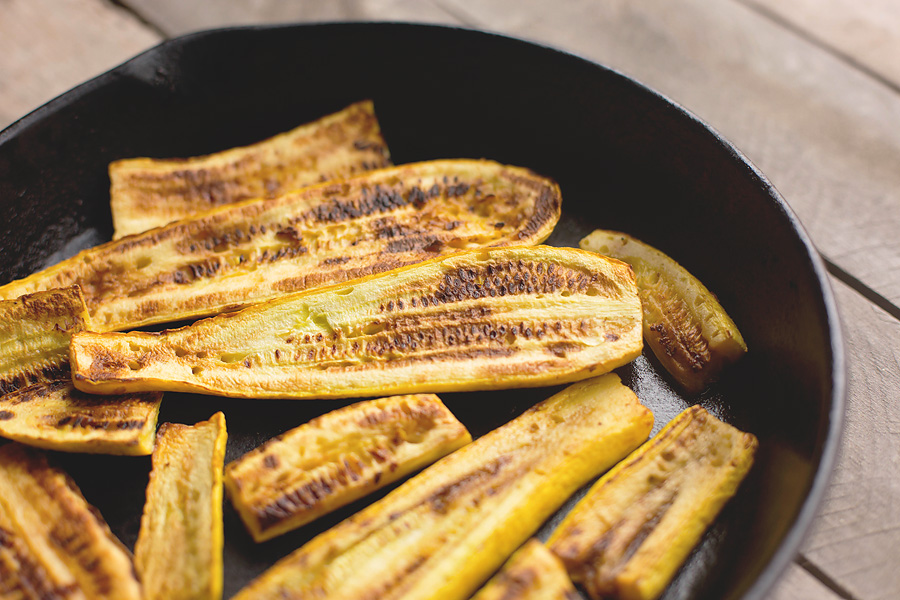 Once the squash cools, you just added all of the ingredients into a little food processor or high speed blender and your off to the races!  Mix mix mix until all of the ingredients are well incorporated.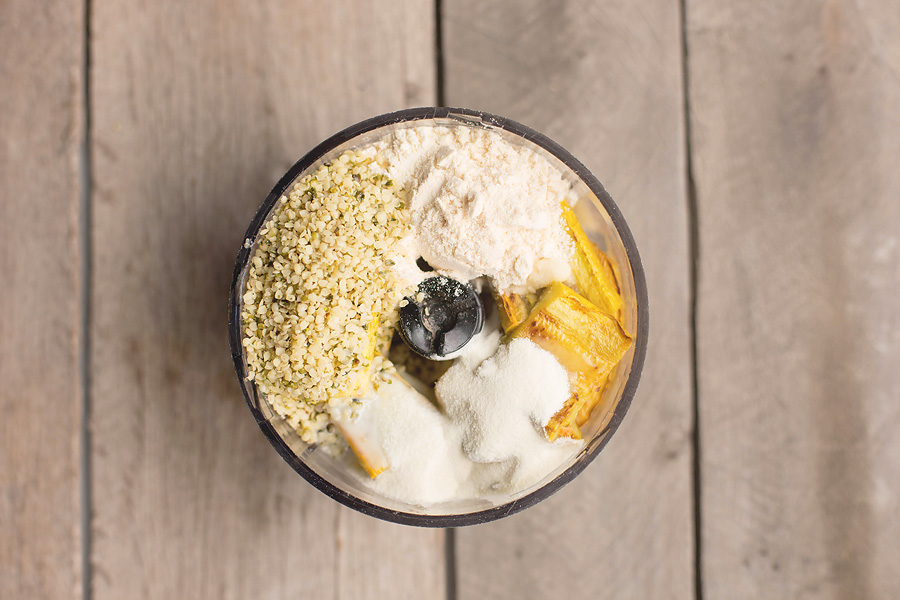 A couple of notes for you…
You can use any protein powder you like.  I made two batches of these, one for myself because I'm dairy free using unflavored collagen peptides (great for bones, joints, tendons, muscles, hair, skin, nails, and gut health) and another batch for the rest of the family using PEScience 'Gourmet Vanilla' protein powder (30% off coupon below).  You can also omit the protein powder if you like and simply add more coconut flour or flour of your choice and play with liquid amounts for the proper consistency.
I used this 'Coconut' Sweet Leaf stevia, but you could use any low carb/keto friendly sweetener you like (monkfruit, sucralose, Pyure, erythritol) and adjust sweetening to your taste.  Or if you don't mind the carbs honey or coconut sugar would work amazing here as well.
Whatever you decide for sweetener/protein or no protein, blend the mixture until its completely smooth.  Then divide and portion your cookie dough balls and lay them on a sheet pan.  Place them in the fridge for 20-30 minutes or in the freezer for 5 minutes!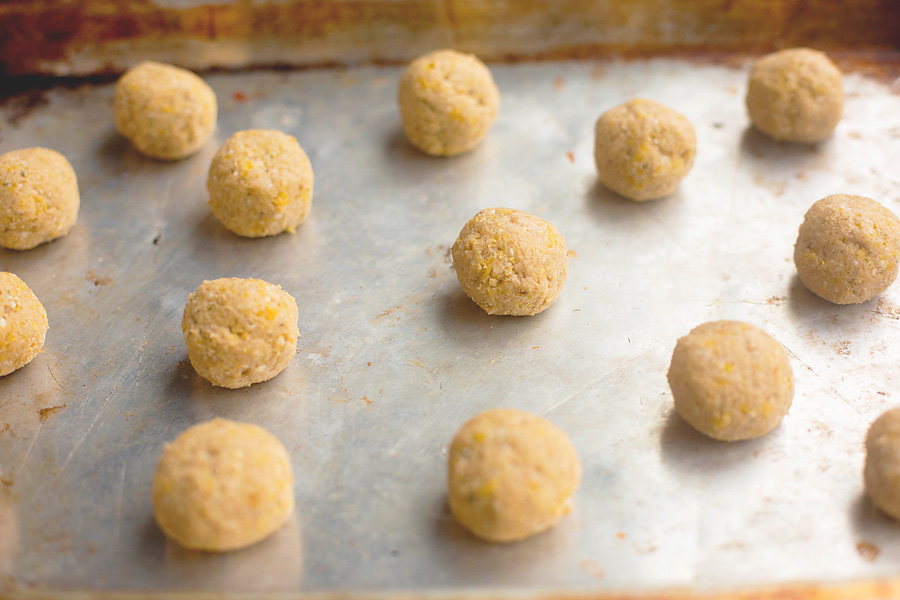 While they cookie dough is setting up, toast your coconut.  Add unsweetened coconut flakes to the pan and add 6-8 drops of stevia.  Then toss very lightly with your hands.  You will want to try and incorporate the sweetener in as best as you can.  Place in the oven under broil and watch it CAREFULLY!  This will only take a couple of minutes and will go from perfect to trash at lightening speed!!!  Golden brown is what your after!  Let cool.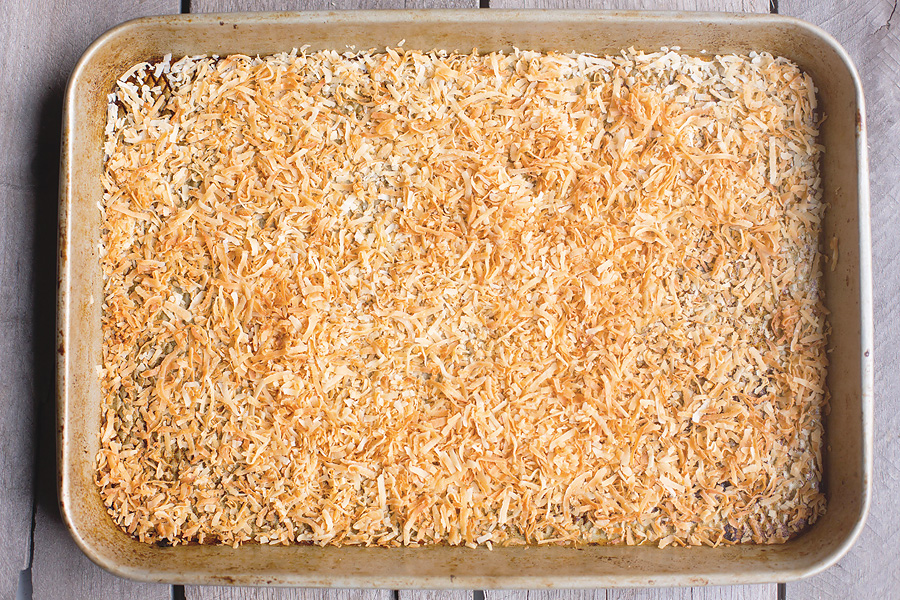 Remove the cookie dough from the fridge or freezer and roll in the perfectly toasted coconut.  I press down slightly to really get those flakes into the dough!  Once rolled, return them back to the pan.  I guarantee you will lose (at least) a few cookie dough balls during this process… one bite WILL turn into many, many more!  Gone in 60 seconds just like that!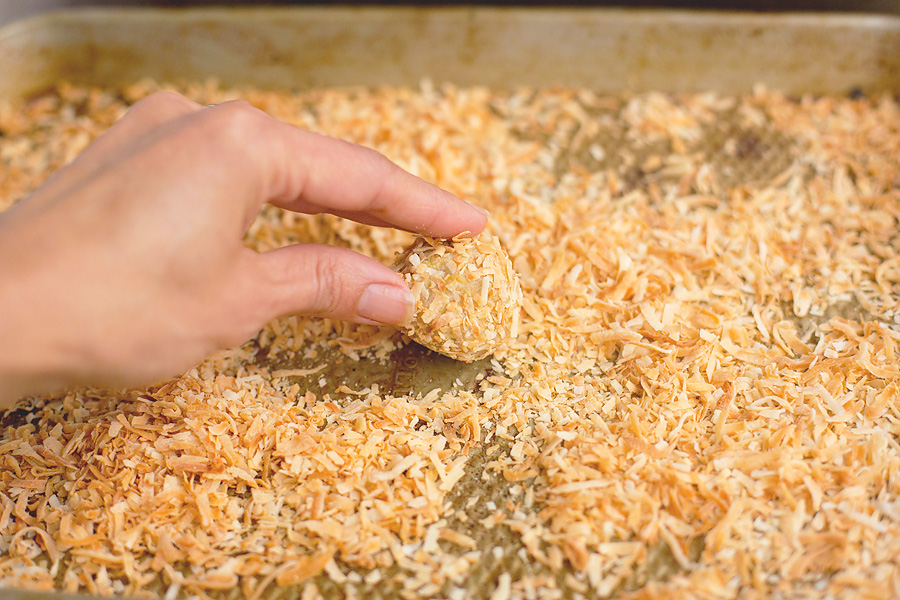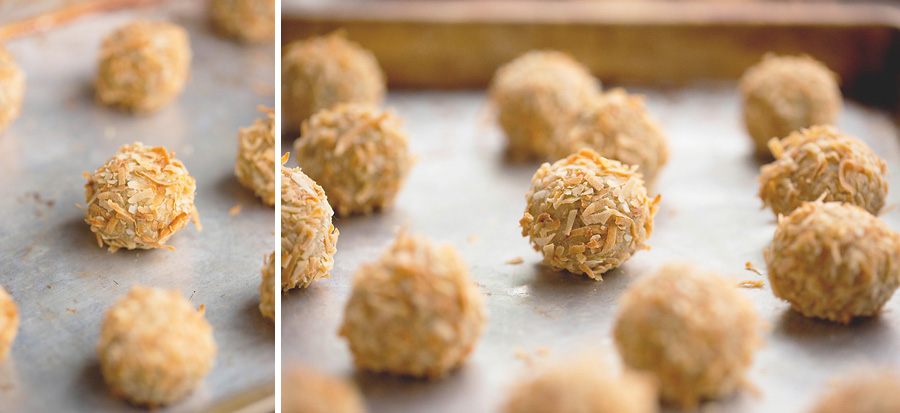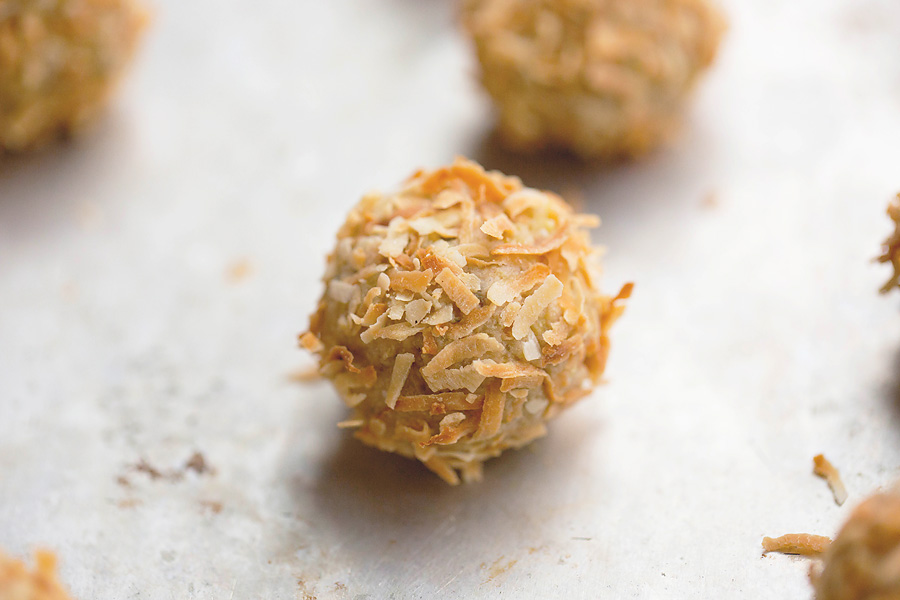 Based on appearances alone, nope.  Nobody would ever be able to tell how healthy these are.  Packed with healthy fats, protein, and even some hidden micronutrients.  They certainly don't look nutritious, but alas…. they are!  My family had NO idea what was in these, nor did they care.  They were delicious and thats all that mattered to them.  Even after telling them they were made of squash, they didn't bat an eye, even my husband who absolutely hates vegetables!  Thats huge friends!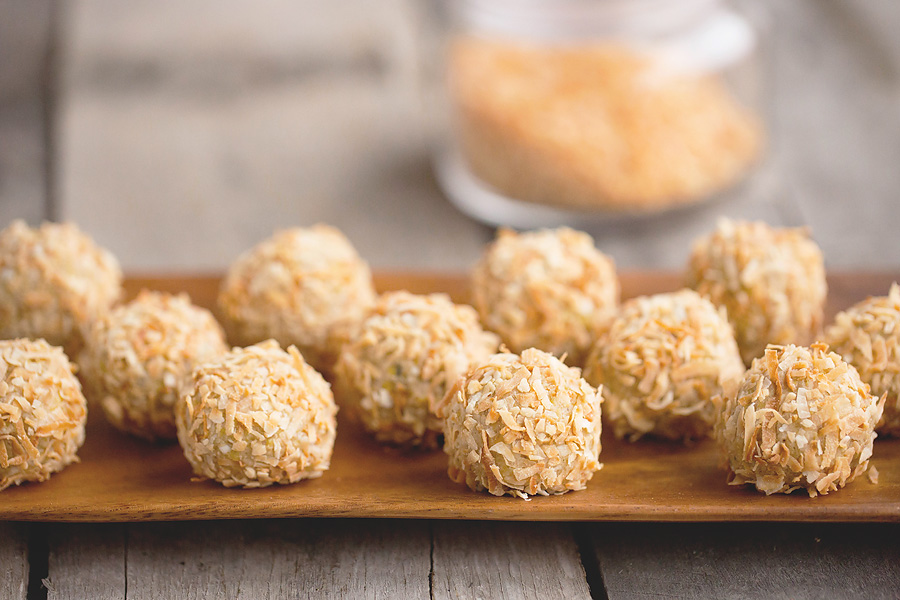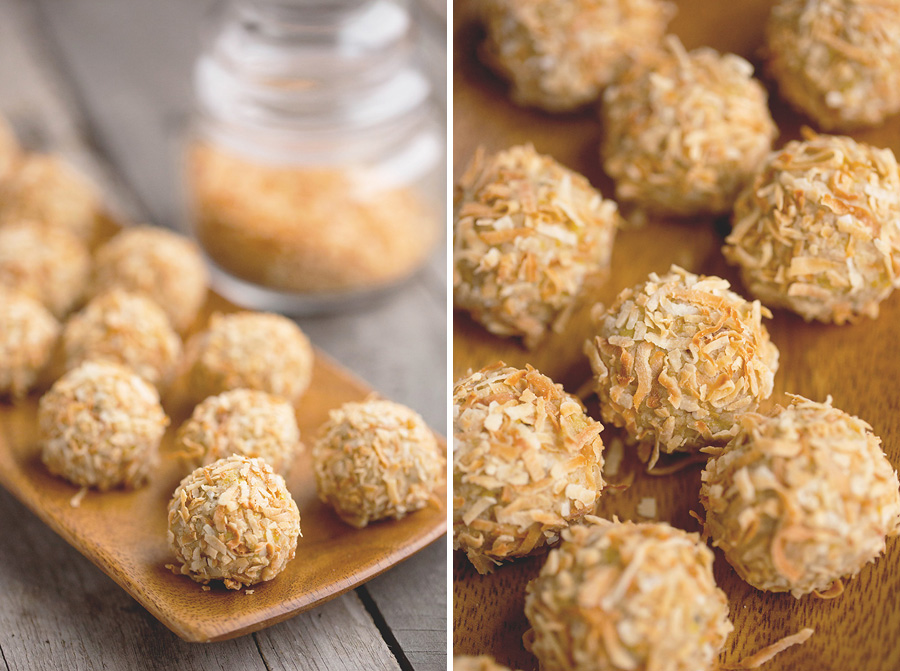 Perfectly sweet, great texture, and so full of rich coconut-y flavor.  Need a chocolate fix with your sweet tooth?  Melt some a a couple of chunks of 100% cacao with a teaspoon of coconut oil and a few drops of stevia… drizzle it right on top.  My preference for these though?  Just like this.  They truly don't need anything else.  You get some texture from the toasted coconut and the big first of coconut flavor in the cookie dough is all I need.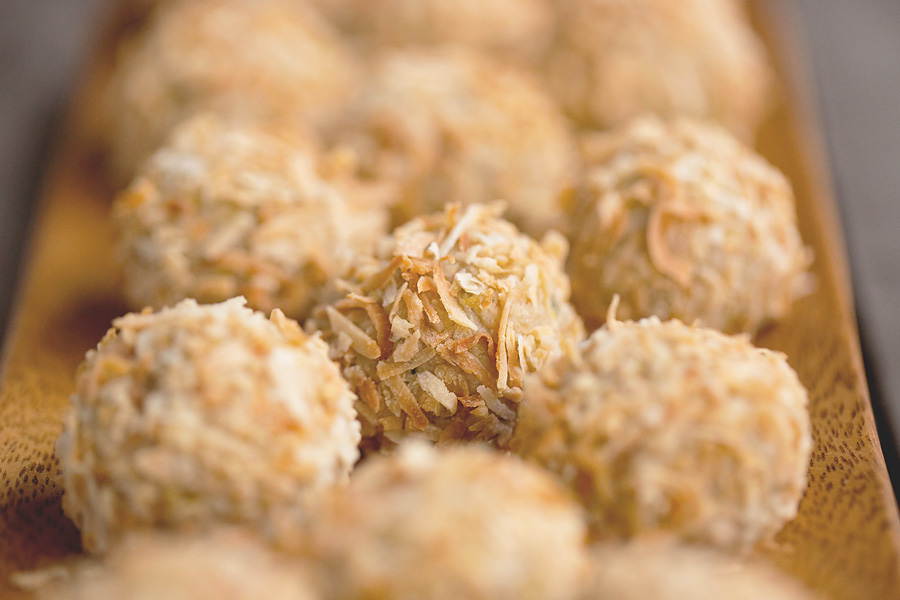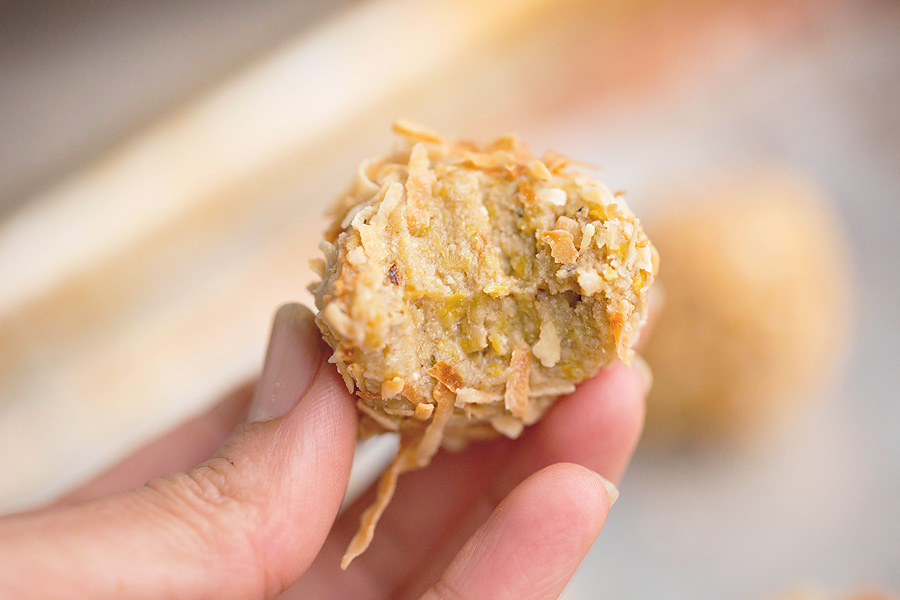 Yaaaaaasssssss, more please!  Can't wait to play with a few more flavors on these.  Swirling around in my head right now, I got: snickerdoodle, chocolate chip, red velvet, thin mint, lemon, key lime pie, cookie butter, chocolate fudge, espresso chip, and maybe even carrot cake.  MMMmmmmm.  Yup, I'm on it!!!
Hidden Veggie Coconut Cookie Dough

Print recipe
Ingredients
1lb yellow squash
3 tablespoons coconut flour
1/4 teaspoon butter extract
1/4 teaspoon coconut extract
1/4 cup 'Vanilla' MuscleEgg egg whites (or replace with milk of choice)
1/4 teaspoon salt
1/4 cup coconut butter/manna (melted)
1 scoop collagen or vanilla protein powder
2 tablespoons hemp hearts
1/2 cup flaked coconut
30-40 drops liquid stevia or sweetener of choice to taste
Directions
Step 1
Heat a cast iron skillet and coat with butter/coconut oil/or non stick spray. Slice squash into thirds longwise. Cook until golden brown on each side and tender. Remove from hear and let cool completely.
Step 2
In a food processor add cooled squash, egg whites, coconut flour, extract, salt, melted coconut butter, protein powder, and hemp hearts. Mix on high until completely smooth. Place mixture in a bowl, cover, and place in fridge for 1-2 hours.
Step 3
While dough is in the fridge, add flake coconut to a sheet pan and add 10-20 drops of liquid stevia. Lightly toss. Place pan in the oven under broil for 1-2 minutes until golden brown (do NOT leave unattended, it will burn quickly). Remove from oven
Step 4
Remove dough from fridge. Portion and roll into balls. Take each cookie dough ball and roll in toasted coconut. Refrigerate and enjoy.
Note
NUTRITIONAL INFORMATION (makes 15 servings): calories- 69, fat- 4 grams, carbs- 3/fiber- 1 gram, protein- 4 grams PER SERVING
Nutrition Facts
Serving Size 1 ball
Servings Per Container 15
---
Amount Per Serving
Calories 69
Calories from Fat 36
% Daily Value*
---
*Percent Daily Values are based on a 2,000 calorie diet. Your daily values may be higher or lower depending on your calorie needs.